Skyjet Airlines Schedule Manila to Camiguin and Vice Versa
Skyjet Schedule Manila to Camiguin Flights and vice versa
This flight is a domestic route departing from the Manila airport (MNL) and arriving at Camiguin Island airport (CGM).
The flight distance is 708 km or 440 miles.
For non-stop flights, the flight time is 1:20.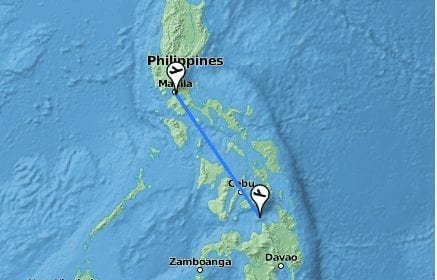 Skyjet Schedule Manila to Camiguin Flights (Updated April 9,  2020)
Daily 09:50 Manila (MNL) 4 11:10 Camiguin Island (CGM)
Skyjet M8 511 Non-stop BAe 146 (146) 1:20
Daily 11:40 Camiguin Island (CGM) 13:10 Manila (MNL) 4
Skyjet M8 512 Non-stop BAe 146 (146) 1:30
Camiguin flight times of departure and arrival are generated via Flightmapper.Net.
Skyjet Airlines announced its newest flight: Camiguin flying from Manila.  Daily flights started this May 2019, except for Wednesdays and Tuesdays, and complete daily flights out of October 2019.
This marked the very first time in decades that scheduled direct flights from Manila to Camiguin were offered. Skyjet's flights provided the fastest way to travel to Camiguin with a flight time of one hour and 15 minutes.
Now one can experience the wonders of Camiguin, with its beautiful beaches, abundant cultural life, numerous waterfalls and springs, and meals and delicacies. The inaugural flight of Skyjet coincided with Camiguin's Fiesta Festival, which features the fiesta for every day in May.
Camiguin, known as the Lanzones Capital of the Philippines, observes its Lanzones Festival, usually during May. The island is home to the host accessible to both scuba divers, like the underwater cemetery and Giant Clam Sanctuary. Diverse dive offerings and its spectacular underwater visibility are the focus of the Camiguin Diving Festival and the Underwater Photography Competition every 3rd quarter of the year.
Camiguin Airport (in Cebuano: Tugpahanan sa Camiguin) (IATA code: CGM, ICAO code: RPMH) is a municipality airport serving the area of Mambajao, located in the province of Camiguin in the Philippines. It is the sole airport in the whole Camiguin province.
This airport is classified as a Class 2 principal (meaning minor/domestic) airport by the CAAP or the Civil Aviation Authority of the Philippines under the Department of Transportation and Communications. (Info from Wikipedia.Org)
For more news on Skyjet Airlines, click here or refer to the Official Skyjet Airlines website.