Check Out AirAsia Philippines Flight Schedule April 2021
AirAsia Philippines Flight Schedule April 2021 Update: AirAsia Philippines released its updated schedule of flights for all its domestic and international routes. The updated budget airline's schedule of flights was released last April 21, 2021. The AirAsia Philippines flight schedule to domestic and international destinations was released from the latest official AirAsia Philippines Advisory
This flight schedule might be outdated. Click here for the updated AirAsia Flight Schedule.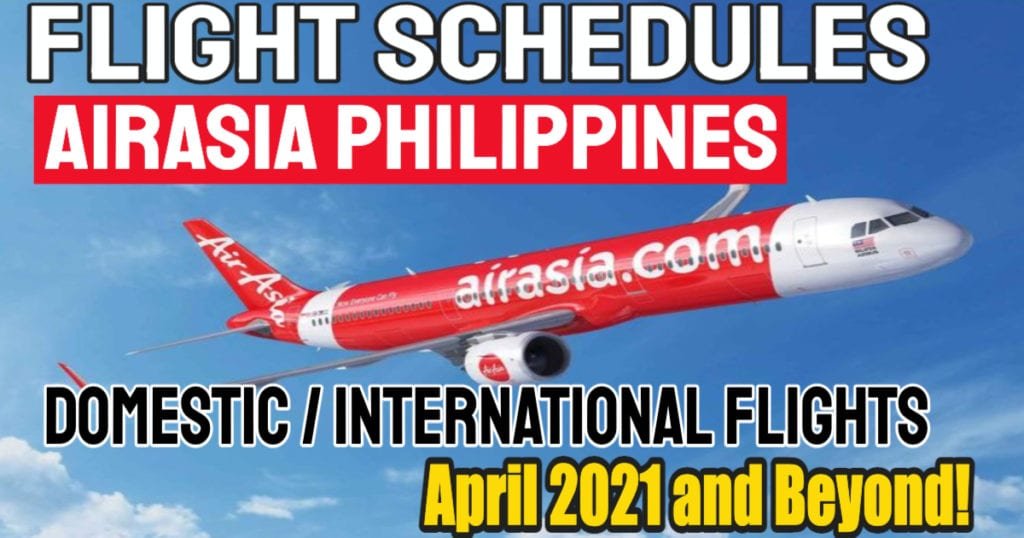 AirAsia Philippines reported that it would operate the following flights until April 30, 2021. As a precaution, the budget airline advised the flying public that the flight schedules may change at the last minute, depending on the COVID situation and subsequent government restrictions and approvals.
AirAsia Philippines Flight Schedule April 2021
All other domestic flights to and from Manila will continue to operate subject to compliance with Local Government Unit (LGU) restrictions on frequencies and capacity.
With travel plans being fluid during the current pandemic, AirAsia offers enhanced flexibility options for guests to manage their flights. AirAsia is offering provisions for guests who wish to make changes to their flights in line with the new developments following the Philippine government's latest directive. 
Non-essential travelers coming from and going to Manila with existing flight bookings with a departure date from 22 March 2021 to 30 April 2021 can move their flight from 1 May 2021 until 30 June 2021 and will be able to select from a range of extended flexibility options for future travel.
Options available for guests with flight bookings cancelled by the airline are detailed below:
Unlimited flight changes: Change to any new travel date before  30 September 2021 on the same route for an unlimited number of times without any additional cost, subject to seat availability; OR 
Credit account: Retain the value of the flight booking in the guest's AirAsia BIG Member account for future travel with AirAsia to be redeemed within 730 calendar days (2 years) from the issuance date. The travel date of the new booking can fall on any date within the published flight schedule on airasia.com
AirAsia encourages all our guests to regularly check their emails, SMS and our social media accounts for updates and preflight notifications. 
Guests who need assistance may chat with AVA on the airasia super app, airasia.com or log on to support.airasia.com to make their selection.
AirAsia will continue to monitor the situation in its various domestic destinations, and will update flight schedules regularly as needed.
AirAsia Philippines Quick Links