Cebu Pacific Ticketing Office Davao: Location and Contact Numbers
Looking for Cebu Pacific Ticketing Office Davao? Here is the list of the Cebu Pacific Ticketing Office in Davao City including their location, contact numbers and if applicable, their business hours.
Cebu Pacific Ticketing Office Davao City
Summit World Davao
2/F Victoria Plaza Mall, Bajada 8000 Davao City, Davao del Sur
Tel: (082) 225-3246
Fax: (082) 305-1124
Felcris Centrale Mall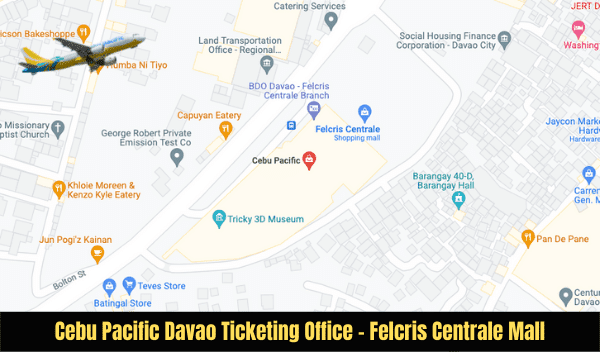 Quimpo Blvd, Poblacion District, Davao City, 8000 Davao del Sur
Cebu Pacific Davao Cargo Office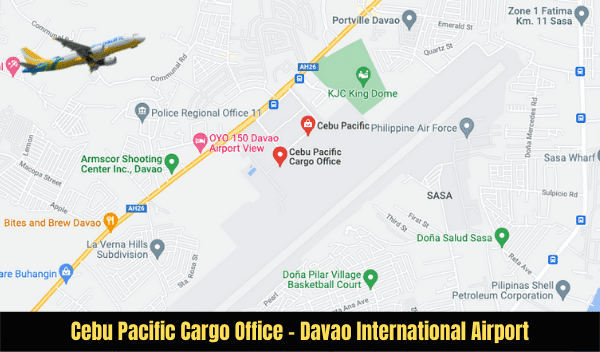 Bangoy International Airport Cargo Terminal, Buhangin, Davao City, 8000 Davao del Sur
List of Cebu Pacific Office Davao from Cebu Pacific Air.
Click here for Cebu Pacific Ticketing Offices in the Philippines and abroad.
Click here for a guide in booking online for Cebu Pacific tickets.
Check out the updated Cebu Pacific Schedule for all Domestic and International Flights.
Cebu Pacific Quick Links
Davao City (Cebuano: Dakbayan sa Dabaw, Filipino: Lungsod ng Dabaw) is a 1st class city on Mindanao, Philippines. As of the 2015 census, it had a population of 1,632,991 people, making it the third-most-populous city in the Philippines and the most populous in Mindanao.
It is the center of Metro Davao, the third most populous metropolitan area in the Philippines (as of 2015 census with a population of 2.5 million, after Metro Manila's 12.8 million and Metro Cebu's 2.8 million). With a total land area of 2,444 square kilometers, the city is the largest in the country in terms of land area.
The city serves as the main trade, commerce, and industry hub of Mindanao and the regional center of Davao Region. Davao is home to Mount Apo, the highest mountain in the Philippines. The city is also nicknamed as the "Durian Capital of the Philippines".
For geographical and statistical purposes, Davao City is grouped with the province of Davao del Sur but is governed independently from it. The city is divided into three congressional districts, which are subdivided into 11 administrative districts with a total of 182 barangays.
Davao City is constantly described by its residents and the national media as arguably among one of the safest cities in the Philippines, however this has been met with criticism.
Cebu Pacific Promos