Check Out Davao Travel Information and Guide for 2022
With Davao Tourist Spots and Travel Guide, you'll have everything you need to make the most of your trip. This brief Travel Info contains all the information you need to know about amazing Davao, from flight availability and promos, to where to stay and what attractions you can't miss. So if you're looking for information for our trip to Butuan, look no further than Davao Travel Guide by BiyaheFinder!
Davao is a province in Mindanao's southeast coast, made up of Davao de Oro, Davao del Norte, and Davao del Sur. Samal Island, located in the north of the city of Davao, is one of the finest places to see while visiting Davao.
Davao Travel Requirements
Getting to Davao City
Davao City Flights Schedule
Davao is the third most significant city in the Philippines, after Manila and Cebu. Air Asia, Cebu Pacific, and Philippines Airlines provide service three times a day between Davao and Manila via various domestic airlines. Flights used to (and will soon) connect other Philippine cities such as Cebu City, Cagayan de Oro City, Iloilo City, Zamboanga City, Bacolod City, Angeles (Clark), Puerto Princesa City, Boracay (Caticlan), Tagbilaran (Bohol-Panglao).
| Route | AirAsia Flight Schedule | Cebu Pacific Flight Schedule | Philippine Airlines Flight Schedule | Other Airlines |
| --- | --- | --- | --- | --- |
| Manila to Davao | 4x daily | 8x daily | 8x daily | |
| Davao to Manila | 4x daily | 8x daily | 8x daily | |
| Cebu to Davao | 4x weekly (Mon, Tue, Thu, Sat) | 23x weekly | 3x daily | |
| Davao to Cebu | 4x weekly (Mon, Tue, Thu, Sat) | 23x weekly | 3x daily | |
| Davao to Iloilo | | Daily | 2x a week (Wed, Sun) | |
| Iloilo to Davao | | Daily | 2x a week (Wed, Sun) | |
| Davao to Bohol | | 4x weekly | 5x a week (Mon, Tue, Thu, Fri, Sat) | |
| Bohol to Davao | | 4x weekly | 2x a week (Mon, Tue, Thu, Fri, Sat) | |
The flight schedule shown above was updated on November 1, 2022, for the Month of November 2022. Airlines frequently change their schedule without notice, so it is best always to check out the airlines' official websites.
The different airlines are constantly changing their flight schedules to and from Davao in the light of travel restrictions and cancellations brought about by the pandemic.
Blank cells mean there are no flights for that particular route to and from Davao.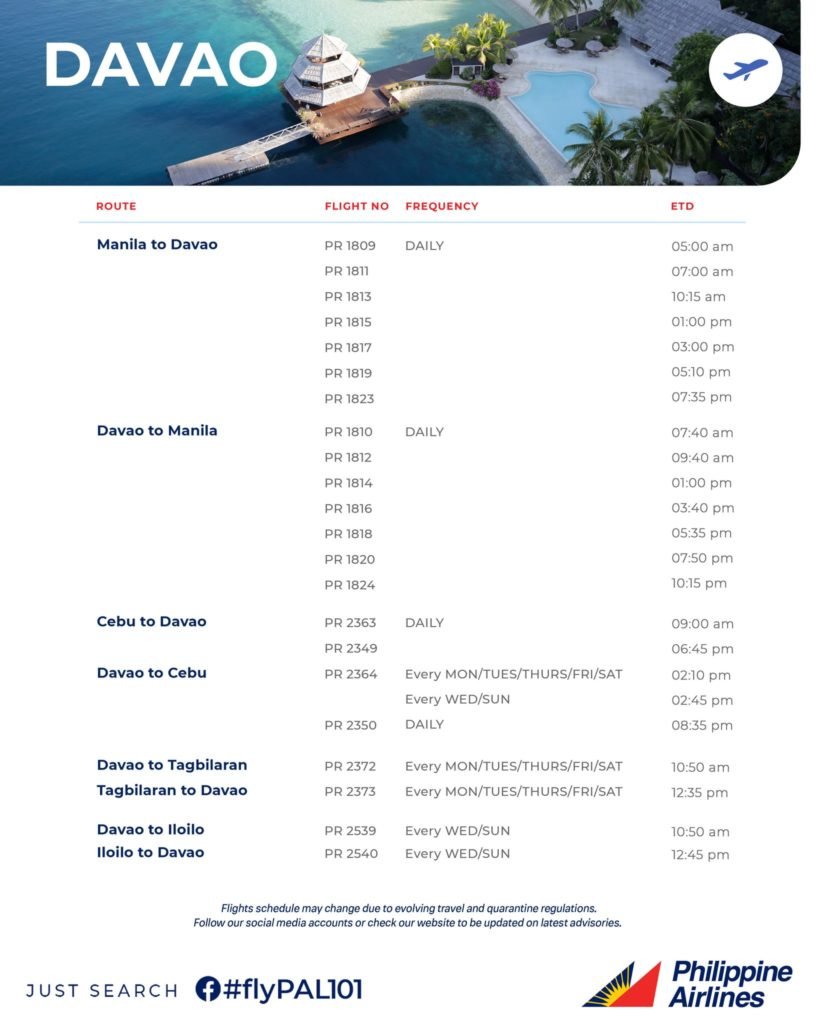 Davao City Airfare Promos and Seat Sales
Check out the latest promos to and from Davao City. Blank cells mean the particular airline does not have any promos going to or coming from Davao City.
| Route | AirAsia | Cebu Pacific | Philippine Airlines | AirSWIFT |
| --- | --- | --- | --- | --- |
| Manila to Davao | P80 | P88 | | |
| Davao to Manila | | P88 | | |
| Cebu to Davao | P70 | P188 | | |
| Davao to Cebu | | P188 | | |
| Davao to Iloilo | | P388 | | |
| Iloilo to Davao | | P388 | | |
| Davao to Bohol | | P288 | | |
| Bohol to Davao | | P288 | | |
| Davao to Zamboanga | | P188 | | |
| Zamboanga to Davao | | P188 | | |
| Clark to Davao | P520 | | | |
| Davao to Clark | | | | |
For the latest promos appearing above, please click on the respective links below for more information like booking and travel periods:
Getting Around Davao City and Samal Island
The most common way to get around Davao City is by taxi. Taxis are usually available at the airport, and there are also numerous taxi stands throughout the city. There is also an extensive bus system in Davao. The ferry is another popular way to get to Samal Island, and there are several ferries that operate between Davao City and Samal Island.
You can also rent vehicles such as mopeds, motorcycles, or cars to travel within the city or visit other areas. Additionally, bicycles are another popular way to get around Davao City because of their flat terrain. Walking is another great way to explore the city and see all of its sights. Plus, you will be able to enjoy some fresh air while getting a bit of exercise at the same time!
To and From Davao Travel Land Transport Services
Traveling overland by bus and RORO ferries is a less expensive alternative. Depending on where you begin in Manila, the bus trip might take up to 40 hours. This is made up of the bus ride and the time spent on the ferries. Make sure you take note of your bus number so you don't board the wrong one after getting off the ferry.
Onboard toilets and WiFi are available on some air-conditioned buses. The majority, however, especially ordinary buses, do not have either. There is never food served on board, either. There's no need to worry about bringing lunch or snacking aboard the boat. Onboard the ferry, you may also purchase snacks and use the toilet if you wish.
To and From Davao Travel Ferry Services
The Best Time for Davao Travel
Best Time to Visit Davao
Reason to Visit Davao during this time
December to May
Ideal weather (based on temperature and humidity by Championtraveler.com)
The best time to visit Davao City and Samal Island is from December to May. The weather is cooler and less humid during these months, making it more comfortable to explore the region. Additionally, there are many festivals and events held during this time that visitors can enjoy.
January
Chinese New Year Festival
The Chinese New Year Festival is Davao's most colorful and vibrant celebration. The festivities kick off with a lively parade that winds through the city's main streets, featuring elaborate floats and colorful costumes.
The highlight of the celebrations is the dragon dance, in which a team of dancers brings to life a 200-foot-long dragon made of cloth and bamboo. The festival also features food stalls, family activities, and performances by local artists. If you're in Davao during Chinese New Year, be sure to check out this exciting event!
March
Araw Ng Dabaw
One of Davao City's main tourist attractions is Araw ng Dabaw (Day of Davao). Araw ng Dabaw is a celebration of Davao City's founding on March 16, 1888.
The celebration includes a parade, a civic-military parade, a trade fair, and a food festival. The highlights of the celebration are the street dancing competition and the Davao Food Festival.
August
Kadayawan Festival
Davao's Kadayawan Festival is a celebration of the city's cultural and natural diversity. The festival features a variety of colorful cultural performances, as well as a parade of Davao's unique flora and fauna.
One of the main reasons to participate in this Thanksgiving is the Floral Float Parade. There are also a number of food stalls selling Davao's famous cuisine, so make sure to come hungry!
September or October
Chinese Mid-Autumn Moon Festival
Davao City is home to a large and vibrant Chinese community, and the city celebrates the Mid-Autumn Moon Festival each year with a series of festive events and activities.
The highlight of the celebration is a large mooncake fair, which takes place at the Davao Convention Center. The fair features a wide variety of mooncakes from different bakeries in Davao, as well as other traditional Chinese snacks and desserts. There is also a cultural performance stage where visitors can enjoy traditional music and dance performances.
The Mid-Autumn Moon Festival is a fun and enjoyable way to experience Davao's rich Chinese culture. If you're visiting Davao City during September or October, be sure to check out the mooncake fair and join in the festivities!
December
Pasko Fiesta sa Davao
Davao City's Pasko Fiesta is one of the most-awaited and colorful festivals in the Philippines. Held every December, the city comes alive with vibrant and festive decorations, cultural performances, and of course, lots of delicious food! Davao's Pasko Fiesta is a celebration of Christmas and the city's rich culture and heritage.
Some of the highlights of the festival include the Davao Street Dancing Competition, where teams from all over Davao compete in a lively dance competition; the Davao Lantern Festival, where participants create elaborate lanterns made from paper and bamboo; and the Davao Christmas Tree Lighting Ceremony, which sees a towering 60-foot Christmas tree lit up with thousands of colorful lights.
December to May is also the peak season for tourism, so accommodation and tour prices will be higher during this time. If you're looking to avoid the crowds and save some money, plan your trip for June to November instead. The weather is still pleasant during these months, although there may be more rain. You'll also find that there are fewer tourists during this time, so you'll be able to enjoy a more authentic experience of Davao City and Samal Island.
Davao Travel: Best Hotels
Check out the best hotels in Davao City as guest-rated on Agoda.com. The best Davao Travel hotels rated on the platform are categorized according to value or budget (one to two stars) and mid-high end (three to five stars) hotels. Click on the link to check out the hotel photos, amenities, nightly rate, and room availability.
Top Davao Tourist Spots and Attractions
Davao City is one of the most beautiful places in the Philippines. It's no wonder why it's a popular tourist destination! There are so many amazing Davao tourist spots and attractions to explore in the City. Here are just some of the top Davao tourist spots that you don't want to miss!
Samal Island
Davao City is one of the most visited places in the Philippines. It is known for its diverse culture and rich history. However, many people do not know that Davao City is only an hour away from Samal Island. The island officially called the Island Garden City of Samal,  is an island in the Davao Gulf, located adjacent to and north of Mindanao. It serves as part of the Metro Davao and Davao del Norte Province.
Samal Island is beautiful with white sand beaches and crystal clear water. It is a great place to relax and enjoy the natural beauty of the Philippines. There are also many things to do on Samal Island, including swimming, snorkeling, diving, kayaking, and fishing.
There are also several restaurants and bars on Samal Island, so you can enjoy a delicious meal or refreshing drink while enjoying the beautiful scenery. Samal Island is a destination for anyone visiting the Philippines.
Eden Nature Park and Resort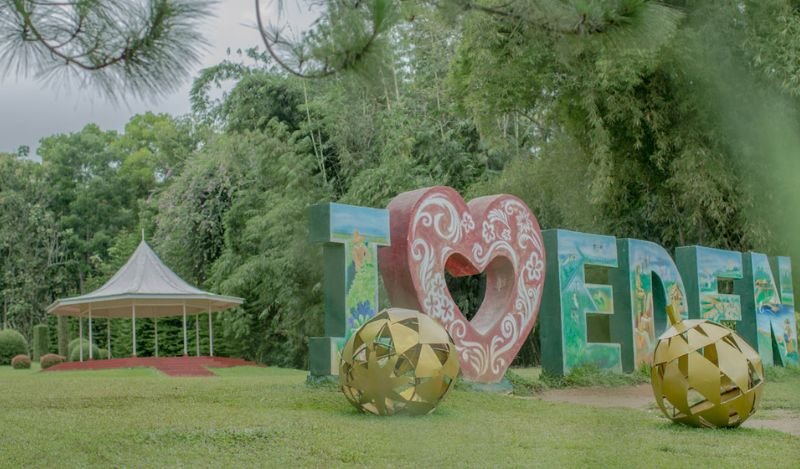 Eden Nature Park and Resort, named after the famed Biblical garden, is a beautiful place to visit. The nature park consists of several attractions, including the Amphitheater, Lola's Garden, Flower Garden, Plaza Maria, Mayumi's Well, and others. Adventure activities such as ziplining, sky cycling, horseback riding, and more will be thrilling experiences. There are also parks and butterfly sanctuaries where you can go.
This family-friendly resort has a homey atmosphere and several restaurants that provide meals grown in the region's gardens, engaging outdoor activities, hiking trails, and a cultural village. If you're looking for a fun day out with the family, Eden Nature Park is dee place to go!
Malagos Garden Resort and Chocolate Museum
Davao's Malagos Garden Resort and Chocolate Museum is a nature lover's paradise. The nature theme park in Davao is 12 hectares big. It is a place for tourists to go and enjoy the outdoors. The Park also has a place for people to take refuge from the city.
There are plenty of things to see and do in the resort, from exploring the gardens and rainforest to watching the birds and trying out the activities available. You can pet and interact with animals at the Malagos Garden petting zoo, study butterfly habits in the butterfly sanctuary, or participate in an exciting outdoor activity for children and young people while on a Malagos Garden tour.
The chocolate museum is a must-visit for any chocolate fan, with interactive exhibits that let you learn all about the history and production of chocolate. There's also a cafe serving up delicious chocolate treats. Davao is a great place to visit all year round, with something for everyone to enjoy. So why not book a trip to Malagos Garden Resort and Chocolate Museum today?
Davao Crocodile Park
The Davao Crocodile Park is one of the most popular tourist destinations in Davao City. It is home to thousands of crocodiles, both fresh and saltwater varieties, and some other animals like snakes, birds, and monkeys.
The Park offers a variety of activities for tourists, including a crocodile feeding show, a snake show, and a monkey show. There is also a nature trail where visitors can see the different kinds of plants and animals in the Park.
Philippine Eagle Center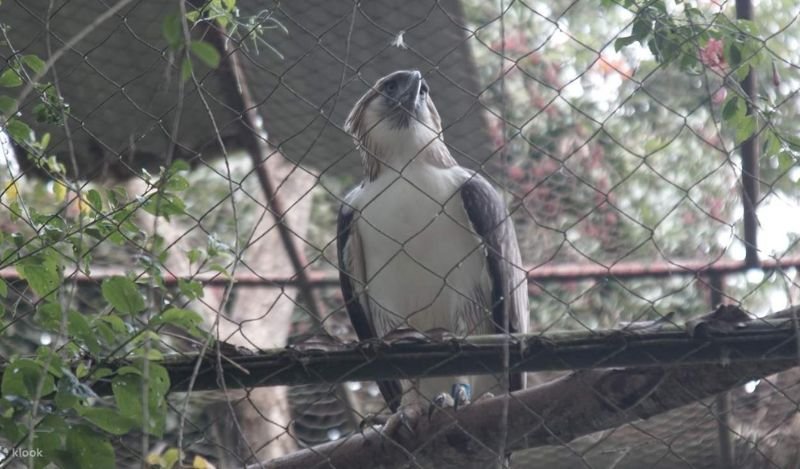 The Philippine Eagle Center is a great place to learn about the eagles and their ecosystem. There are also plenty of activities for guests to enjoy, such as nature walks, bird watching, and trekking. The center, which resembles a typical rainforest, is a great place to get a feel of nature. The center also offers a chance to get up close and personal with the eagles through their feeding times.
As of this writing, some 36 Philippine Eagles live at the sanctuary, and 18 are captive-bred. It also houses different species of birds, mammals, and reptiles.
The Philippine Eagle Center is located in Malagos, Davao City. It is open daily from 8:00 am to 5:00 pm. Admission is PHP 600 for adults and PHP 300 for children ages 3-12 years old.
People's Park Davao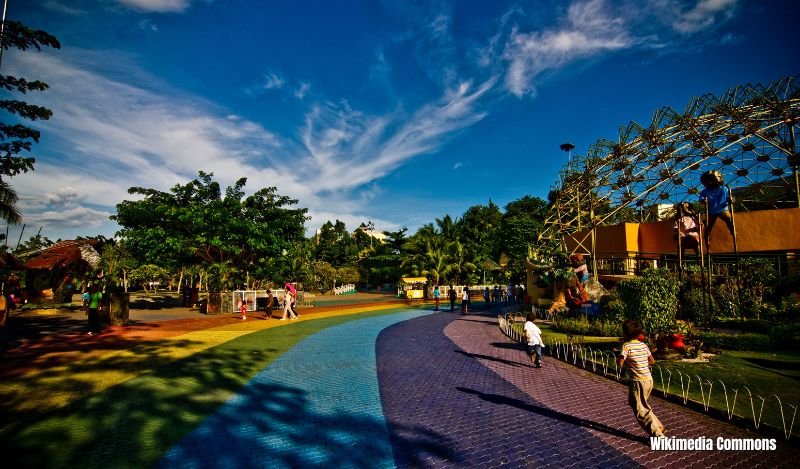 There are plenty of things to see and do in People's Park Davao. The Park is home to various gardens, a playground, and a jogging path. There is also a children's museum and a butterfly sanctuary in the Park.
One of the most famous sites in the city is the Durian Dome, one of the Park's main attractions, so is the dancing fountain during the night. The Park also has a statue of the Philippine Eagle and sculptural works by local artists. There are also shaded walking paths for visitors to enjoy. People's Park is a great place to spend a day in Davao City.
Jack's Ridge Resort and Restaurant
If you are looking for a place to get away from the hustle and bustle of the city, then Jack's Ridge Resort and Restaurant is the perfect place for you. You can enjoy the peace while taking in the beautiful scenery. The resort also offers an amphitheater, cottages, KTV bar, conference halls, etc.
Aside from the stunning vistas and the resort, there are two restaurants to enjoy: Karlo's Gourmet, which serves coffee, pastries, and other baked goods, and Taklobo, which offers Philippine cuisine while looking out over the city.
Roxas Night Market
People can see and do a lot of things in Roxas Night Market. There are food stalls where people can buy delicious food, shops where people can buy clothes and other items, and a lot of space for people to enjoy themselves.
Different stalls in the famous night market sell fresh and prepared varieties of seafood, vegetables, meat, and other items. The night market is a great place to spend an evening with friends or family. People can enjoy the food, the shopping, and the atmosphere.
Museo Dabawenyo
There are many things to see and do at the Museo Dabawenyo, also known as the Museum of the People of Davao. It is home to a wide range of exhibits that showcase the culture and history of Davao City. Some of the highlights include the traditional costumes of various ethnic groups in the region, a collection of traditional weapons, and a replica of a tribal house. The museum also hosts special events and exhibitions from time to time.
If you're looking for something fun and educational to do, the Museo Dabawenyo is definitely worth a visit. It's the perfect place to learn more about the history and culture of Davao City. Plus, admission is free!
Mt. Apo
Mt. Apo is one of the most famous mountains in the Philippines because of its picturesque landscape and stunning biodiversity. Mt. Apo is the highest mountain in the Philippines and among the highest in Southeast Asia, standing at 2,954 meters. It's also known as the "King of Philippine Peaks." It is a favorite destination for adventure seekers and nature lovers.
Some of the things you can see and do in Mt. Apo are:
explore the caves and waterfalls
hike to the summit
enjoy the view of the sunset and sunrise
see the endemic species of plants and animals
camp under the stars
swim in the hot springs
Mt. Apo is a must-visit destination if you are looking for an adventure and commune with nature.
Davao Butterfly House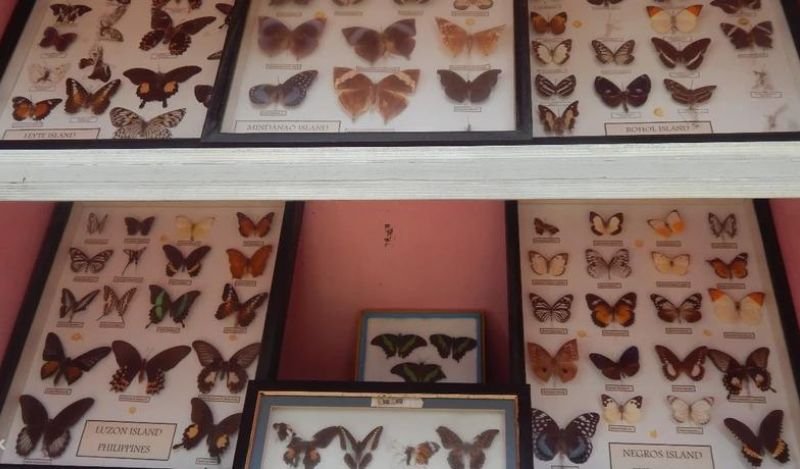 The Davao Butterfly House is a place where you can see different types of butterflies. It is also a place where you can learn about these beautiful creatures. The best time to watch butterflies is early in the morning when there is plenty of sunlight. This is when many species are hatching, courting, and mating.
There are also gardens where you can relax and enjoy the beauty of nature. There are parks for the kids to enjoy and play in. It's a tiny place, but it's worth seeing.
Kadayawan Village
There are many great things to see and do in Kadayawan Village. The Kadayawan Village in Magsaysay Park, built to resemble where the eleven indigenous and Moro groups of Davao City live in different proximity to the city, is a good example. It's a fantastic spot to showcase the indigenous tribes of Mindanao, who are known collectively as "Lumads."
Some of the highlights include the following:
View the beautiful plants and flowers in the gardens
Take a stroll through the traditional houses and learn about the cultures of the different tribes
Sample local food and drinks at the many stalls and restaurants
Watch traditional dances and performances
There is something for everyone in Kadayawan Village, so check it out during your next trip to Davao City!
Outland Adventure Camp's Xcelerator Zipline
Outland Adventure Camp's Xcelerator Zipline is perfect for those who want to experience the adrenaline rush of zipping through the air. The Philippines' and Asia's longest and quickest zipline is at this camp. The zipline is a kilometer-long dual-cable speed zipline that flies 200 feet above the ground, making it one of the world's most extensive ropes course facilities. With stunning views of the surrounding countryside, this is an activity that every thrill-seeking zipline enthusiast will enjoy.
Whether you are a thrill-seeker or just looking for a unique way to spend some time outdoors, Outland Adventure Camp's Xcelerator Zipline is the perfect activity!
Davao River White Water Rafting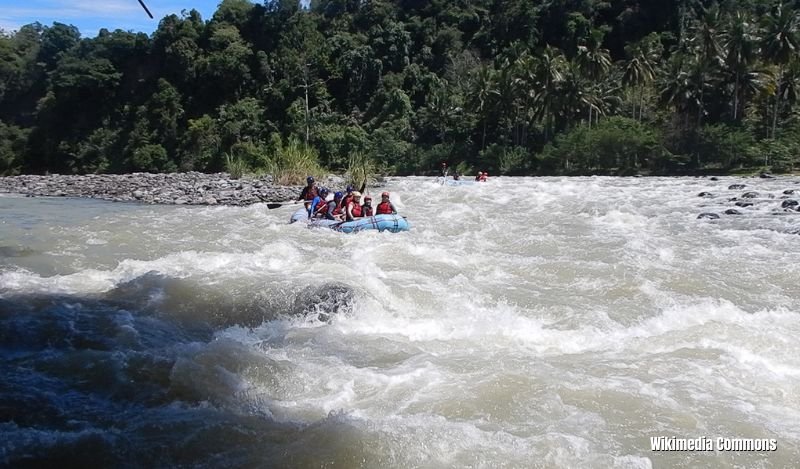 Davao River White Water Rafting offers a unique and thrilling experience perfect for nature lovers and adventure seekers. At an hour's drive west of Davao City, the crystal-clear streams rush and gush over rapids that appear to have been formed primarily for your group excursion in the spectacular mountains that rise above.
The rapids are of varying classes, making them the perfect rafting destination for those who are looking for an adrenaline rush. The river is also surrounded by beautiful scenery, making it a great place to relax and take in the natural beauty of Davao. There are also several restaurants and bars near the river, making it easy to grab a bite or drink after a day of rafting.
Davao River Water Rafting is the perfect place to enjoy a thrilling outdoor adventure while taking in the natural beauty of Davao. Whether you're looking for an adrenaline-pumping rafting experience or a relaxing day surrounded by nature, Davao River Water Rafting has something for everyone.
Monfort Bat Colony
Located on Samal Island, the Monfort Bat Colony is a must-see tourist spot in Davao. It is home to millions of Geoffrey's Rousette Fruit bats, making an incredible sight as they fly out at dusk. According to Guinness World Records, it is the world's biggest single colony of these creatures. The ceilings and walls of their 75-meter cave are covered with them. Visitors can explore the nature trail that winds through the territory.
Saint Peter Metropolitan Cathedral (Davao Cathedral)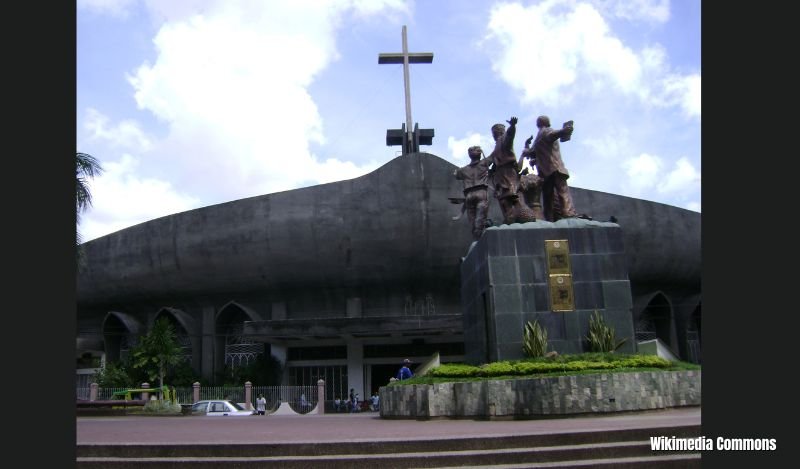 The Saint Peter Metropolitan Cathedral, or Davao Cathedral, is a beautiful cathedral located in the city of Davao. This cathedral is dedicated to Saint Peter and is the ecclesiastical seat of the Roman Catholic Archdiocese of Davao. The image of an ark influenced the cathedral's design, hence the pointed front where the cross stands. A separate bell tower was also built.
Sad footnotes to history, the cathedral has been a victim of two bombing incidents: one in 1981, which killed 17 people, and another in 1993, with seven deaths. For whatever reason, the Davao Cathedral is worth visiting when one is in the city!
Davao Chinatown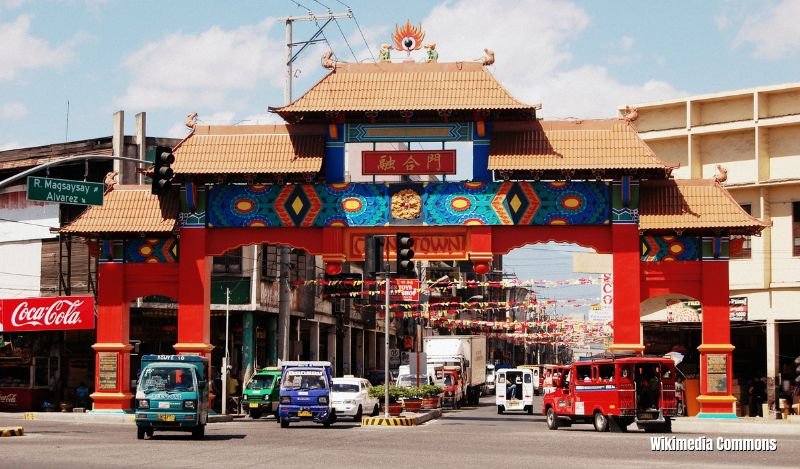 There's never a dull moment in Davao Chinatown! It is the only Chinatown on the whole island of Mindanao, and it is the country's largest, covering 44 hectares of land and is part of four barangays.
There are four Chinese archways in Davao Chinatown. The massive arch across the street from Magsaysay Park is one of them. Within the area, you may visit temples, including the Long Hua Buddhist Temple, Polian Temple, and Mindanao Taoist Temple.
It is the main commercial center for Chinese Filipinos in Davao City. Small kiosks and stalls selling inexpensive and low-cost products such as fruit, vegetables, and dry goods are open. Start your day by browsing the stalls at the market for fresh produce and local handicrafts. Then head to one of the many restaurants for a delicious lunch. In the afternoon, take a walk around the area and do some shopping. You'll find everything from clothes and souvenirs to Chinese medicines and cosmetics.
Giant Durian Sculpture
When you arrive at Davao City International Airport, you will see a massive Durian Sculpture of two storeys high and made of plaster. This sculpture was made by one of the city's most renowned sculptors, painters, and artists, Kublai Millan. The three people of Davao are revealed when the Durian statue is opened: the Lumads, Muslims, and Settlers.
This sculpture is one of the many symbolic sculptures found in Davao City, known for its strong artistic culture. If you are an art lover, Davao is undoubtedly the place!
Upside Down House Museum and Tricky 3D Museum
The Upside Down House Museum and Tricky 3D Museum are two of the most popular interactive museums in Davao City. In the Upside Down House Museum–Davao's first of its kind–you can see how you'll appear to be eaten by a shark, walkthrough molten lava, or fall off a cliff. At the Tricky 3D Museum, you may experience what it feels like to be eaten by a shark, go through molten lava, or plummet from a cliff. With more interactive exhibits and different "instagrammable" activities, these museums will amaze and educate visitors of all ages.
Davao is a place where you can find many tourist spots and activities to do. The list above will help you plan your trip and make the most of your time in this beautiful city. We hope that you enjoy your stay!
Davao Travel: Transfers and Transportation
Other Travel Guides