Cebu Pacific Promo 2022-2023 Sale For as Low as P88 One Way Base Fare – Book Now!
Fly to various destinations from Manila, Cebu, Iloilo, Davao, or Zamboanga with Cebu Pacific Promo 2022 Travel for as low as P88 One way Base Fare. Hurry, book your tickets while your seats last!
2022 Cebu Pacific Promo Booking and Travel Periods
SALE PERIOD: until November 10, 2022, or until seats last
FLIGHT DATES / TRAVEL PERIOD: November 1, 2022, to April 30, 2023
If these promos are outdated (the booking or travel period has lapsed), check out the updated Cebu Pacific Promos.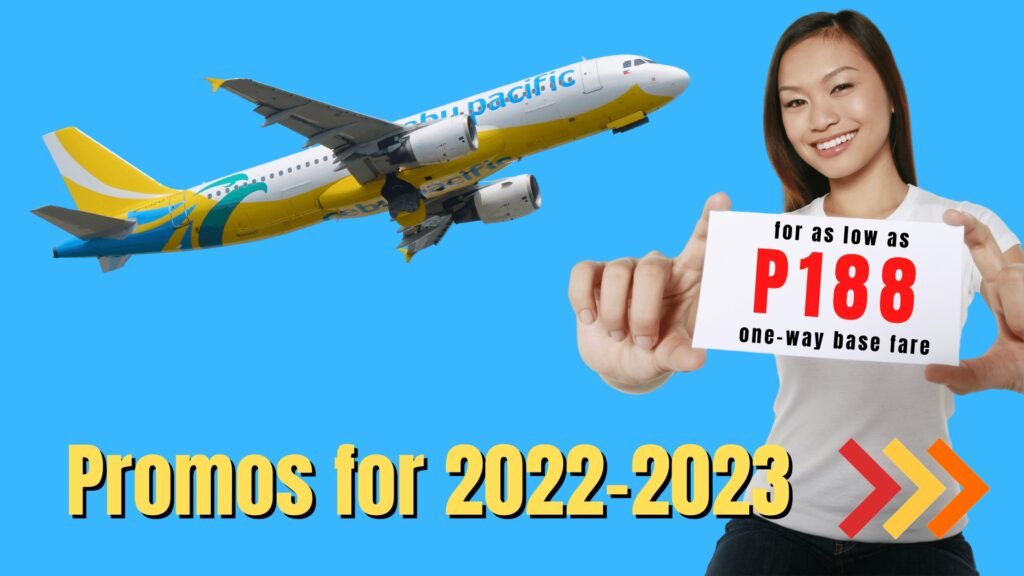 Cebu Pacific Promo 2022 to 2023 for Select Local Destinations
| | | |
| --- | --- | --- |
| From | Destinations (and vice versa) | One Way Base Fares |
| Manila | Bacolod, Cebu, Davao, Kalibo | P88 |
| Manila | Cagayan de Oro, Iloilo, Puerto Princesa, Roxas, Zamboanga | P188 |
| Manila | Bohol, Boracay (Caticlan), Butuan, Legazpi, San Jose (Mindoro), Tuguegarao | P288 |
| Manila | Cauayan, Cotabato, Dipolog, Dumaguete, General Santos, Masbate, Ozamiz, Tacloban | P388 |
| Manila | Coron (Busuanga), Naga, Pagadian, Siargao, Surigao, Virac | P588 |
| Cebu | Boracay (Caticlan), Cagayan de Oro, Manila, | P88 |
| Cebu | Bacolod, Davao, Dumaguete, Puerto Princesa, Zamboanga | P188 |
| Cebu | Butuan, Calbayog, Iloilo, Legazpi, Ozamiz, Pagadian, Siargao, Surigao | P288 |
| Cebu | Camiguin, Clark | P388 |
| Cebu | Coron, Dipolog, General Santos | P488 |
| Iloilo | Davao | P188 |
| Iloilo | General Santos | P588 |
| Zamboanga | Tawi-Tawi | P188 |
| Zamboanga | Cotabato | P288 |
| Davao | Bacolod, Bohol, Cagayan de Oro, Zamboanga | P188 |
| Davao | Bohol, Siargao | P288 |
| Davao | Iloilo | P388 |
Book your tickets at the Cebu Pacific Air Official Website.
Be notified of the latest promos, alerts, news, and updates in Philippine Travel, Cebu Pacific Promos, and other Travel Period Alerts subscribe to our BiyaheFinder YouTube Channel.
Cebu Pacific Promo Tickets flight dates info including origin, destination, and flight rates as announced from Cebu Pacific Promos Website dated November 1, 2022. 
Check out the different travel requirements:
Here is how to book Cebu Pacific tickets.
Cebu Pacific Seat Sales Terms and Conditions:
Quoted Cebu Pacific Promo 2022 are one-way base fare tickets, including a 7 kg hand-carry luggage/baggage allowance. Still, they do not include Web Administration Fee, 12% value-added tax (VAT), airport terminal fee, and fuel surcharges.
Cebu Pacific Sale tickets and fares have limited availability and are non-refundable. However, these are rebookable but subject to the following rebooking and other fees: P1,500 for domestic flights, P2,300 for short-haul, and P2,800 for long-haul tickets plus fare difference (between previous and rebooked trips).
For the travelers' convenience, flight trip alterations, the prepaid baggage allowance for checked-in baggage, and self-check-in services can be availed up to four (4) hours before the scheduled flights.
Promo fares are limited and non-refundable but rebookable subject to fees and charges.
To check the latest Cebu Pacific sale promo alerts, please feel free to Subscribe to BiyaheFinder Airline News, Alerts, and Promos by Email.
For flight booking inquiries, you can check the Cebu Pacific Official Website or Facebook Page or call the reservation hotlines at +632-8702-0888 (Manila) or (032) 230-8888 (Cebu).
About Cebu Pacific
Cebu Pacific is one of the leading airlines in the Philippines. Cebu Pacific's promo fares can be as low as P88 one-way base fares. The airline offers one of the cheapest flights and promo fares as compared to the other Philippine airlines. Cebu Pacific also offers a wide range of services and amenities, such as in-flight entertainment, baggage allowance, and meals. Cebu Pacific also offers CebGo inflight internet service and CebPass, Cebu Pacific's mobile app. Passengers can use CebGo to watch films and TV shows while on their flights, while CebPass allows customers to book online and check flight status easily.
Cebu Pacific Air allows passengers to carry two (2) pieces of baggage weighing up to 7 kilos each for free but charges a fee if the total weight exceeds 7 kilos.
Cebu Pacific Air also offers special meals to cater to different religious sects, dietary needs, or other special preferences, especially in the Manila-Dubai flights.
Cebu Pacific Air is based in Pasay City, Metro Manila, Philippines. Cebu Pacific operates its main hub out of Terminal 3 of Ninoy Aquino International Airport (NAIA) and has a smaller hub in Cebu International Airport. Cebu Pacific flies to destinations like Caticlan, Coron (Busuanga), Puerto Princesa City, General Santos City, Kalibo, Tagbilaran Airport, Iloilo City, Clarkfield in Pampanga, Bohol (Tagbilaran), Dumaguete, Manila, Tacloban, Catarman among other provinces. It also flies to foreign destination countries in the Asia Pacific and the Middle East, like Dubai, Kuala Lumpur, Ho Chi Minh, Singapore, Japan, and South Korea, among others.
Before You Book Promo Sale Cebu Pacific
Please take note of all important information in the announcements, including Cebu Pacific's flights, sale period, promos, ticket announcements, and travel times on the website, Facebook page, and press releases. You must reserve your flight within 24 hours of the sale. Promos fares tickets and the cheapest flights are only offered several months before and only for a short period. If your travel plans are different than the advertised travel periods or the promo has already expired, keep an eye out for the upcoming promo announcements. Check flight availability and book online.
Frequently Asked Questions on Cebu Pacific Promos
When can I book a flight for November 2022?
Actually, you can book anytime since the travel period of Cebu Pacific promos and seat sales are scheduled way ahead of the booking period. Some promos will have travel periods even way into 2023. So try your chance and check out the latest Cebu Pacific promo 2022!
Can I book flights for June 2022?
In fact, you may book at any time because the Cebu Pacific promo and seat sales are planned well ahead of time. Some deals will continue to have travel periods in 2023. So try your luck with one of the most recent Cebu Pacific offers!
How often does Cebu Pacific have sales?
Cebu Pacific is selling seats on a monthly basis, and they have "Piso fare" or one peso fare seat sales every few months. This is an excellent time to go on holiday to your favorite location at a low price. So, what do you have to lose? Book your tickets now and go on vacation!
How long is the validity of Cebu Pacific travel fund?
The Cebu Pacific Travel Fund is a virtual wallet that stores the total amount you've paid for an existing booking. Each converted trip becomes part of the Cebu Pacific Travel Fund, which lasts for six months after conversion. It may be used to book a new flight and purchase add-ons in the future as both a payment method and a way to keep track of your travel expenses.
How to save on Cebu Pacific Air flights?
Cebu Pacific Air is a low-cost carrier that offers affordable deals to people looking for flights without the hassle of extras. Simply search their routes and they'll show you the prices of each available flight. It's as simple as that!
How to get cheap Cebu Pacific Air flights?
There are a few ways that you can save on Cebu Pacific Air flights. First, you can sign up for their newsletter to receive exclusive deals and promotions. You can also follow them on social media for the latest updates. Additionally, Cebu Pacific Air often offers promo codes that can be used to save on flights.
Check Out the Latest Promos