Check out Best Zamboanga Travel Guide for 2022
With BiyaheFinder Zamboanga Travel Information, you'll have everything you need to make the most of your trip. This brief Travel Info contains all the information you need to know about amazing Zamboanga City, from flight availability and promos, to where to stay and what attractions you can't miss. So if you're looking for information for your trip to Zamboanga City, look no further than Zamboanga Travel Guide by BiyaheFinder!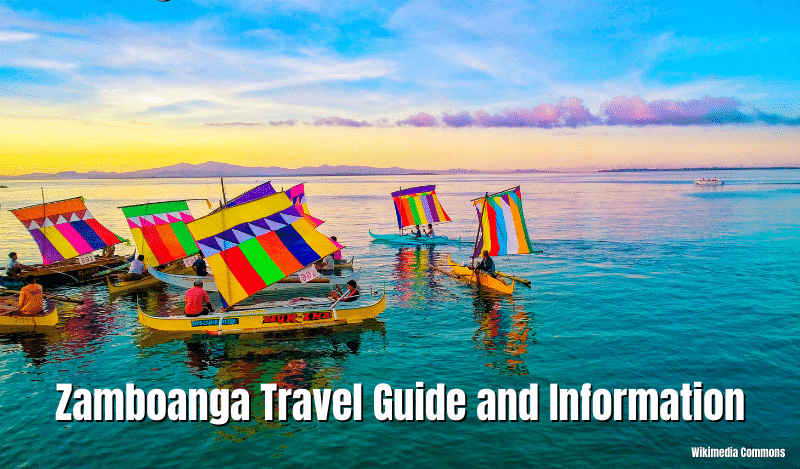 Zamboanga Travel Requirements
Zamboanga Travel: Flights Schedule
| Route | AirAsia Flight Schedule | Cebu Pacific Flight Schedule | Philippine Airlines Flight Schedule | Other Airlines |
| --- | --- | --- | --- | --- |
| Manila to Zamboanga | Daily | 4x daily | 2x daily | |
| Zamboanga to Manila | Daily | 4x daily | 2x daily | |
| Cebu to Zamboanga | | Daily | 3x a week (Mon, Wed, Fri) | |
| Zamboanga to Cebu | | Daily | 3x a week (Mon, Wed, Fri) | |
| Zamboanga to Tawi-Tawi | | Daily | 3x a week (Mon, Wed, Fri) | |
| Tawi-Tawi to Zamboanga | | Daily | 3x a week (Mon, Wed, Fri) | |
| Davao to Zamboanga | | Daily | | |
| Zamboanga to Davao | | Daily | | |
The flight schedule shown above was updated on November 1, 2022, for the Month of November 2022. Airlines frequently change their schedule without notice, so it is best always to check out the airlines' official websites.
Blank cells mean there are no flights for that particular route to and from Zamboanga.
Zamboanga Travel: Promos and Seat Sales
Check out the latest promos to and from Zamboanga City. Blank cells mean the particular airline does not have any promos going to or coming from Zamboanga.
| Route | AirAsia | Cebu Pacific | Philippine Airlines | Others |
| --- | --- | --- | --- | --- |
| Manila to Zamboanga | P200 | P188 | | |
| Zamboanga to Manila | | P188 | | |
| Cebu to Zamboanga | | P188 | | |
| Zamboanga to Cebu | | P188 | | |
| Davao to Zamboanga | | P188 | | |
| Zamboanga to Davao | | P188 | | |
| Zamboanga to Tawi-Tawi | | P188 | | |
| Tawi-Tawi to Zamboanga | | P188 | | |
For the latest promos appearing above, please click on the respective links below for more information like booking and travel periods:
Zamboanga Travel: Best Hotels
Check out the best hotels in Zamboanga as guest-rated on Agoda.com. The best Zamboanga Travel hotels rated on the platform are categorized according to value or budget (one to two stars) and mid-high end (three to five stars) hotels. Click on the link to check out the hotel photos, amenities, nightly rate, and room availability.
Best Time for Zamboanga Travel
Best Time to Visit Zamboanga
Reason to Visit Zamboanga during this time
Mid October to January
Ideal weather (Championtraveler.com)
The average temperatures in Zamboanga barely vary at all. The humidity makes it feel hot all year, and there is a low chance of precipitation most of the year. The warmest months in Zamboanga are June, March, and then July.
October
Zamboanga Hermosa Festival
The Zamboanga Hermosa Festival is a month-long celebration that happens every year in October. The people of Zamboanga celebrate their patron saint, Nuestra Señora del Pilar, during this time. They do this by honoring her and by having a festival that happens in the city center. The festival is called the Zamboanga Hermosa Festival. The Real Fuerza de Nuestra Señora del Pilar de Zaragoza is also known as Fort Pilar. This fort was built by the Spanish colonial government many years ago.
Regatta de Zamboanga
The Regatta de Zamboanga is a water sports event that takes place during the Fiesta Pilar or Zamboanga Hermosa Festival. This event showcases the colorful outrigger boats called vintas and bancas that are made by locals in Mindanao. These boats are used for deep-sea trolling and the makers use vibrant colors to make them beautiful.
May
Flores de Mayo
Zamboangueños celebrate the founding of their city every May with a month-long celebration. One part of this celebration is Flores de Mayo, or Flowers of May. This celebration honors the Virgin Mary and is marked by locals offering flowers in churches and village chapels. At some point during the month, you can see the Virgin Mary decorated with colorful flowers and paraded around.
February to March
Zamboanga City Bird Festival
Zamboanga City Bird Festival is recognized as the country's biggest celebration of avian diversity, attracting bird-lovers, conservationists, and visitors from both local and foreign countries. Zamboanga not only has a rich variety of endemic birds but is also attractive to migratory species owing to its ideal ecosystem for a wide range of avian species. The wetlands along the coast are appealing to flocks of migratory terns and wader species such as stilts, sandpipers, and plovers. Black-crowned herons, rufous egrets, and great egrets frequent the fishponds around.
December
Pascua na Zamboanga
Christmas is a major celebration in the Philippines, especially in Zamboanga. The City Hall is lit with Pascua na Zamboanga, or Christmas in Zamboanga, which begins with a lighting ceremony. One of the purposes of this holiday event is to bring people from different religions together during the Christmas season. Plaza Pershing, Paseo del Mar, Veterans Memorial Monument, and Jardin Maria Clara are among several landmarks illuminated with multi-colored lights. Other festivities include a variety of activities like holiday concerts and choral competitions.
Zamboanga's most popular month for tourism is October, followed by July and May. During these times, hotel rates and flights will be the most costly, but advance booking might help you save money. Those who want to avoid visiting during these months should anticipate paying the lowest prices.
Zamboanga Travel: Transfers and Transportation
To and From Zamboanga Land Transport Services
| | |
| --- | --- |
| Route | Zamboanga Land Transport Service |
| | |
| | |
| | |
Search All Land Transport Services to and from Zamboanga
To and From Zamboanga Ferry Services
Top 17 Zamboanga Tourist Spots to Visit
Zamboanga City is a place of stunning natural beauty and cultural richness
Zamboanga City is a place of stunning natural beauty and cultural richness. Situated on the Zamboanga Peninsula in the southwest corner of Mindanao, Zamboanga City is blessed with a tropical climate, white-sand beaches, and lush green vegetation. The city is also home to a rich culture and history, with Spanish colonial influences evident in its architecture and cuisine.
Despite all of its charms, Zamboanga City is often overlooked as a tourist destination. This is a shame, as there is much to see and do in this vibrant city. Here are just some of the top tourist spots in Zamboanga that you shouldn't miss:
1. Paseo del Mar
This oceanfront promenade is the perfect place to take a leisurely stroll, watch the sunset, or enjoy a meal at one of the many seafood restaurants. On weekends, the promenade comes alive with locals and visitors alike, as it is transformed into a vibrant night market.
Paseo del Mar has all of that and more with a range of tiny shops, restaurants, and food carts to visit. Zamboanga City's Dancing Fountain, which shoots water into the air to amaze everyone who passes by for a solid minute or two, is also there.
From the boardwalk, you may see the Santa Cruz Islands and Basilan Island, which is just to the south. One can also ride the vintage here during weekends from 4:00 to 6:00 PM.
2. Plaza Pershing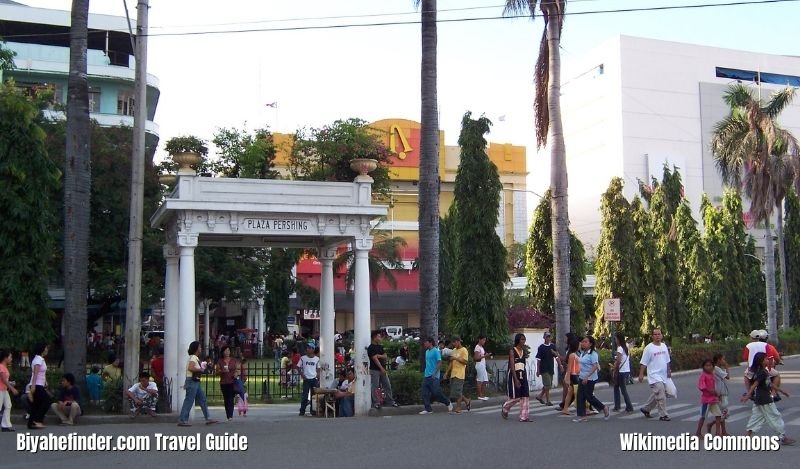 Plaza Pershing was established in Zamboanga City to honor Governor John Joseph "Black Jack" Pershing for his victory over Muslim insurgents. it is located in downtown Zamboanga and very accessible to the City Hall and other city landmarks.
Today, it is an open-air park in Zamboanga's bustling shopping area where people may stroll about, listen to bands and "miting-de-avances", and participate in competitions on special occasions while purchasing local products. The agriculture fair is also held in this area during Fiesta Pilar.
3. Zamboanga City Hall and Rizal Park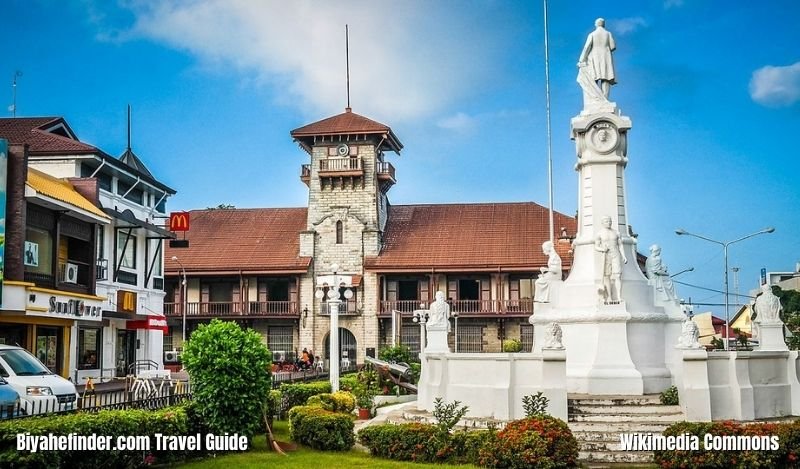 The Zamboanga City Hall is one of the most recognized sights in the city and is the seat of local government. The National Historical Commission of the Philippines considers the city hall structure a National Historic Site.
The construction of the historic building started in 1905 and was finished in 1907. The Federal Government of the United States built it to be the official residence of the US Military Governor of the Moro Province. Later, it became the seat of government for the Department of Mindanao and Sulu. Since 1937, it has been used as Zamboanga City's city hall. The Zamboanga City Hall has a Filipino colonial architectural design.
Rizal Park, in front of the Zamboanga City Hall, is another must-see spot in Zamboanga City. It's a mini-park where a white-washed statue of the national here, Jose Rizal, is located. It's the perfect place to spend an afternoon relaxing and taking in the scenery.
4. Rio Hondo Village
Rio Hondo is a Muslim village in Zamboanga popular for its houses on stilts. These houses were built to protect the villagers from floods. The homes are connected by wooden bridges at high tide. The village entrance is via the wooden bridge that spans the Hondo River (or Rio Hondo) which means deep river, which forms its border.
The Muslim settlement can be seen from 200 meters away, with its silver dome. Continue walking for a short distance farther to Rio Hondo, which means "deep river."
It is best to drop by the Barangay Hall before exploring the place so you will be provided a trusted guide.
5. Yakan Weaving Village
The Yakan Weaving Village, which is roughly six kilometers west of Zamboanga City, is a market for selling high-quality Yakan weavings, brassware, and mass-produced batik.
The Yakan are an indigenous tribe of Basilan Island, and their weaves are made with vibrant colors and geometric patterns.
In this village, you can see colorful textiles being produced on the spot. There are several handicrafts for sale, such as hand-carved Basilian Pira Swords, satchels, scarves, and textiles to take home as mementos. You won't find a price tag on any of these items, so be prepared to bargain a deal that is acceptable for both you and the seller.
6. Jardín de Maria Clara Lobregat
Jardín de Maria Clara Lobregat is one of Zamboanga city's fresh new tourist attractions. The park is named for former city mayor Maria Clara Lobregat and features a variety of butterflies, orchids, and roses. It also includes an aviary park for parrots, turkeys, and eagles.
The garden is located in the heart of Zamboanga City, making it easily accessible for everyone. It is also one of the best places to get a view of the city skyline. The park has beautiful flowers and butterflies such as orchids, roses, and multicolored butterflies. It also features an aviary park for birds such as parrots, turkeys, and eagles. There are also several benches where you can sit and enjoy the scenery.
Jardín de Maria Clara Lobregat is definitely one of the top tourist spots in Zamboanga that you shouldn't miss!
7. Pasonanca Park
If you're looking for a nature escape in Zamboanga City, look no further than Pasonanca Park located in Pasonanca in Zamboanga City.
The park was built in 1912 during the administration of General John J. Pershing, Governor of the Moro Province, and finished under the reign of Frank W. Carpenter, Governor of the Department of Mindanao and Sulu (1914-1920). Thomas Hanley, a parksman from the United States hired by Pershing to serve at Pasonanca, oversaw the original layout of the park.
This lush green oasis is home to a variety of plants and animals, making it the perfect spot for a relaxing walk or picnic. The highlights of Pasonanca Park are the three public pools – a huge Olympic-size swimming pool, a natural tranquil pool, and a kids' pool with water slides. There are also many picnic areas.
Be sure to check out the park's butterfly garden while you're there!
8. Great Santa Cruz Island
The Island of Great Santa Cruz in the Philippines is a little inhabited island off Zamboanga City's southern coast known for its pink coralline sand. The island, located four kilometers south of downtown at the Santa Cruz Bank in the Basilan Strait, boasts one of the Philippines' pink sand beaches. The crimson pulverized organ pipe coral from countless years of surf erosions blended with the white sand gives it its color.
From the 1970s and early 1980s, the island became popular with German, Japanese, and Italian visitors. There has been a recent increase in tourism due to its growing popularity as one of the World's Pink Sand Beaches and Asia's only. It was named one of National Geographic magazine's 21 Best Beaches in the World in 2017.
If you're looking for a relaxing day by the beach, head to Great Santa Cruz. The views are absolutely stunning, and it's definitely one of the most beautiful beaches in Zamboanga.
9. Little Santa Cruz Island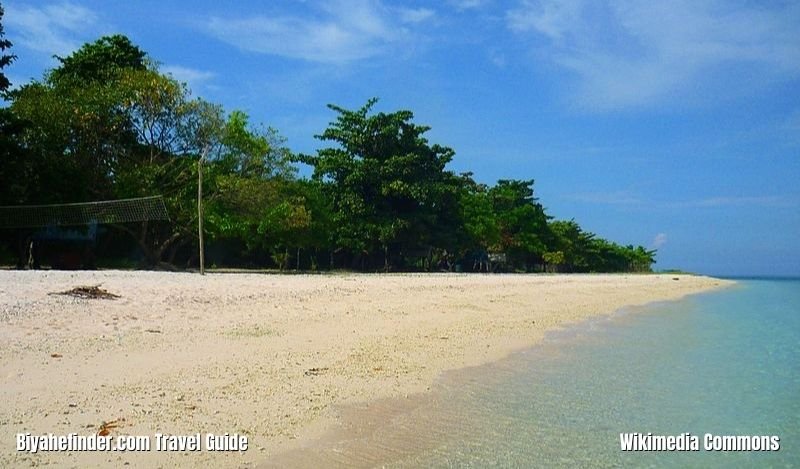 Little Santa Cruz Island is one of the most beautiful and popular tourist destinations in Zamboanga City. The island, situated almost four kilometers south of downtown Zamboanga City, on the Basilan Strait, is known for its stunning white-sand beaches, crystal clear waters, and lush vegetation. It's the perfect place to relax and enjoy the natural beauty of the Philippines.
One of the most popular activities on Santa Cruz Island is snorkeling. The clear waters offer great visibility, and there is a variety of fish and coral to explore. The island is also home to a number of sea turtles, making it a great place for turtle spotting. Other popular activities on the island include swimming, sunbathing, and hiking.
If you're looking for a beautiful and peaceful tropical getaway, Santa Cruz Island is definitely worth considering!
10. Tetuan Church or Saint Ignatius of Loyola Church
The Tetuan Church, one of the most historical religious sites in Zamboanga City, is an interesting Spanish-era building with a striking exterior. The Tetuan Church has a tall bell tower and lovely stained glass windows, making it a popular tourist destination. Visitors can also see the tombs of Spanish missionaries who were murdered during the Zamboanga uprising of 1872.
The modest Tetuan Church, also known as St. Ignatius Parish, is in Tetuan, which was founded by Spanish immigrants from a Moroccan city. It's claimed that Zamboanga had two divisions at one point: Tetuan and Zamboanga. The Spaniards enshrined St. lgnatious as the patron saint of Tetuan and established a parish during 1863. For 90 years, it is thought that only Jesuits served as Pastor of Tetuan Church prior to being replaced by the Dominicans in 1884.
11. Zamboanga Cathedral or Metropolitan Cathedral of the Immaculate Conception
The Zamboanga Cathedral, also known as the Metropolitan Cathedral of the Immaculate Conception, is one of the most important religious sites in Zamboanga City. It is the seat of the Archdiocese of Zamboanga and the mother church of all Catholic churches in the city. The cathedral was originally built in 1878 but was destroyed during World War II. It was rebuilt in 1954 and has since been serving as a major place of worship for Zamboanga's Catholic community.
The cathedral was rebuilt in 1998-2002 in the form of a cross, with the candle-like design being appropriate to the church's patron. Inside the main sanctuary is a marble statue of the Immaculate Conception by National Sculpture Napoleon Abueva. Symbolic stained glass windows depicting all Mindanao dioceses from 1910 to 1984 are found along the aisles. The baptistery, which faces away from the day chapel, contains the Pillar relic, which is considered its protector.
The interior of the cathedral is just as stunning, with its high ceilings and stained glass windows. The Zamboanga Cathedral is definitely worth a visit when you're in Zamboanga City.
12. Taluksangay Mosque
In 1885, Hadji Abdullah Maas Nuno erected the Taluksangay Mosque in Zamboanga City, Philippines, as part of his campaign to fight Spanish imperialists. It was formerly known as the Salakot Mosque and is now a tourist attraction.
Islamic propagation was first established in Zamboanga Peninsula's Valuksangay. Muslim religious missionaries from Arabia, India, Malaysia, Indonesia, and Brunei have been coming to this hamlet. In the later part of 1914, a representative of the Sultan of Turkey (Sheik-Al Islam) paid a visit to this location (1914).
Members of the Quadripartite Committee, Generals Fidel V. Ramos and Romeo Espino, visited Taluksangay village in 1973 during the height of the MNLF (Moro National Liberation Front) conflict. Even during the 1970s' turmoil, tourists continued to visit this ancient settlement.
13. Canelar Barter Trade Center
Canelar Barter Trade Center is one of Zamboanga's top tourist spots. Located in the heart of the city, this trade center is a bustling marketplace where locals and tourists alike can barter for goods and services. From fresh produce to handmade crafts, there's something for everyone at Canelar Barter Trade Center.
Whether you're looking to score a great deal on souvenirs or just want to explore Zamboanga's vibrant culture, Canelar Barter Trade Center is a must-visit spot.
14. Fort Pilar Shrine and Museum
The Royal Fort of Our Lady of the Pillar of Saragossa, also known as Fort Pilar, is a 17th-century military defense fortress built by the Spanish colonial government in Zamboanga City, Philippines. The fort is now a regional museum of the National Museum of the Philippines and it symbolizes the cultural heritage.
Outside the eastern wall, there is a Marian shrine dedicated to Our Lady of the Pillar, the patroness of the city. This shrine was officially crowned on October 12, 1960, via decree from September 18, 1960.
The Fort Pilar Shrine and Museum is one of the most popular tourist spots in Zamboanga. The shrine is home to some amazing religious artwork and historical artifacts, and it's definitely worth a visit! The museum is also very informative, and it's a great place to learn more about the history and culture of Zamboanga.
15. Merloquet Falls
The Merloquet Falls is one of Zamboanga's most popular tourist destinations. This beautiful waterfall is located in the interior barangay Sibulao, some 78 kilometers east of the city.
The challenging Merloquet Falls is a double-tiered plunge but its main draw is the elegant curtain waterfalls at the bottom, which are about 10 meters tall and 15 meters broad. The upper stage is a shorter fall and sloping diagonally, with a height of around 5 meters and a width of around 10 meters.
This should be on your must-do list if you have a day to spare in Zamboanga City and enjoy nature hikes and outdoor activities.
16. Zamboanga Freedom Park (Cesar Climaco Park)
The Zamboanga Freedom Park was developed by the City Government of Zamboanga, led by Mayor Cesar Climaco. The park formerly known as Abong-Abong Park is located on a hillside in a valley where one can enjoy the city's panoramic view and the mountains.
The park has a camping area for Boy and Girl Scouts, as well as a natural swimming hole known as Chrislam Pool. In memory of World War II veterans, Heroes Hill was built. The Freedom's Eternal Shrine in honor of the late Sen. Benigno Aquino is another notable feature at the park. The Ecumenical or Holy Hill where the 14 Stations of the Cross can be found leading up to the enormous white cross at the top of the hill is also part of it. The park also houses Cesar Climaco's final resting place.
17. Cawa-Cawa Boulevard (R.T. Lim Boulevard)
While in Zamboanga City, you must go to Cawa-Cawa Boulevard, also known as R.T. Lim Blvd., where you may see the sunset or several members of the Sama tribe onboard their colorful vintas while selling seashells and corals along the beach.
The beach on Lim Tran Boulevard was nicknamed "frying pan" (Cawa) because it was thought to be shaped like a frying pan, swimmers repeatedly yelling "Cawa-Cawa!" to warn bathers of the dangers of the sea's depth in the region.
Stretching for several kilometers, the boulevard is lined with lamp posts and offers a place to hang out in the evenings for many people and students. Many street vendors are there to provide the much-needed snacks from soft drinks to suman or balut. People start packing in as the sun starts to set.
Whether you're looking for history, culture, or natural beauty, Zamboanga City has something to offer everyone. So don't hesitate to add it to your list of must-visit destinations in the Philippines!
Zamboanga is also home to some of the best food in the Philippines – be sure to try the local dishes!
Zamboanga is home to some of the best food in the Philippines – be sure to try the local dishes! Zamboanga City is known for its delicious seafood, and there are plenty of restaurants that serve fresh catches from the sea. If you're looking for something a little different, Zamboanga is also famous for its meats and barbecue. There are many stalls and restaurants that offer up mouth-watering grilled meats that will surely tantalize your taste buds. And of course, no visit to Zamboanga would be complete without trying the famous Puto Pangasinan – a soft and fluffy rice cake that's often served with a savory topping.
Other Travel Guides