Cebu Pacific Payment Centers: Paying for Tickets Booked Online
Now, there are more ways to pay for your tickets booked online via various accredited Cebu Pacific Payment Bayad Center.  Let us count the ways!
Check out how to book Cebu Pacific Flight tickets online.
Cebu Pacific Accredited Payment / Bayad Centers: Different Modes
Non-Online / Non-Credit Card Payments or Payment Centers:
BEFORE MIDNIGHT:
When you choose the accredited Cebu Pacific Payment Center as your mode of payment, please note that reservations last only until 11:59 pm on the actual day of booking. Please be sure to have adequate time to pay for the ticket at your favorite payment center.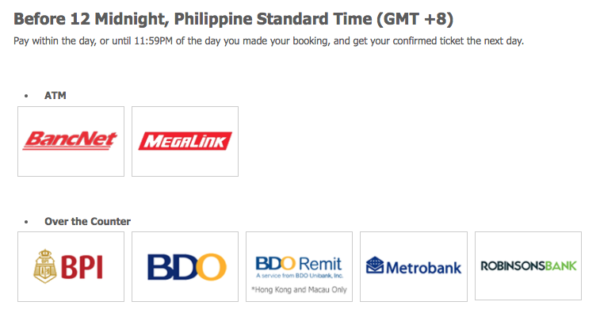 Please remember to write down your 14-digit payment code and the exact amount required when paying thru payment centers. You'll need these pieces of information to verify your account with your designated payment center.
If you fail to make the payment cut-off of the particular payment center, you might still revise your payment method by calling up 870-20-888. Please take note though that the original reservation deadline of 11:59 pm will always be in effect.
If you made your payment paid through payment center/credit card and did not receive your itinerary, or in case your account is put "on hold" / "pending" status, please don't try to book again immediately. It is prudent to check up with your designated banks first if your bank account was deducted before deciding to book again; we should avoid duplicate bookings.
WITHIN 24 HOURS:

Click here for Cebu Pacific Payment via 7-11
If you are not sure about any bookings if they have been successfully recorded or not, you can check out the "Manage Booking" section of the booking page, or you can also check with your specific bank if the amount was deducted.
Online, Credit, or Debit Card Payments:
Debit cards issued by different banks work on a case-to-case basis. This depends on the functions assigned to it by the different issuing banks. It is advisable to best to confer with your bank first if your debit card is compatible with online booking systems before booking online.
Check out the latest Cebu Pacific Promos:
Cebu Pacific Payment – Important Things to Remember:
With Cebu Pacific alternative payment modes (aside from using your credit card), there are several different ways to pay for your online bookings.
Check the list below if your bank belongs as a Cebu Pacific Air Payment Partner.
Check out, search and book your flight online via the official website www.cebupacificair.com and upon reaching the payment page, click on tab indicated as "Cebu Pacific Payment Centers." Choose any of the listed payment centers. Or you can call to book by contacting our Call Center at +63 (2) 870-20-888.  Please take note that the form of Cebu Pacific Payment is only for bookings with flights departing 4:00 pm and after the following day, local time.
The website/call center agent will issue a 14-digit/number Reference code and the total amount to be paid in Philippine currency.
Go to your preferred payment center on or before 12:59 of the evening on the same day of your booking. Present the 14-digit Reference Number, and procced paying for your reservation in local currency. Afterward, the payment center will issue a Transaction Number. Please write down or take note of this number in case of disputes/problems.
As soon as your payment for your Cebu Pacific booking has been posted, you will receive your Itinerary Receipt through email. Alternatively, your six-digit alpha-numeric Confirmation Number via mobile phone.
At the airport, present your Confirmation Number or

Itinerary Receipt

, with your valid identification card.
Get ready to fly!
Additional Tips:
TIPS FOR RESERVATION AND PAYING FOR YOUR FLIGHTS.
1. Whenever you select the Payment Facility as your way of payment, then please note that reservations last only until 11: 59 pm on the same evening of booking. Please ensure you've sufficient time to pay for your ticket at your favorite payment center.
2. Always keep in mind to write down your 14 digit payment code and the exact amount to be paid when paying by payment facilities. You will need this info as this may confirm your account with the chosen payment center.
3. If you did not make the payment cut from the selected payment center, you might still change the payment method through 70-20-888. Please be aware, however, that the first reservation deadline of 11: 59pm will be in effect.
4. If you paid by payment center or credit card and haven't received your itinerary (IT), or if your account is on pending or hold status, do not book again right away. Check with your bank if your account has been deducted before booking. No one wants duplicate bookings.
5. If you're unsure of any of your reservations if they've been successful or not, then you may always check the Manage Booking section on our site http://www.cebupacificair.com. One can check with the bank if your account has been deducted.
6. Debit cards work on a per case basis, depending upon the functions given to it by the issuing bank. It'll be best to ask your bank if your bank card works with online booking systems before booking a ticket.
7. Finally, if things aren't loading right away, please bear with us unwind for a moment. Chill and allow things to load first before assessing.
Here is the list of banks that partnered with Cebu Pacific Air to accept payments for tickets:
Banks:
AIG PhilAm Savings Bank***
Allied Bank***
Asia United Bank */***
Banco de Oro
Bank of Commerce***
BPI China Bank*/***
Chinatrust (Phils.) Commercial Bank***
Citibank**/***
Citystate Savings Bank
Development Bank of the Philippines***
Eastwest Bank*/***
ENCASH***
Export Bank***
GE Money Bank***
HSBC**/***
Maybank Philippines***
Metrobank
Pacific Ace Bank***
PBCom***
Philippine National Bank***
Philippine Veterans Bank***
Philtrust Bank***
Planters Bank***
Postal Bank***
Premiere Bank***
PSBank***
Queen City Development Bank***
Quezon Capital Rural Bank***
RCBC*/***
RCBC Savings Bank***
Robinsons Savings Bank**
Security Bank*/***
Standard Chartered Bank***
Sterling Bank***
United Coconut Planters Bank***
Non-Banks (Cebu Pacific Payment Bayad Centers):
LBC
Bayad Center
Robinsons Department Store
M Business Services Center
Legend:
* BancNet bank members complementary with BancNet products/services wherein common transactions (like Balance Inquiry, Bills Payment, and Fund Transfers) can be done on the BancNet website. ** BancNet bank members that require registration or enrollment to be able to access their accounts. In BancNet Online, they are re-directed to their website. *** You can pay through Bancnet and Megalink ATMs only on Mondays to Fridays. This is not available on Friday, Saturday, and Sunday. **** BDO branches in and out of the Philippines.
For bookings and inquiries, guests can go to Cebu Pacific Air Official Website, or call the reservation hotlines (02) 87020-888 or (032) 230-8888.
Related Links