Flying to Tokyo on a Budget with ZIPAIR Philippines
Are you ready to explore Tokyo but concerned about the cost of flying? Look no further than ZIPAIR Philippines! This budget airline offers affordable flights from Manila to Tokyo, with tickets starting at just ₱9,500. Not only will you save money with Zipair, but you'll also enjoy modern amenities and a comfortable flight experience. Keep reading to learn more about why you should choose Zipair Philippines for your next trip to Tokyo.
ZIPAIR began offering direct flights between Tokyo Narita and Manila International Airport on July 1, 2023. Don't miss out on this new and convenient travel option!
To check-in for your flight at the Manila-Ninoy Aquino International Airport, head up to the third floor of Terminal 1. That's where you'll find the check-in counters. On the other hand, check-in counters for Tokyo-Narita International Airport can be found on the fourth floor of Terminal 1's north wing.

ZIPAIR Philippines: Competitive Pricing
This airline offers affordable tickets with numerous perks. Manila-Tokyo flights start at US$114.23 (around ₱6,347.82), and Tokyo-Manila flights are priced at US$108.77 (around ₱6,044.40). Additionally, these tickets include unlimited WiFi access and power outlets, providing absolute luxuries while in mid-air.
ZIPAIR offers some of the most competitive pricing in the market for flights from Manila to Tokyo. As mentioned earlier, their rates begin at ₱9,500, which is much lower than other airlines for the same route. By selecting Zipair Philippines for your flight, you'll be able to save money that you can then use to explore and experience Tokyo to the fullest.
ZIPAIR Philippines: A Comfortable Experience
ZIPAIR is dedicated to ensuring its passengers have a comfortable and enjoyable flight experience. With modern and well-maintained planes, you can rest assured that you'll arrive at your destination fully rested and relaxed. Additionally, their seats offer plenty of legroom so that you won't feel cramped during your flight.
ZIPAIR Philippines: Add-Ons and Upgrades
If you're looking for a little extra comfort, Zipair offers add-ons and upgrades that you can take advantage of. For a small fee, you can opt for extra legroom or even select a premium seat that has more amenities and exclusive perks.
Enhance your trip to Japan with our budget airline's exclusive packages! In addition to the standard ticket price, we offer three options that will take your air travel experience to the next level.
Introducing the Value package, which includes a delicious in-flight meal, the freedom to choose your seat, and the convenience of check-in baggage allowance. (Check out ZIPAIR Carry-On Baggage Policy)
For those seeking extra comfort and convenience, the Biz package grants you the privilege of seat selection and provides ample space for a five-kilogram carry-on bag.
And for the ultimate luxurious journey, the Premium package offers seat selection, carry- and check-in baggage, a delicious in-flight meal, and an amenity kit.
Don't miss out on these incredible enhancements that will make your trip to Japan unforgettable!
ZIPAIR Philippines: Convenient Schedules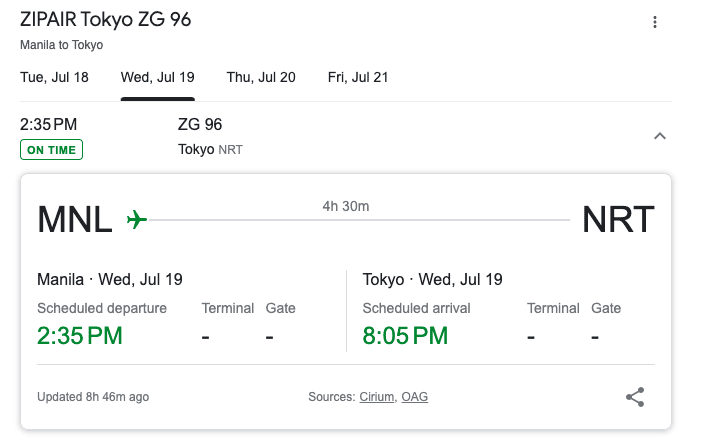 Zipair Philippines offers several flights a week from Manila to Tokyo, which means you'll have plenty of options when it comes to booking your trip. Additionally, their flight schedules are designed to be convenient for travelers, leaving Manila in the early afternoon (2:00 PM) and arriving in Narita, Tokyo, around 8:00 PM. This means you can easily plan your trip to best suit your schedule.
ZIPAIR Philippines: Excellent Customer Support
Zipair Philippines is dedicated to providing excellent customer support to their clients. Whether you have questions about your flight or need assistance with your booking, their customer service team is always available to help. They will ensure that your experience with Zipair Philippines is pleasant and seamless from beginning to end.
And finally, the Narita Paid Lounge Service is your perfect retreat when flying back to Manila. From 7 am to 8 pm, indulge in coffee, magazines, power outlets, and the luxury of WiFi. Don't fret about booking; walk-ins are welcome. However, to enjoy complimentary drinks, we highly recommend arranging your visit in advance on the official Zipair website. Avail this exceptional service for just ¥1,600 (approximately ₱643.57). Don't miss out on this incredible opportunity.
Don't spend a fortune on your flight to Tokyo when you can save money and fly comfortably with Zipair Philippines. With competitive rates, convenient schedules, modern amenities, and excellent customer support, Zipair Philippines is the perfect airline for budget-conscious travelers from Manila to Tokyo. Book your flight with Zipair Philippines today and experience Tokyo like never before!