IATF Allows Negative Antigen Test for International Travelers
The Philippines announced that foreign visitors and returning Filipinos might present a negative antigen test (laboratory-based) result upon their arrival in the country as of March 11, 2022.
The Inter-Agency Task Force for the Management of Emerging Infectious Diseases (IATF-EID) took the step amidst the country's reduced Covid-19 restrictions in recent weeks.
Before this move, international travelers planning to visit the Philippines must first undergo and present a negative result from an RT-PCR test. Negative rapid antigen test results were not accepted previously.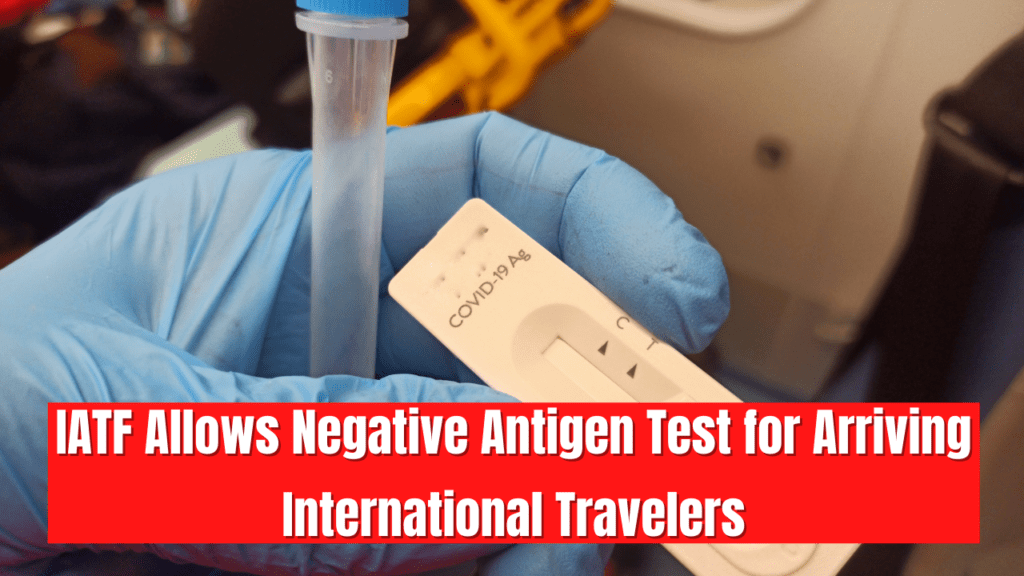 Previously, a negative RT-PCR test taken within 48 hours was mandatory. Now, one of the two — RT-PCR or rapid antigen — must be submitted." This was revealed by Deputy Presidential Spokesperson and Communications Undersecretary Michel Kristian Ablan in an online press briefing.
Negative Antigen Test Now Accepted for Entry
Fully immunized Filipino nationals may apply for a travel document from the Department of Foreign Affairs (DFA) if they have submitted a negative result of an RT-PCR test taken within 48 hours or a negative antigen test result of a laboratory-based test taken within 24 hours before their departure date and time from the Philippines. This was contained under  IATF-EID Resolution 160-A issued last March 10, 2022, by the task force.
Fully vaccinated individuals are no longer required to follow mandatory facility-based quarantine; however, they must self-monitor for any indication or symptom for seven days.
The new regulation also includes Filipinos who are unvaccinated or incompletely vaccinated and those with unknown vaccination status.
However, non-vaccinated persons must stay in government-approved facility-based quarantine until their negative RT-PCR test is completed on their fifth day in the nation. They must also stay at home for another nine days.
If a Filipino national who has recovered from Covid-19 tests negative before arriving in the Philippines, they must produce a positive RT-PCR test result taken no earlier than ten days but not later than 30 days and a positive RT-PCR test result taken within 48 hours of entry.
To determine if they are asymptomatic or have Covid-19 symptoms, fully recovered Filipinos leaving the country must submit a medical certificate from a licensed doctor.
Visa-free Entry for Travelers from Hong Kong and Macau
Meanwhile, the Philippines has received another new decision approved by the IATF-EID, allowing visitors from Hong Kong and Macau to enter without visas.
According to IATF-EID Resolution 164-A, approved Thursday, passport holders from Hong Kong Special Administrative Region (SAR) or Macau SAR can stay in the Philippines visa-free for a maximum of 14 days.
Those who can enter the Philippines without visas should present an "acceptable" vaccination certificate and a negative result of one of the two tests described above 48 hours or 24 hours before they arrive in the country.
A passport must have at least six months validity remaining upon arrival in the Philippines.
Covid-19 Vaccination Certificates
The IATF-EID, according to Ablan, has likewise decided to recognize and accept the national Covid-19 immunization certificate of Croatia, Cyprus, and Nepal.
Ablan said that the Covid-19 vaccination certificates should be utilized for arrival quarantine procedures, as well as interzonal and intrazonal movement.
"The Bureau of Quarantine, the Department of Transportation's One-Stop-Shop, and the Bureau of Immigration are instructed to accept only vaccinations validated by the IATF," he added.
The Philippines has also recognized Covid-19 vaccination certificates, which were issued by the following countries and territories:
Albania
Argentina
Armenia
Australia
Austria
Azerbaijan
Bahrain
Belgium
Brazil
British Virgin Islands.
Brunei Darussalam
Cambodia
Canada
Chile
Colombia
Czech Republic
Denmark
Ecuador
Egypt
Estonia
France
Georgia
Germany
Greece
Hong Kong SAR
India
Indonesia
Iraq
Ireland
Israel
Italy
Japan
Kazakhstan
Kuwait
Macau SAR
Malaysia
Maldives
Malta
Monaco
Myanmar
New Zealand
Oman
Palau
Papua New Guinea
Peru, Portugal
Qatar
Romania
Samoa
Singapore
Slovenia
South Korea
Spain
Sri Lanka
Switzerland
Syria
Thailand
The Netherlands
Timor-Leste
Tunisia
Turkey
United Arab Emirates
United Kingdom
United States
Uruguay
Vietnam
For COVID Travel requirements going in and around the Philippines: