AirAsia Xtra Carry On Upsize Option Philippines Offers More Hand-Carry Baggage for Travelers
With its revolutionary AirAsia Xtra Carry On option, AirAsia Philippines now allows passengers to bring two hand-carry pieces of luggage totaling 14 kg for a reduced upgrade price of PHP 390 for domestic passengers. AirAsia Xtra Carry On baggage solution has seen strong demand as travel — both leisure and business – has accelerated.
The AirAsia Xtra Carry On is a service that allows passengers to bring 14 kg of luggage onto a flight, allowing them to keep their valuables in sight at all times. Guests are permitted two pieces of carry-on baggage with a total weight not exceeding 7 kg for free. Because of the weight limitations on board and security measures, this service may be limited on some flights.
The airline's Xtra Carry On baggage product is in high demand because of the increase in travel, both leisure, and business, in recent months.
Click here for AirAsia Baggage Allowance and Fees.
AirAsia Philippines is the first and only airline in the country to provide this new cabin-baggage upsize option. All AirAsia reservations still come with a complimentary seven-kilogram hand-carry luggage allowance. Still, it is by far the most affordable check-in luggage allowance among all local airlines, starting at just Php 800 per 40 kg baggage.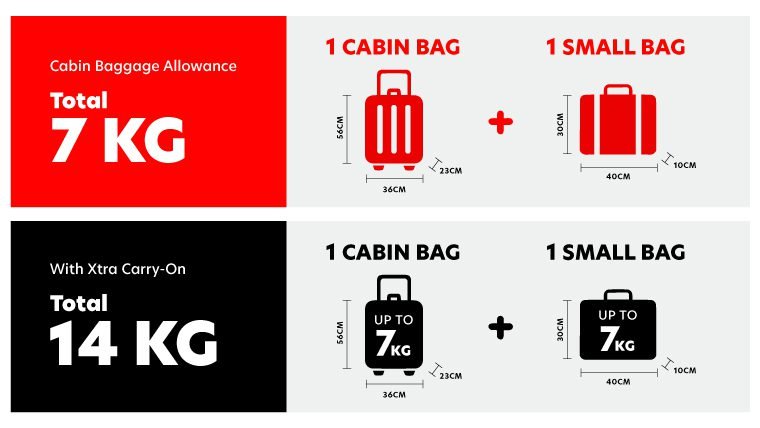 According to a recent poll conducted end-2021 by AirAsia, the baggage allowance is the most important consideration for Filipinos traveling that year, as chosen by half of all respondents. Some 32 percent bought additional in-flight meals or snacks. Filipino travelers also purchase various goods, including travel insurance (27%) and seat assignments (21%).
"We're here to provide you with a simple response as Filipinos ready to fly again and visit their favorite places," explains AirAsia Spokesperson and Head of Communications and Public Affairs Steve Dailisan. "As a matter of policy, we at Air Asia always endeavor to develop new services that make our guests' experiences more pleasant as they adjust to the new norm of travel.
As of April 22, AirAsia Philippines has reserved 559,298 domestic seats for the second quarter of 2022, an increase of 251 percent compared to the same period last year. According to the airline, this rise in bookings is due to increased demand for travel as more local destinations relax borders ahead of the summer season and national elections. Concurrently, for May and June of this year, the world's best low-cost airline has a satisfactory booking rate for international flights to neighboring ASEAN countries such as Malaysia, Indonesia, Thailand, and Singapore.
AirAsia Xtra Carry On Frequently Asked Questions
How many kilograms or pieces of hand-carry baggage can I bring onboard with AirAsia Xtra Carry-On?
For those of you who would want to travel with only a cabin bag but wish they could carry more things, you may buy our Xtra Carry-On for an additional fee to bring aboard an extra 7kg. In short, AirAsia Xtra Carry-On allows you to transport a total of 14kg via 1 cabin bag and 1 small bag, each up to 7kg.
Why can't I see the AirAsia Xtra Carry On option on my selected flight?
The reason for this is that AirAsia Xtra Carry On is only available for a restricted number of passengers and may be sold out on your chosen flight.
Which flights is AirAsia Xtra Carry On option
AirAsia Xtra Carry On is only available for outbound flights from Bangladesh, Cambodia, China, Hong Kong, Laos, Macau, Malaysia, Myanmar, Maldives, Philippines, Singapore, Taiwan, Vietnam, Indonesia, and Japan.
How can one upgrade his hand-carry baggage allowance on AirAsia?
If you want to buy the extra 7kg of cabin luggage allowance on AirAsia Xtra Carry On, go to airasia.com and select "Add ons" from the menu bar at the top of the screen under "Make a flight booking."
AirAsia Quick Links
AirAsia Latest Promos