Check out the Cheapest Cebu Pacific Dubai Promos for 2022-2023
Are you looking for the cheapest Cebu Pacific Dubai Promos for your next trip? If so, you're in luck! Cebu Pacific has some great deals coming up for travel for 2022 and 2023. So whether you're looking to visit Dubai for a quick getaway or plan a longer trip, there's sure to be a promo that fits your needs. Keep reading to find out more!
Cebu Pacific offers direct flights from Manila to Dubai, which is a major hub for international travel. The flight time is about 8-10 hours, depending on the airline. The flight distance is approximately 4,289 miles or 6,902 kilometers. Cebu Pacific is a popular choice for travelers because of its competitive prices and convenient schedules. When booking your flight, be sure to check the airlines' policies regarding baggage allowance and other Fees.
Latest Cebu Pacific Dubai Promos
These are the latest promos to and from Dubai by Cebu Pacific. If the table is empty, it means that there are no current promos for this route.
| Route | Cebu Pacific Dubai Promos |
| --- | --- |
| Manila to Dubai | P3999 |
| Dubai to Manila | P3999 |
For the latest promos appearing above, please click on the respective links below for more information like booking and travel periods:
Cebu Pacific Dubai Promos to and from Manila flight info including origin, destination, and flight rates as announced from Cebu Pacific Promo Page.
Updated Cebu Pacific Dubai Flight Schedule
Cebu Pacific is constantly changing its flight schedules to and from Dubai in the light of travel restrictions and cancellations brought about by the pandemic.
Blank cells mean there are no flights for that particular route to and from Dubai and the United Arab Emirates.
| Route | Distance | Duration | Cebu Pacific Flight Schedule |
| --- | --- | --- | --- |
| Manila to Dubai | 6902 km | 8 hr 35 min | Daily (10x weekly by July 2) |
| Dubai to Manila | 6902 km | 8 hr 35 min | Daily (10x weekly by July 2) |
Cebu Pacific Manila to Dubai Flights
Daily 15:20 Manila (MNL) 3 21:40 Dubai (DXB)
Cebu Air Flight 5J 14 Non-stop Airbus A330 (330) 10:20 Effective 2022-01-01 through 2022-03-26
Daily 15:20 Manila (MNL) 3 20:40 Dubai (DXB)
Cebu Air Flight 5J 14 Non-stop Airbus A330 (330) 9:20 Effective from 2022-03-27
Cebu Pacific Manila to Dubai Flight Schedule from FlightMapper.Net.
Cebu Pacific Dubai to Manila Flights
Disclaimer: The flight schedule shown above was updated June 2022. Airlines frequently change their schedule without notice so it is best to always check out the airlines' official websites.
Plan and book your Cebu Pacific Dubai flights at the Cebu Pacific Air Official Website.  Here is how to book online. Or check out the list of Cebu Pacific offices in Dubai.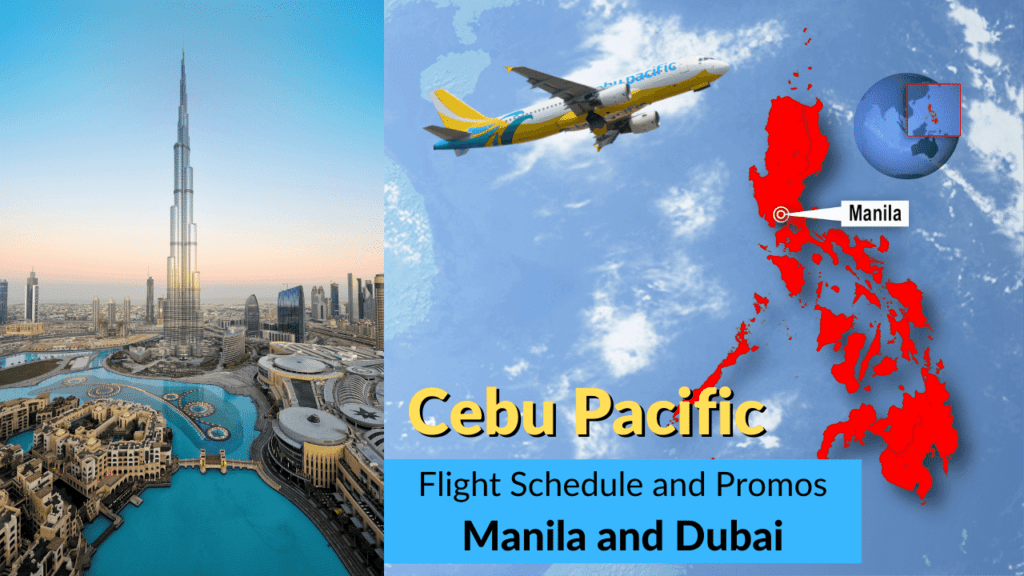 Check out the Updated Dubai Travel Requirements
Check out the travel requirements for Dubai according to the different airlines flying to the United Arab Emirates:
Click here if you are looking for Cebu Pacific Office Dubai? Limited seats are available.  Hurry, check this promo out and buy your tickets now before seats run out!
Cebu Pacific Dubai Seat Sale Terms and Conditions:
Quoted INTERNATIONAL one-way base fares are inclusive of 7 kg hand-carry baggage allowance, but exclusive of Web Admin Fees for short haul and long haul flights, respectively, and Php550 International Terminal Fee and Fuel Surcharge.
Cebu Pacific Dubai Promo fares have limited availability and are non-refundable. However, these are rebookable but subject to the following rebooking and other fees: P1,500 for domestic flights, P2,300 for short-haul, and P2,800 for long-haul tickets plus fare difference (between previous and rebooked trips).
For the travelers' convenience, flight alterations, availing of prepaid baggage allowance for checked-in baggage, and self-check-in services can be availed up to four (4) hours before the scheduled flight.
For the latest Cebu Pacific Promo alerts, please feel free to subscribe to Cebu Pacific Air Philippines by Email.
For flight bookings/inquiries, guests can go to Cebu Pacific Air Official Site, or call the reservation hotlines +632-8702-0888 (Manila) or (032) 230-8888 (Cebu).
For other Cebu Pacific Promos from different origins, click on the airport hub you will be coming from Manila, Cebu Davao or Iloilo. Or click here for more Cebu Pacific Dubai Promos.
Cebu Pacific Dubai Frequently Asked Questions
How do I contact Cebu Pacific from Dubai?
Looking for Cebu Pacific Ticket offices in Dubai? Here is the list of Cebu Pacific Office Dubai including their location, contact numbers, and if applicable, their business hours.
Is Cebu Pacific operating from Dubai to Manila?
Cebu Pacific Air has resumed daily flights between Dubai and the Philippines. The country's largest airline is flying seven times a week (daily) between Dubai (UAE) and Manila. Cebu Pacific daily services from Manila resumed last September 30, 2021.
Which terminal is Cebu Pacific Arriving and Departing at Dubai Airport?
Most Cebu Pacific flights arrive at Terminal 1 of the Dubai International Airport (DXB), although Terminal 3 is also used. It is best to check
When are flight tickets between Dubai (DXB) to Manila (MNL) the cheapest?
Airlines, including Cebu Pacific, adjust prices for flights from Dubai to Manila and vice versa on the date and time of one's booking. By analyzing data from all airlines, the best bet to land the cheapest prices is to book on Tuesdays, Wednesdays, and Saturdays.
About Dubai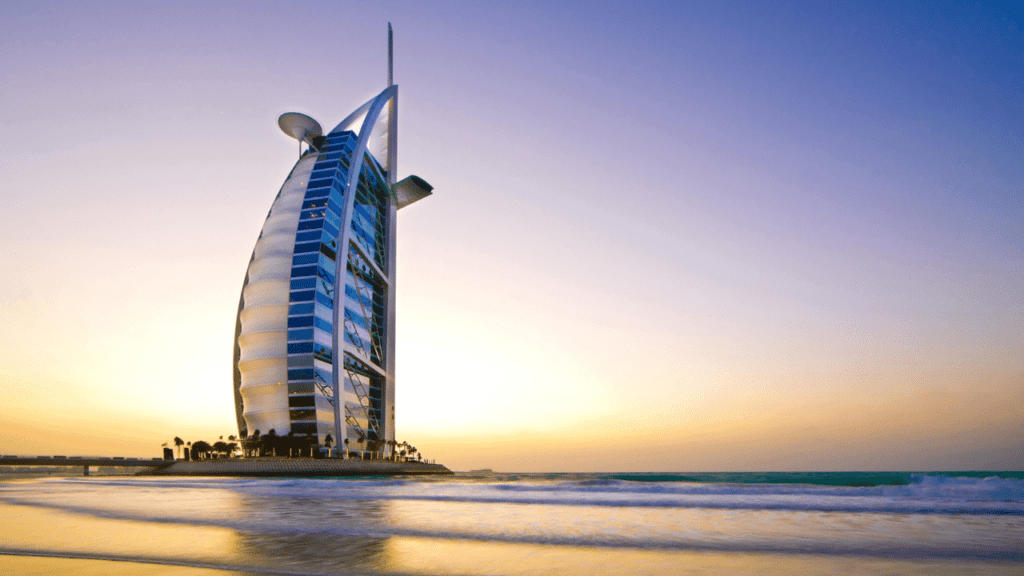 One of the great things about Dubai is that it has an amazing selection of international cuisine. If you're looking for something specific, such as Indian, Italian, or Chinese food, there's a restaurant to suit your taste. You can also try some of the local restaurants in Dubai, which are typically less expensive but still delicious!
Dubai also offers plenty of opportunities for shopping and entertainment. Whether you want to go on a desert safari tour or visit one of the city's many malls, there are lots of activities to choose from. One popular attraction in Dubai is the Burj Khalifa Tower, which is the tallest building in the world and offers spectacular views from its observation decks.
If you're planning on visiting Dubai, be sure to check out Cebu Pacific's direct flights from Manila! With convenient schedules and competitive prices, Cebu Pacific is a great choice for travelers looking for an enjoyable and hassle-free experience.
Cebu Pacific Quick Links
Cebu Pacific Latest Promos