Check out the Latest Naga Tourist Spots and Travel Guide for 2022
With Naga City Tourist Spots and Travel Guide, you'll have everything you need to make the most of your trip. This brief Travel Info contains all the information you need to know about amazing Naga City, from flight availability and promos, to where to stay and what attractions you can't miss. So if you're looking for information for your trip to Naga, look no further than Naga City Travel Guide by BiyaheFinder!
Naga Travel Requirements
Getting to Naga City
Naga City Flights Schedule
At the moment, one can fly to Naga City only via Cebu Pacific Air. The airline flies between Manila and Naga City once or twice daily.
| Route | AirAsia Flight Schedule | Cebu Pacific Flight Schedule | Philippine Airlines Flight Schedule | Other Airlines |
| --- | --- | --- | --- | --- |
| Manila to Naga | | 2x daily | | |
| Naga to Manila | | 2x daily | | |
The different airlines are constantly changing their flight schedules to and from Naga, Camarines Sur in the light of travel restrictions and cancellations brought about by the pandemic.
Blank cells mean there are no flights for that particular route to and from Naga.
Naga City Airfare Promos and Seat Sales
Check out the latest promos to and from Naga City, Camarines Sur. Blank cells mean the particular airline does not have any promos going to or coming from Naga City
| Route | AirAsia | Cebu Pacific | Philippine Airlines | Others |
| --- | --- | --- | --- | --- |
| Manila to Naga | | P588 | | |
| Naga to Manila | | P588 | | |
For the latest promos appearing above, please click on the respective links below for more information like booking and travel periods:
To and From Naga Land Transport Services
Best Time for Naga Travel
Best Time to Visit Naga City
Reason to Visit Naga City during this time
January
Ideal weather (based on temperature and humidity by Championtraveler.com)
The temperature in Naga varies a little throughout the year. The average temperatures throughout the year are quite pleasant owing to the humidity. Temperatures feel warm all year, with a chance of rain from June through most of August. If you want to visit Naga during its hottest months, May, June, and April are the hottest months. Mid-May is usually when temperatures reach their peak; highs are generally around 33°C and temperatures seldom drop below 24°C at night.
September
Voyadores Festival
The celebration of Our Lady of Peñafrancia's image moving from the Basilica to the Metropolitan Cathedral is reenacted in the form of street dance at the Vozadores Festival. The male devotees (voyadores) who accompany and transport the Virgin's picture during a novena at the Metropolitan Cathedral are named after them.
Peñafrancia Festival
The Peñafrancia Festival, which has been dubbed "the most important Marian event in Asia," is a celebration of two feasts: Divino Rostro (Divine Face of Jesus) on the second Friday of September, and Our Lady of Peñafrancia on the third Sunday. The main highlight of the festivities is the fluvial procession along the Naga River.
The September festivals of the Lady and Mother of Bicol are regarded as the Philippines' biggest and most well-known religious occasion, occurring before Christmas in the country. The September celebrations in Naga City, Philippines honor Our Lady of Peñafrancia, the Patroness of Bicol, which attracts tens of thousands of pilgrims, devotees, and tourists every September.
December
Kamundagan Festival
Naga City opens its doors for a month in December to commemorate its charter anniversary and the birth of Christ with the collaboration of Camarines Sur and Naga City. The holiday is meant to promote tourism, promote business, and create employment possibilities by showcasing a variety of events, including the kiri-kiti, pastoras, beauty search, agro-industrial fair, civic parade, cultural shows, and other colorful activities.
September is the most popular month for tourism in Naga, owing to the Peñafrancia celebrations. January follows due to good weather. In these months, hotels and flights will be most expensive, however, booking ahead of time may help you save money. People are unlikely to visit Naga in December. Those who want to visit then will certainly discover it the least expensive month.
Naga Travel: Best Hotels
Check out the best hotels in Naga as guest-rated on Agoda.com. The best Naga Travel hotels rated in the platform are categorized according to value or budget (one to two stars) and mid-high end (three to five stars) hotels. Click on the link to check out the hotel photos, amenities, nightly rate, and room availability.
Top 21 Naga City Tourist Spots – Check Them All Out!
If you're looking for amazing travel destinations, look no further than Naga City. This vibrant city is home to some of the most stunning tourist spots in the Philippines. From ancient churches and historical landmarks to beautiful parks and serene beaches, there's something for everyone in Naga City. So pack your bags and get ready to explore all that this incredible destination has to offer!
1. Basilica of Our Lady of Penafrancia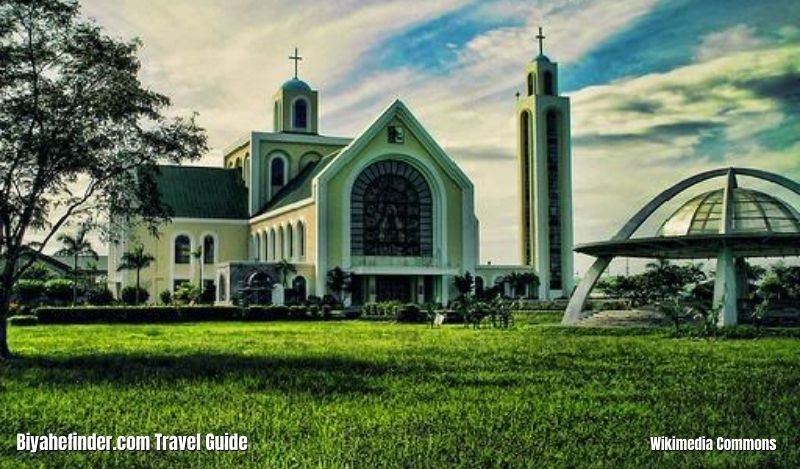 The Our Lady of Peñafrancia Basilica, commonly known as the Our Lady of Peñafrancia Church, is a Roman Catholic church in Camarines Sur established in 1750. The church is characterized by Baroque architecture and features stained glass windows and paintings. The image of Our Lady of Peñafrancia, the city's patroness credited with performing numerous miracles according to believers, is housed within the structure.
The celebration of Our Lady of Peñafrancia's feast day, which is held every September 17, is one of the most prestigious religious occasions in the nation.
2. San Francisco Church
The first church in the region erected by the Franciscan Friars was San Francisco Church, which was founded in 1578. On September 18, 1896, Spanish troops surrendered to Bikol rebel generals Elias Angeles and Felix Plazo at this location. The old church was destroyed by the heavy bombing of Naga during World War II, after which time it remained razed until a new church was built.
The new San Francisco Church was inaugurated on December 8, 1954. It is a Gothic-style church with Neo-Romanesque features.
3. Naga Metropolitan Cathedral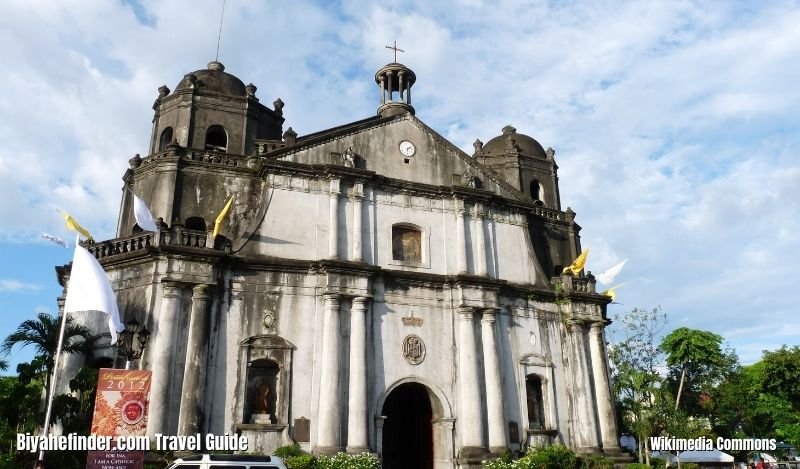 The Naga Metropolitan Cathedral, formerly known as Metropolitan Cathedral and Parish of Saint John the Evangelist) is a Roman Catholic cathedral in Naga City, Camarines Sur, Philippines. The first church was established after the establishment of the diocese as the Diocese of Caceres in 1595. In 1808, the current cathedral was erected and dedicated to Our Lady of Mercy. It was completed and consecrated in 1843 during Spanish times.
The church presently has a cruciform layout and is Romanesque in style. It's made of huge stone blocks with gabled galvanized iron sheets for roofs, with grey walls outside.
4. St. Anthony of Padua Church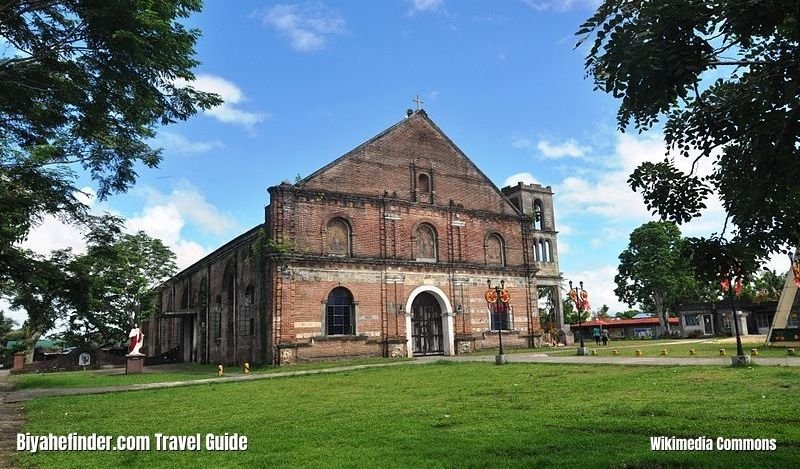 The St. Anthony of Padua Parish Church in Camaligan, Camarines Sur, is a Roman Catholic church that was formerly known as Camaligan Church. It is one of the two parish churches of the Roman Catholic Archdiocese of Caceres, located in the town of Camaligan. The parish was established in 1795. In 1856, the first stone and wood structure burned down in Camaligan, which marked the beginning of its history as an organized community. The current building wasn't finished until 1857, after the original structure had been destroyed.
The church, however, is still regarded as one of the oldest in Camarines Sur and is rich in religious and cultural history, as well as a frequent stopping place for Visita Iglesia.
5. Panicuason Hot Spring Resort and Adventure Park
At the base of a potentially active volcano, Mount Isarog, stands Panicuason Hot Spring Resort and Adventure Park, which is one of the most popular attractions in Camarines Sur. It is a well-maintained resort with trees and greenery hanging from its edges. The main features of the resort are its several natural hot springs and cold springs. The hot water source comes from Mount Isarog's ongoing activity, while the chilly spring originates from Inarihan River.
Adventure activities like zipline, zip bike, Tarzan swing, wall climbing, and rappelling are also available for guests. Day visitors can stay in cottages while overnight guests may choose from rooms or cabanas.
6. Malabsay Falls
One of the most spectacular waterfalls in Camarines Sur is Malabsay Falls, a 40-foot drop amid lush vegetation. It is encircled by mossy cliffs and boulders with developing plants on them. Swimmers may enjoy a cold and deep catch plunge pool while thrill-seekers will surely not miss some approachable boulders for rock jumping into the natural pool.
The wooded area along the river is home to a variety of trees and provides sitting spots for tourists. A 10-minute walk from the entrance leads you to the falls.
7. Caramoan Island
The Caramoan Islands are the main destinations for island hopping in Camarines Sur. This group of islands, which are located in the province's lower eastern section, has become known for its beautiful remote white sand beaches and coves. Other than swimming, snorkeling down different species of fish, exploring caverns and lagoons, hiking hilltops or climbing limestone rocks for spectacular views are some of the most fascinating things to do on the islands.
8. Mt. Isarog National Park
Mount Isarog, an active stratovolcano that has active fumaroles and hot springs, is one of the renowned tourist spots in Camarines Sur. It is a potentially active volcano that stands 1,976 meters above sea level.
The mountain and its surrounding area are part of a conservation zone that includes grasslands and tangled woods, which support several endemic species. In the early morning, the peak of the mountain offers a "sea of clouds," as well as a picturesque view of Bicol Peninsula and Mount Mayon.
9. Naga Ecological Park
The Naga City Ecology Park is a large five-hectare park where you may do plenty of things with your family and friends. The park features different exotic plants, palms, an eco-walk maze, topiary garden, orchid and mini-forest. Family picnics, strolls, and undisturbed appreciation of nature's splendor are all made possible by walkways, lawns, and pavilions.
10. Lake Buhi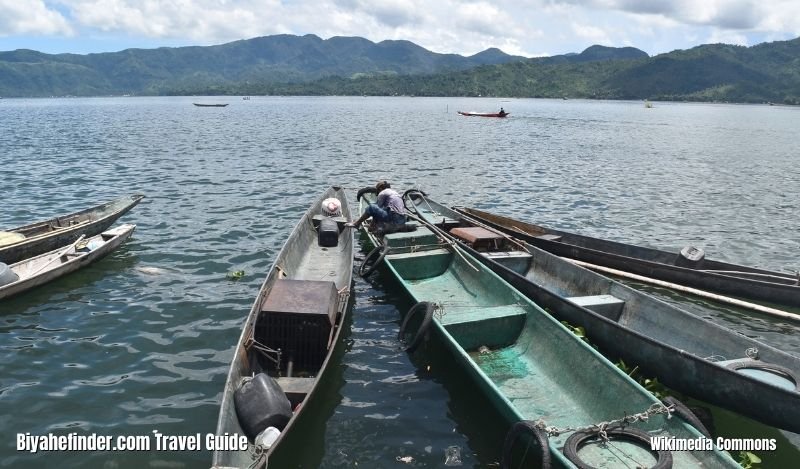 Lake Buhi is a freshwater lake with an area of 18 square kilometers and an average depth of eight meters. The lake was formed in 1641, after an earthquake caused the side of Mount Asog to cave in.
The lake is home to several species of finned fish, including the "sinarapan". On the lake, boating is by far the most popular sport. Guests are welcome to stroll about and take in the beauty of the park's wooded areas, towering mountains, and abundant wildlife.
11. Sonrisa Farm
The lovely Sonrisa Farm is a lush slope of greeneries graced by magnificent sunrises to welcome everyone with a warm smile. It contains a wide range of local vegetables, indigenous plants, high-value crops, and livestock raised naturally – without pesticides or synthetic feeds – for sustainable farming and healthy living. It is a picturesque venue for countless weddings and events.
12. Porta Mariae
The Porta Mariae or Latin for "Marian gate" is an eleven-meter tall arch in Naga City which was built to commemorate 300 years of devotion to Our Lady of Penafrancia. The arch, 18 meters wide, 4 meters deep, and 11 meters high, is surmounted by a three-meter tall brass image of Our Lady of Peñafrancia and two angels on each side. The main portal's two small gates each accommodate three persons, while the central portal accommodates at least eight persons.
13. Plaza Quince Martires
The Fifteen Martyrs of Bicol, or in Spanish, the Quince Martires del Bicolandia, were Filipino patriots in Bicol who were shot by a firing squad on January 4, 1897, for collaboration with the Katipunan during the Philippine Revolution against Spain. The plaza is located in the center of Naga City, in front of the San Francisco Church.
The people of Naga City and adjacent areas have been honoring these martyrs every fourth day of January for more than 70 years. A monument was erected in Naga City to commemorate the Quince Martires del Bicolandia during the term of Camarines Sur Gov. Julian Ocampo.
14. Plaza Jorge Barlin
Plaza Jorge Barlin is a small plaza with a statue honoring Jorge Barlin, the first Filipino to be a Roman Catholic bishop. Jorge Barlin was the first Filipino consecrated as a bishop in the Roman Catholic Church. He served as archbishop of the Roman Catholic Archdiocese of Caceres in the Philippines until 1909.
15. Oragon Monument & Plaza de Nueva Caceres
In 2010, the Oragon Monument and Plaza de Nueva Caceres were constructed to commemorate the 62nd founding anniversary of the City of Naga. The history of Naga City is commemorated in plaza de Nueva Cacares, which includes pre-colonial roots through Spanish rule when it became one of the four oldest cities and until today when it serves as a seat of authority for Spaniards. The monument's beautiful settings and calm plaza, on the other hand, demonstrate how far Naga has progressed.
16. Museo ni Jesse Robredo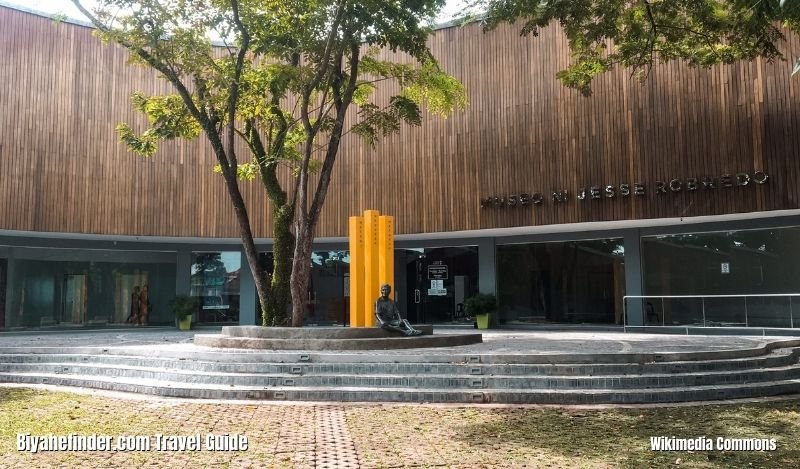 The Jesse Robredo Museum honors Jesse Robredos's life and his contributions to Philippine governance. The museum aims to educate the public about Jesse Robredo's advocacy for good governance and his commitment to public service. It also seeks to inspire others to emulate his example.
The museum is housed in a two-story building that contains four galleries showcasing Jesse's photographs, personal belongings (clothes and shoes he wore when he was alive), accolades, letters to Aika, educational displays, and interactive elements.
17. Museo del Seminario Conciliar de Nueva Caceres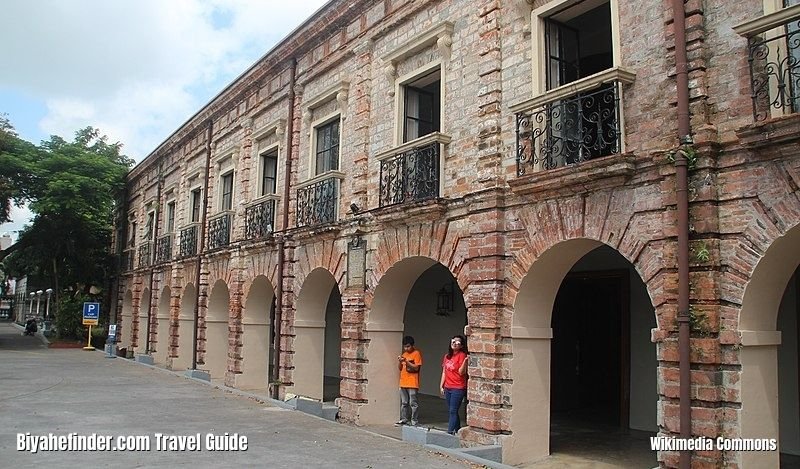 The Museo del Seminario Conciliar de Nueva Caceres is housed in the Metropolitan Cathedral Compound's central pavilion, which used to be the administrative offices. There are four exhibit areas on display. On September 9, 1988, the museum was designated a national historic monument from its humble origins as a home for a parish priest in the 18th century. It has grown into a center and source of religious education in the Bicol Region from its modest beginnings as a vocation house in the eighteenth century.
18. University of Nueva Caceres Museum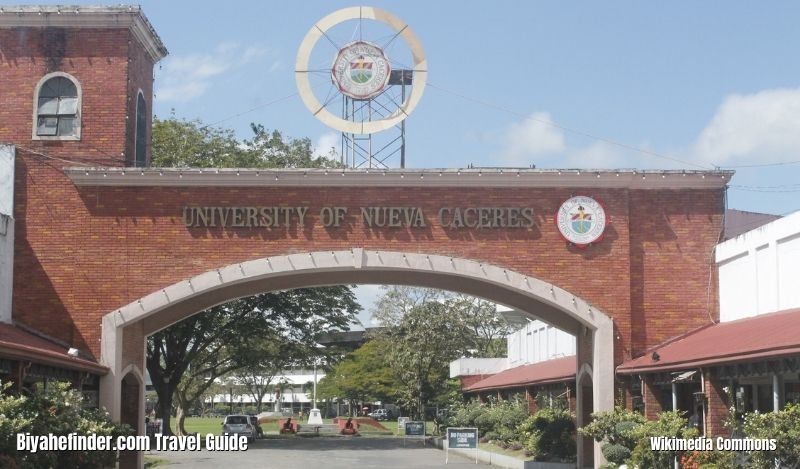 The University of Nueva Caceres Museum was a passion project of Don Jaime Hernandez, the institution's founder. The museum is made up of a gallery and an archival library. It is divided into four parts: the Central Gallery, Filipiniana, Archival Library, and Founder's Memorabilia. Archaeological, ethnographical, historical, and ecclesiastical collections relating to the Bicol Region are housed in this museum.
19. Haciendas De Naga Resort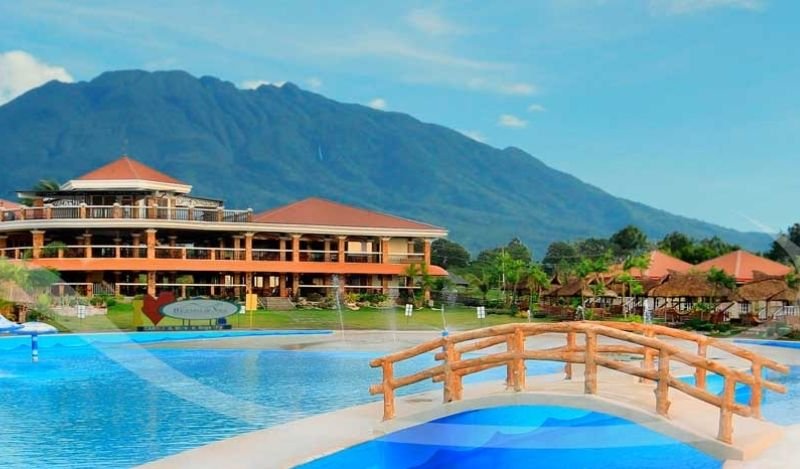 Hacienda de Naga Resort in Camarines Sur is a great choice for families and leisure travelers. The Mount Isarog-higher terrain property is brimming with impressive facilities and lush greenery. The one and only wave pool in the province, a golf course, an adventure park, a mini-zoo, and a nature park are among the facilities available. Swimming, ATV riding, horseback riding, zip lining, wall climbing & rappelling, pili nuts gathering are some of the activities that may be done in the resort.
20. Ocampo Deer Breeding Farm
The Ocampo Deer Breeding Farm is a great place to visit if you are interested in learning more about deer. The farm is home to a variety of different deer species, and you can learn about their ecology and behavior from the informative exhibits on site. If you're lucky, you may also be able to see some of the farm's fawns and calves. When you watch the deer gambol about in the vast meadow with Mount Isarog as a backdrop, you'll get that sensation of freedom and serenity.
21. CamSur Watersports Complex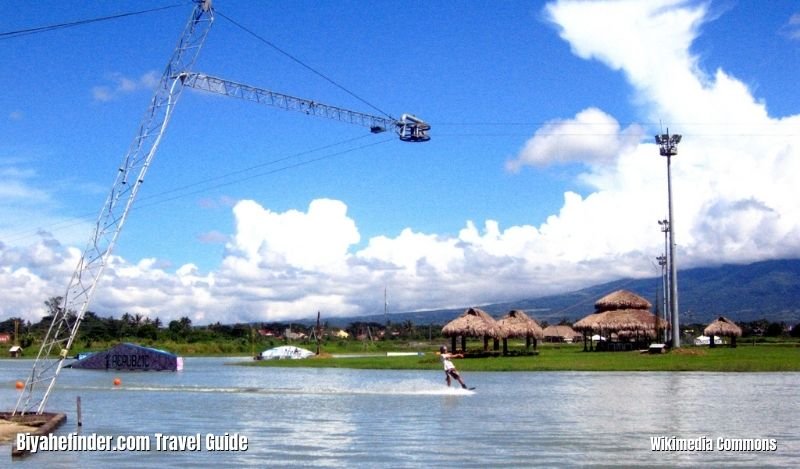 The Camarines Sur Water Sports Complex is a great tourist destination in the province for water activity fans. It boasts of world-class facilities, particularly designed for wakeboarding, wakeskating, and waterskiing, as the first such facility in the Philippines. The site has a six-point cable ski system that pulls skiers around the lake in a clockwise direction using six cables. This is the site of countless wakeboarding competitions.
Have you had a chance to check out all the tourist spots Naga City has to offer? If not, now is the time! With so many places to see and things to do, it's no wonder this city is a favorite destination for tourists. From magnificent vistas and towering waterfalls to fascinating museums and heritage churches, there's something for everyone in Naga City. And don't forget the lakes and mountains – they make for some of the most beautiful landscapes in all of Bicol. So what are you waiting for? Start planning your trip today!
Other Travel Guides