AirAsia Philippines Promotes Cebu Hub with more Visayas and Mindanao flights
AirAsia Philippines announces recently that it is ramping up its flights from its Cebu Hub by adding more flights to Visayas and Mindanao destinations, including Caticlan (Boracay), Davao, Cagayan De Oro, and Puerto Princesa, as well as international destinations Seoul (Incheon) and Kuala Lumpur.
"The reopening of our Cebu hub symbolizes AirAsia's commitment to expanding connectivity and providing the best options available not just for flights but also with our partner hotels, tour operators, and merchants who are all present on our digital, travel, and lifestyle platform, the AirAsia Super App." Ricky Isla of AirAsia Philippines stated.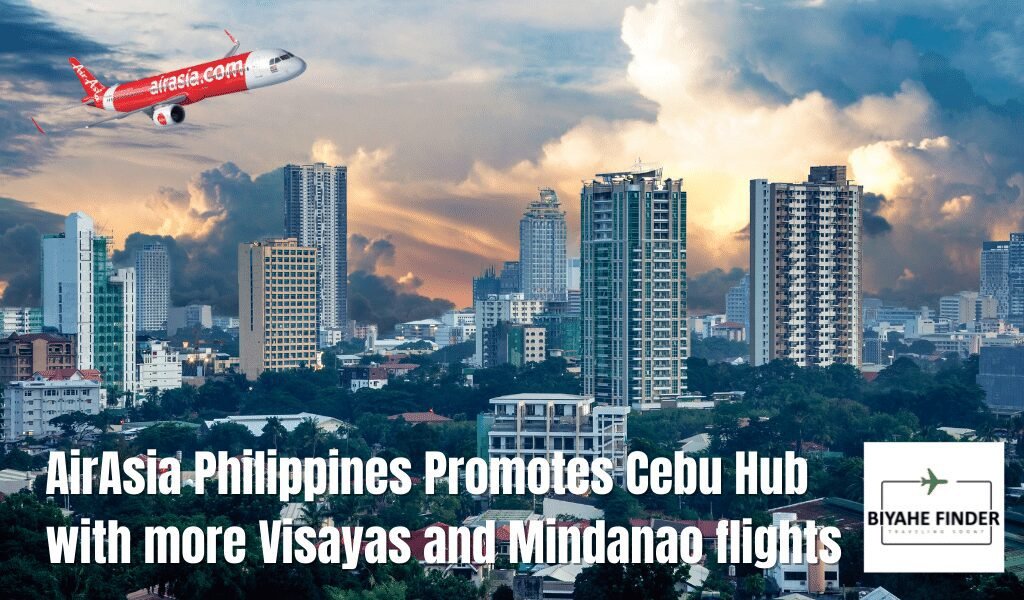 Starting August 16, 2022, travelers flying out of Mactan Cebu International Airport's Terminal 2 can connect to Boracay seven times a week via Z2 550 to Cagayan De Oro four times a week via Z2 512, four times weekly to Davao via Z2 521, and three times weekly to Incheon. The four-times weekly flight to Puerto Princesa will start on September 2, 2022, while the three-times-weekly service to Kuala Lumpur will start on September 21, 2022.
"The rise in flight frequency places AirAsia in a great position to help stimulate economic development in the many regions that need a boost towards rapid recovery. Our excellent safety, best value for money promotions, and world-class service are always available when our passengers fly with us," Mr. Isla added.
Along with Mr. Isla, representatives from the Department of Tourism (DOT) Region 7, the City and Provincial governments of Cebu, as well as executives from Mactan-Cebu International Airport Authority and GMR-Megawide Cebu Airport Corporation attended the kick-off festivities.
Mactan-Cebu International Airport is the second busiest airport in the Philippines and the third busiest destination on AirAsia Philippines' route network.
To encourage even more people to use the new destinations, the World's Best Low-Cost Airline is now offering Super Low Fares. For tickets purchased from 1 August 2022 until 4 September 2022 for trips commencing on or after 1 August 2022 and lasting up to 23 March 2023, the one-way base fare is PHP88.
Guests can check in more than one piece of baggage, as long as the total weight is within the limit they purchased. They can pre-book this via airasia Super App from as low at PHP450.
Guests flying from Manila to Cebu are advised to leave plenty of time for travel, as traffic is expected to be heavy during rush hour. Guests should also be aware that the number coding scheme has resumed in Metro Manila to reduce congestion.
Airlineratings.com recently recognized the World's Best Low-Cost Airline as one of the top 10 safest airlines in the world for 2022. With 7/7 safety ratings and COVID-19 star compliance, guests can be assured of flying with an airline that upholds the highest standards in safety.
AirAsia Philippines Eyeing Full Recovery by 2023
Recently, AirAsia Philippines also announced that it would expand its network while also seeing the airline's full recovery by 2023.
AirAsia is hoping to expand its domestic market by adding new destinations in the Visayas and Mindanao, including Butuan and Tawi-Tawi in Mindanao; Legazpi, Tuguegarao, and Laoag in Luzon. AirAsia Philippines is also strategically considering Bohol (Panglao-Tagbilaran) to be one of its hubs in the Visayas.
"We want to spread out the tourism foot traffic to other areas of our country, not just concentrate it in a few usual destinations," spokesperson Steve Dailisan told the Philippine News Agency (PNA). "There are many other exciting places for Filipinos to explore, and we hope that more people will take advantage of them now that domestic travel is on the rebound."
Dailisan said the airline was also in the early stages of international expansion, which he expects to aid in the demand for leisure tourists and a large number of Filipino employees who go overseas for employment.
"We think we can assist our kababayans in achieving their goals by providing them low-cost, world-class flights," he stated. "Our goal is to reach, if not even surpass, pre- [coronavirus disease] capacity on all routes by the second quarter of 2023." Dailisan added. Additionally, the airlines is very confident that all international markets, including China, will have opened by that time.
AirAsia is a low-cost airline headquartered in Malaysia. The airline operates scheduled domestic and international flights to more than 165 destinations spanning 25 countries.
AirAsia Philippines began operations in March 2006 and serves 10 domestic destinations within the Philippines from its hub at Manila's Ninoy Aquino International Airport (NAIA). Incheon and Seoul are among the international routes served by AirAsia Philippines from Manila.
In November 2013, AirAsia announced it would move its Philippine headquarters from Pasay City to Cebu City to take advantage of Cebu Pacific's strong presence in Central and Southern Philippines. The transfer of base took place on 1 February 2014 with the inauguration of the new office located at the Cebu IT Park.
Today, AirAsia Philippines flies to 22 domestic and international destinations from Cebu. The airline plans to further expand its operations in Visayas and Mindanao with more flights to these regions in the near future.
AirAsia Philippines is one of the leading low-cost airlines in the Philippines. It has been in operation for more than a decade and has been a major contributor to the growth of the country's aviation industry. AirAsia Philippines recently announced that it would expand its network while also seeing the airline's full recovery by 2023.
AirAsia Philippines Quick Links
Latest Promos from AirAsia Philippines