Check out Updated Cambodia Travel Requirements for 2022
Cambodia Travel Requirements for Foreigners for 2022: This is the updated advisory for traveling passengers arriving in Cambodia. This is sourced from Philippine Airlines COVID travel advisories.
As you plan your trip to amazing Cambodia, there are a few things you'll need to take into consideration. In this blog post, we will outline the Cambodia travel requirements for foreigners and provide information on the COVID restrictions that are currently in place. Here is a checklist of what you'll need to do in order to make your trip go as smoothly as possible.
These travel requirements are for travel to Cambodia only. Looking for information when arriving in the Philippines from abroad? Check out the COVID Travel Requirements for foreigners or returning overseas Filipinos arriving from abroad. Or click here for General Travel Requirements for Destinations Within the Philippines.
Cambodia Travel Requirements per Philippine Airlines Advisory – Phnom Penh (PNH)
Cambodia Travel Requirements: Medical Documents
Recognized Proof of Vaccination
Cambodia Travel Requirements: Travel Documents
Hotel booking document or for unvaccinated travelers, USD2,000 in cash to be deposited at the entrance check point of Cambodia for all costs associated with quarantine and/or treatment in case the traveler gets infected with Covid-19 during the quarantine upon arrival in Cambodia
Quarantine Requirements
Quarantine is no longer required for fully vaccinated travelers.
Partially/Unvaccinated travelers are still required to undergo seven (7) days of quarantine.
Post-arrival COVID Testing is no longer required.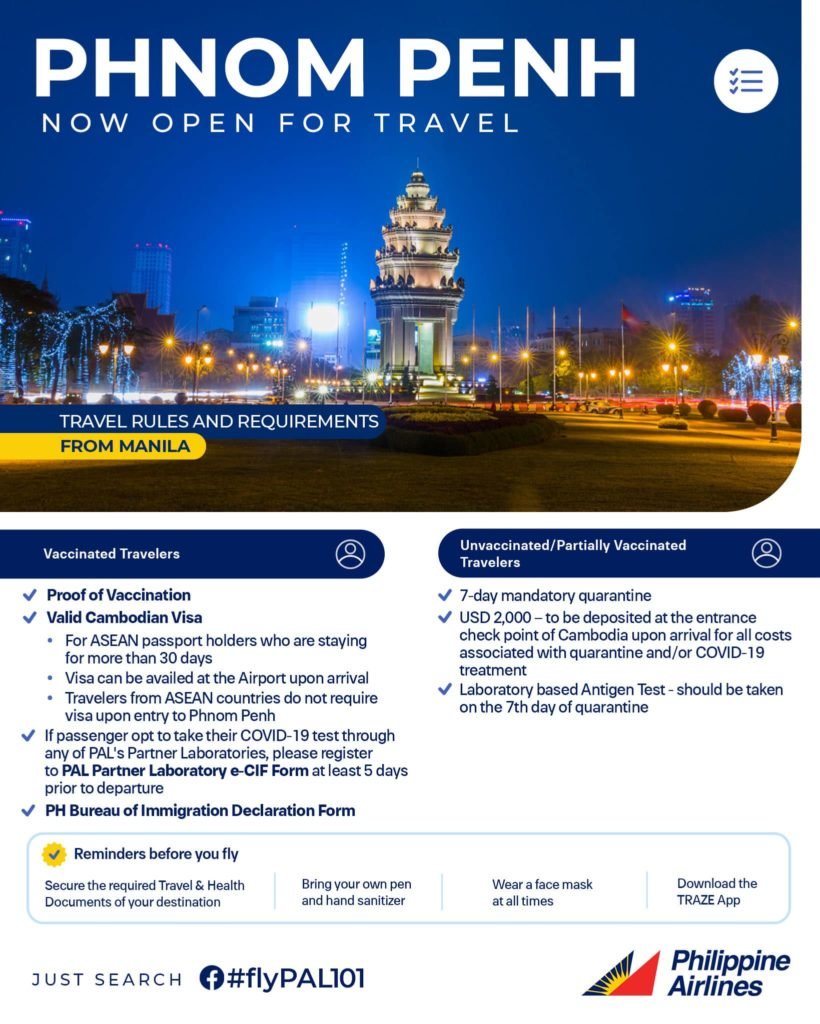 Disclaimer: This is only an advisory from the referring airline. Travel restrictions are subject to change without notice by the issuing local government authority. As a result, the requirements or restrictions listed above are not real-time and should be used only as a guide. Please verify your requirements with the official offices, pages, or websites of both your origin and destinations directly.
COVID Cambodia Travel Requirements for Arriving Local Passengers Disclaimer: Please note that there may be multiple travel requirements for each international destination. These rules are subject to change by the issuing foreign government authority and are issued for our passengers and the public's safety. As these requirements may change at short notice, the advisories above serve as a general guide.
Latest Promos to and From Phnom Penh, Cambodia