Cebu Pacific Ramps Up International flights as Travel Opens Up
Following the easing of COVID restrictions for passengers, Cebu Pacific Air, the Philippines' biggest airline, will boost its worldwide presence beginning this month by increasing flights to Bangkok, Kuala Lumpur, Hanoi, Ho Chi Minh City, Nagoya, Seoul, Osaka, and Singapore.
From June 1, 2022, there will be an increased number of flights between Manila and:
Bangkok: five times a week;
Kuala Lumpur: three times a week;
Hanoi: three times a week;
Ho Chi Minh: four times a week;
Osaka: three times a week; and
Seoul: daily flights
In a related development, Cebu Pacific flights to Nagoya, Japan, will be increased from four to five flights a week beginning June 29, 2022.
The airline also plans to expand its Manila-Singapore flight frequency to twice a day starting July 1. Flight 5J 813 leaves Manila at 5:35 a.m., and flight 5J 803 departs at 8:30 p.m.
Aside from that, Cebu Pacific is also expected to resume its three weekly flights to Sydney, Australia, in July.
The airline's first international flight from its Cebu hub to Seoul (Incheon) will begin operating twice weekly, every Tuesday and Sunday starting July 3, 2022.
Check out the latest Cebu Pacific Promos to Asia, Dubai, and Australia.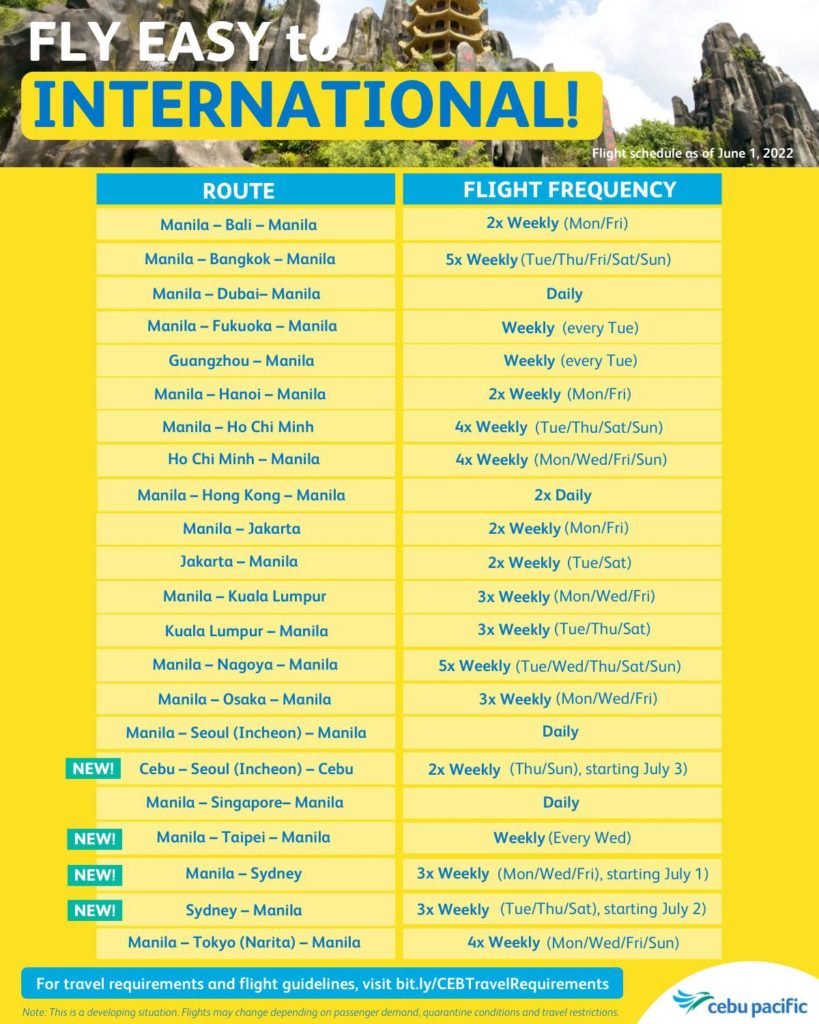 "We are delighted to see green shoots in international travel as more nations open their borders, while other destinations like Bangkok, Malaysia, Singapore, and Vietnam have entirely abolished pre-departure COVID 19 testing for fully vaccinated humans. We will continue to increase flight frequencies as demand picks up. Our passengers may fly freely throughout our network – whether for a holiday or simply to visit family and friends after such a lengthy period," said Xander Lao, CEB Chief Commercial Officer.
On May 26, the Inter-Agency Task Force for the Management of Emerging Infectious Diseases (IATF-EID) issued Resolution 168, which states that fully vaccinated people who have received at least one booster dose are exempt from presenting pre-departure COVID 19 test results for entry to the Philippines starting May 30, 2022.
"We commend the IATF-EID for making it easier to travel into the country. This order makes visiting home or rediscovering the Philippines more convenient and affordable for Filipinos and visitors alike," said Lao.
Cebu Pacific advises passengers to contact the authorities of their destination for up-to-date rules and requirements. Passengers may also visit the CEB Travel Notifications page for recent updates and comprehensive travel instructions to their destination for additional information.
The airline continues to provide low-cost fares as a stimulus to travel across its network. To guarantee that every Juan flies safely and conveniently on Cebu Pacific, the airline maintains a multi-layered approach to safety while operating with a 100 percent vaccinated crew of 91 percent, who have been boosted to ensure that everyone flies securely and comfortably.
Check out Latest Promos from Cebu Pacific