Cebu Pacific Increases Flight Frequency to Dubai to 10x Weekly
Cebu Pacific, the Philippines' largest airline, broadens its global presence to meet the growing demand for travel by adding flights from Manila to Dubai starting July 2, increasing its weekly frequency to 10.
The airline will introduce a new Manila-Dubai flight 5J 18 on Tuesdays, Thursdays, and Saturdays, which will depart Manila at 10:20 PM and arrive in Dubai at 3:25 AM the following day.
In addition to the above flights, there are already daily flights between Manila and Dubai (5J 14 with a 7:20 PM departure from Manila, and 12:45 PM arrival in Dubai).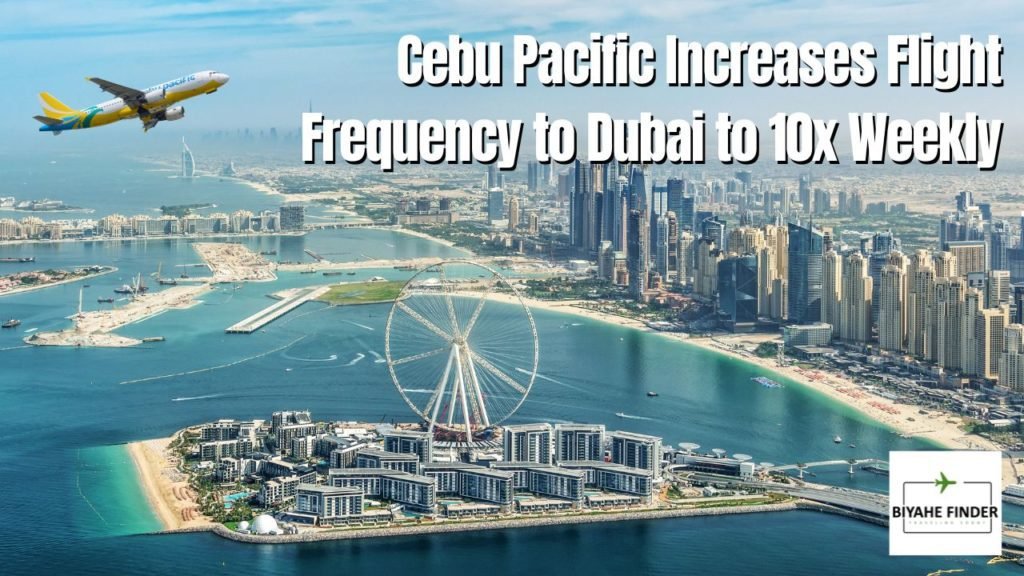 "This is an opportunity for every Juan to get a taste of what Dubai has to offer – from its vast structures, shopping, cuisine, and cultural significance. When returning to the Philippines, travelers will no longer have to worry about difficulties since travel restrictions between the UAE and other countries have been relaxed." Cebu Pacific Chief Commercial Officer Xander Lao explained.
Check out Updated Dubai Travel Requirements for 2022
Travel requirements when flying to Dubai include a valid tourist visa, passport valid for six (6) months upon arrival, applicable Philippine Travel Tax Certificate (PH Tax), and any of the following:
When visiting Dubai, you'll need a valid tourist visa, a passport that is valid for at least six months after arrival, an applicable Philippine Travel Tax Certificate (PH Tax), and, any one of the following:
any valid certificate of vaccination bearing evidence of vaccines administered by a health care provider according to World Health Organization (WHO)/United Arab Emirates (UAE) standards, provided with a QR code;
OR a negative COVID-19 test certificate (in English or in Arabic) based on a molecular diagnostic test from an authorized health service provider within 48 hours of collecting the sample and from an authorized health service provider, with a QR code
OR Within a period of one (1) month from the date of recovery and the date of arrival, passengers must have a valid medical certificate (in Arabic or in English) issued by the relevant authorities declaring their COVID-19 status has been recovered. The QR code system is used to provide this certificate, which is accessible on your mobile phone or tablet computer.
Fully-vaccinated visitors to the Philippines are exempt from showing pre-departure COVID 19 test results for entry if they have received at least one booster vaccination.
Cebu Pacific advises its passengers to inquire with the authorities of their destination for the most up-to-date regulations and requirements. Passengers may refer to CEB's Travel Notifications page for the most recent updates as well as comprehensive travel instructions to their destination for additional information.
Cebu Pacific continues to provide its guaranteed low rates to encourage travel across its network. It maintains a multi-layered approach to safety while operating with a 100 percent fully vaccinated crew, 95 percent of whom have been boosted – all in an effort to ensure that each Juan flies safely and conveniently on Cebu Pacific.
Cebu Pacific Quick Links
Check Out Latest Promos to and From Dubai