Cebu Pacific Adds Flights to Singapore from Manila and Cebu Hubs
Cebu Pacific, the Philippines' biggest airline, continues to expand its overseas network as it adds flights to Singapore from its biggest flight hubs, Manila and Cebu.
The airline's Manila-Singapore flights will be operated twice daily beginning July 1, 2022. The new morning service, Flight 5J 813, departs Ninoy Aquino International Airport Terminal 3 at 5:35 AM and arrives at Changi Airport at 9:20 AM. Its return trip, Flight 5J 814, departs Singapore at 10:15 AM and arrives in Manila at NAIA 3 at 2:00 in the afternoon.
On July 15, Cebu Pacific plans to resume services between Cebu and Singapore, beginning with a three-weekly frequency (Mondays, Wednesdays, and Fridays). Flight 5J 547 is scheduled to depart Mactan Cebu International Airport Terminal 2 at 11:05 PM and arrive at Changi Airport the next day at 3:00 AM. Its return flight, 5J 548, leaving Singapore at 4:00 AM and operating Tuesdays, Thursdays, and Saturdays arrives in Manila at 8:05 AM.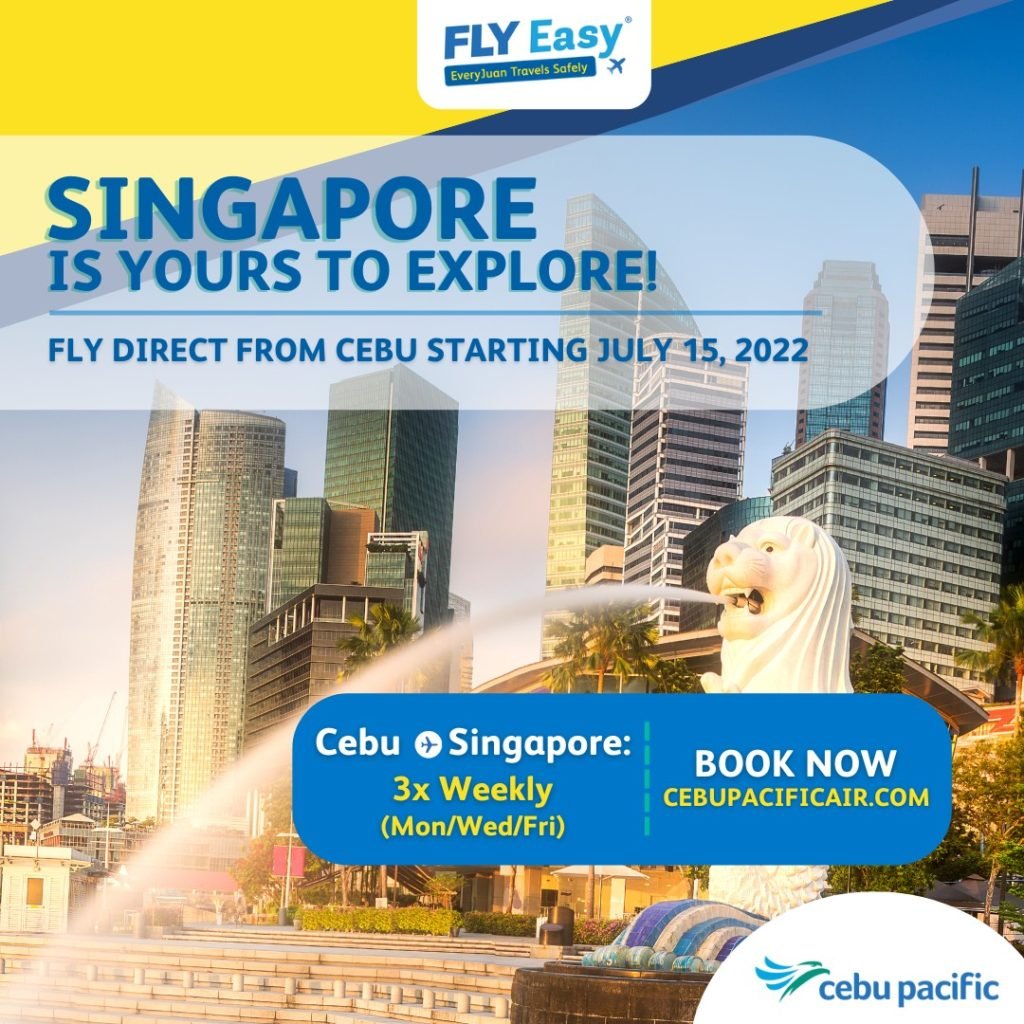 "We are thrilled to be bringing international flight frequencies up in Manila, as well as Cebu. We know that most of the traveling public have longed to travel internationally again, especially given recent changes in border regulations by several countries. While we work toward increasing our global network, we maintain operations at 100 percent capacity before the pandemic on our preexisting domestic network." CEB Chief Commercial Officer Xander Lao added.
Fully vaccinated travelers flying to Singapore no longer need to take a pre-departure COVID 19 test. Instead, they must show proof of full vaccination (VaxCertPH or BOQ Yellow Card) and fill out a Singapore Arrival card three (3) days before arrival. For the most up-to-date information and complete travel instructions to their destination, passengers may contact CEB Travel Reminders for additional details and guidance.
Check out Updated Singapore Travel Requirements for 2022
Cebu Pacific's low-cost guarantee has proven successful in enticing travelers to take advantage of its extensive network. It continues to employ a multi-layered strategy to safety, while employing a 100 percent fully vaccinated crew and 95 percent of whom have been boosted. All to assure that each Juan flies safely and conveniently on Cebu Pacific.
Cebu Pacific Quick Links
Check out Latest Promos to and from Singapore