Fully-Vaxxed Filipinos Now Included in Singapore Vaccinated Travel Lane
Philippines qualifies for Singapore Vaccinated Travel Lane Program: From March 4, 2022, fully-vaccinated Filipino visitors/short-term tourists will be allowed to enter Singapore via the Vaccinated Travel Lane (VTL) program. This was announced by the Singaporean Ministry of Transport recently.
This was after the Philippines was added to Singapore Vaccinated Travel Lane (VTL) program, which allows passengers to enter quarantine-free via designated VTL flights. The Philippines will be the 15th country in the list that includes, Australia, Brunei Darussalam, Canada, Denmark, Finland, Germany, Iceland, Japan, Norway, New Zealand, South Korea, Sweden, Taiwan, and United Kingdom.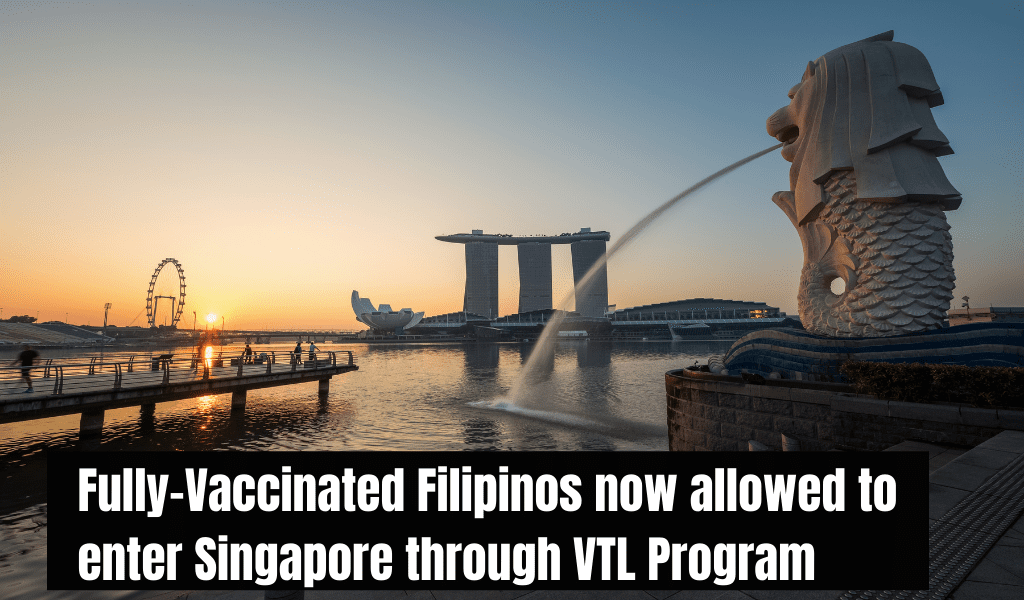 Vaccine travel pass (VTP) applications for the Philippines will open on March 1 at 10 a.m. (Singapore time). The VTL program enables fully-vaccinated visitors to arrive in Singapore "quarantine-free." Passengers must have received EUL vaccines, which have been authorized by the World Health Organization (WHO).
The new Singaporean policy for Filipinos went into effect only a week after the Philippines reopened its doors to fully vaccinated foreign visitors, including Singaporeans.
Singapore Vaccinated Travel Lane Program Requirements for Filipinos
The following are the requirements for Filipinos to be able to travel to Singapore via the Vaccinated Travel Lane Program:
Proof of Vaccination; COVID-19 vaccination certificate (VaxCertPH) issued by the Department of Health will be recognized,
Negative COVID-19 Test Result,
Travel Insurance.
Booking in a VTL Flight
Visit the Singapore government website to apply for a Virtual Travel Pass. Ensure that you have a passport, proof of vaccination, and an address where you plan on staying in Singapore before applying for a Virtual Travel Pass to save time.
What to do upon arriving in Singapore to avail of Singapore Vaccinated Travel Lane Program
Passengers who arrive in Singapore will be able to take a self-swab (SSS) Antigen Rapid Test (ART) at one of the testing centers across Singapore after 24 hours from their entry.
The website to book a test will be provided on arrival in Singapore in the Testing Notice given to visitors. They are free to leave as soon as negative findings are available. Travelers are required to quarantine themselves at their accommodation until they have completed the supervised self-swab.
They should use their own transportation to and from testing sites. Travelers who are unwell should get medical attention at a clinic using their own vehicles. Please go to https://safetravel.ica.gov.sg/vtl/requirements-and-process for additional information.
Click here to check out Singapore Travel Requirements.
Singapore Vaccinated Travel Lane (VTL) Program FAQs
What is VTL flight Singapore?
Singapore VTL is Singapore Vaccination Travel Lane. It allows quarantine-free travel to Singapore via air only.
Those wanting to go from these countries to Singapore under the VTL arrangements must make sure they are on the correct VTL flights. Under the VTL system, immunized tourists may enter Singapore without quarantine if they have negative results from pre-departure and on-arrival Covid-19 tests and fulfill all necessary qualifying criteria.
With the exception of Malaysians, travelers from any other VTL country are permitted to transit through Singapore on VTL flights as long as they are completely immunized against Covid-19, have an English vaccination certificate, and fulfill all entry requirements of their destination nation.
Customers who take non-VTL flights to Singapore will be subjected to existing quarantine rules. Customers are reminded to double-check their reservation details before coming in.
Which countries are included under Singapore Vaccinated Travel Lane Program?
As of this posting, the following countries are included under Singapore VTL: Australia, Brunei, Germany, Denmark, France, Italy, the Netherlands, Spain, India
the United Kingdom, Canada, the United States, Switzerland, South Korea, Malaysia, Finland, Sweden, Indonesia, India, Thailand, Cambodia, Fiji, Maldives, Sri Lanka and the Philippines.
How do I know if my flight is Singapore VTL?
In search flight listing, all Singapore vaccinated travel lane (VTL) flights are advertised as "Singapore Vaccinated Travel Lane (VTL)." You may also go to the website of the specific airline servicing Singapore for the most up-to-date VTLs determined flight schedule.
What are the requirements for one to enter Singapore via the Singapore VTL program?
The following measures are applicable for VTL travelers entering Singapore from 21 Feb 2022, 2359h (SGT):
– Long-Term Pass holders (excluding Work Permit holders) are no longer required to apply for a Vaccinated Travel Pass (VTP).
– Assessed travel history will be reduced from 14 days to 7 days
– On-arrival Polymerase Chain Reaction (PCR) test at the airport will be replaced with a supervised self-administered Antigen Rapid Test (ART) at a Quick Test Centre (QTC) or Combined Test Centre (CTC), to be completed within 24 hours of arrival in Singapore. Travelers who have prepaid for the PCR test can expect a refund from the Changi Airport Group (CAG) for their unutilized test (excluding the S$3 administrative fee) 7 days after their scheduled booking date.
– Unsupervised self-administered ARTs will no longer be required on Days 2 to 7 of arrival in Singapore.
VTL travelers who enter Singapore before 21 Feb 2022, 2359h (SGT) are required to continue with the existing testing regime (i.e. on-arrival PCR test and unsupervised self-administered ARTs from Days 2 to 7.
Source: Singapore Safe Travel Website
Check out Latest Singapore Promos and Seat Sales