AirAsia Promo 2022 for as Low as P66 One Way Base Fare – Book Now!
Fly from Manila or Cebu to several local and Asian destinations with Air Asia Promo 2022 for as Low as P66 One-Way Base Fare (Big Members only)! "6.6 Freedom Sale" Promo! Hurry, book now while seats last!
Use Promo Code: FREEDOM for 10% OFF for international destinations!
Promo Period: Until June 12, 2022
Travel Period: August 1 to December 8, 2022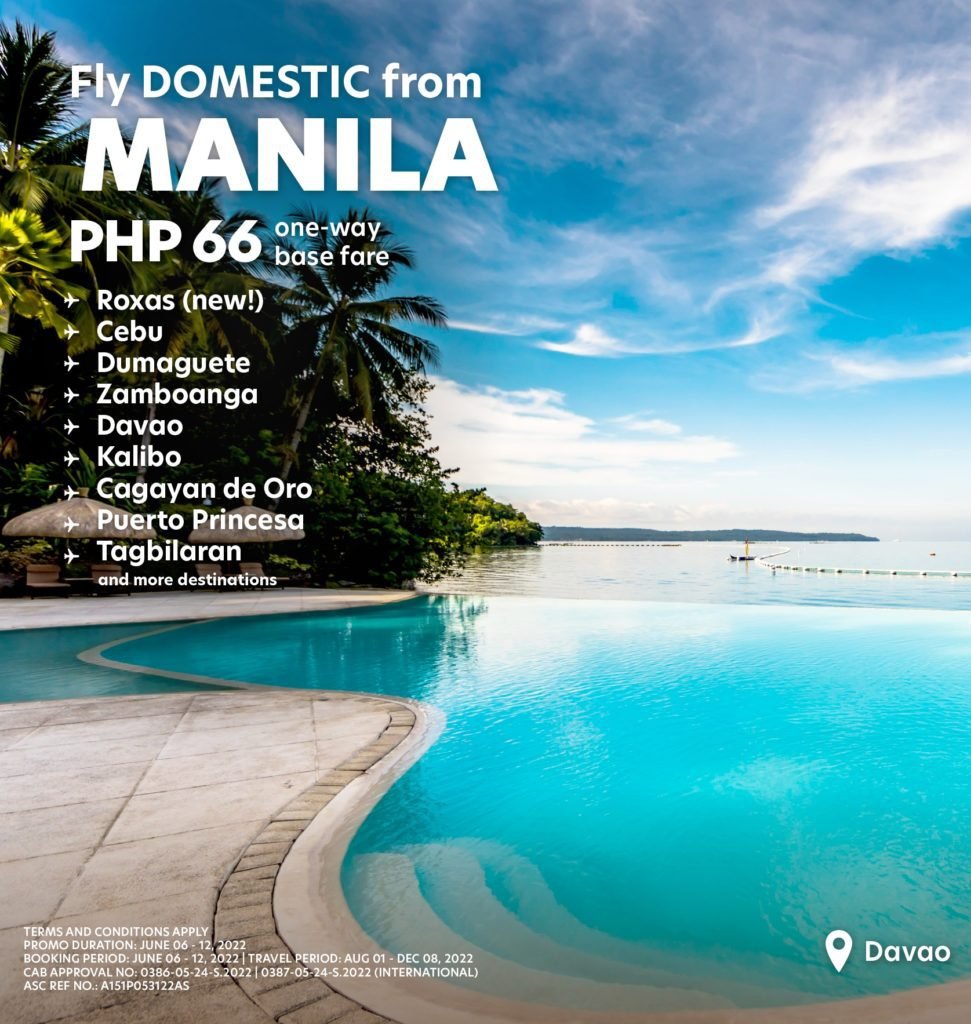 AirAsia Promo 2022 Tickets for May 16 to September 30, 2022 Travel:
From
Destinations
One Way
Base Fares
(Big Member)
Manila
Roxas (new)
P66
Manila
Bacolod
P66
Manila
Davao
P66
Manila
Cagayan de Oro
P66
Manila
Puerto Princesa
P66
Manila
Iloilo
P66
Manila
Cebu
P66
Manila
Bohol / Tagbilaran
P66
Manila
Tacloban
P66
Manila
Zamboanga
P66
Manila
Caticlan (Boracay)
P66
Manila
Kalibo
P66
Manila
Dumaguete
P66
Manila
Singapore
10% OFF (Promo code: FREEDOM)
Manila
Kota Kinabalu
10% OFF (Promo code: FREEDOM)
Manila
Kuala Lumpur
10% OFF (Promo code: FREEDOM)
Manila
Hong Kong
10% OFF (Promo code: FREEDOM)
Manila
Taipei
10% OFF (Promo code: FREEDOM)
Manila
Bangkok
10% OFF (Promo code: FREEDOM)
Manila
Osaka
Manila
Seoul (Incheon)
10% OFF (Promo code: FREEDOM)
Manila
Bali
10% OFF (Promo code: FREEDOM)
Cebu
Davao
P66
Cebu
Puerto Princesa
P66
Cebu
Caticlan (Boracay)
Cebu
Cagayan de Oro
P66
Clark
Caticlan (Boracay)
Clark
Tacloban
Clark
Cagayan de Oro
P66
Book your tickets at the AirAsia Philippines Official Website.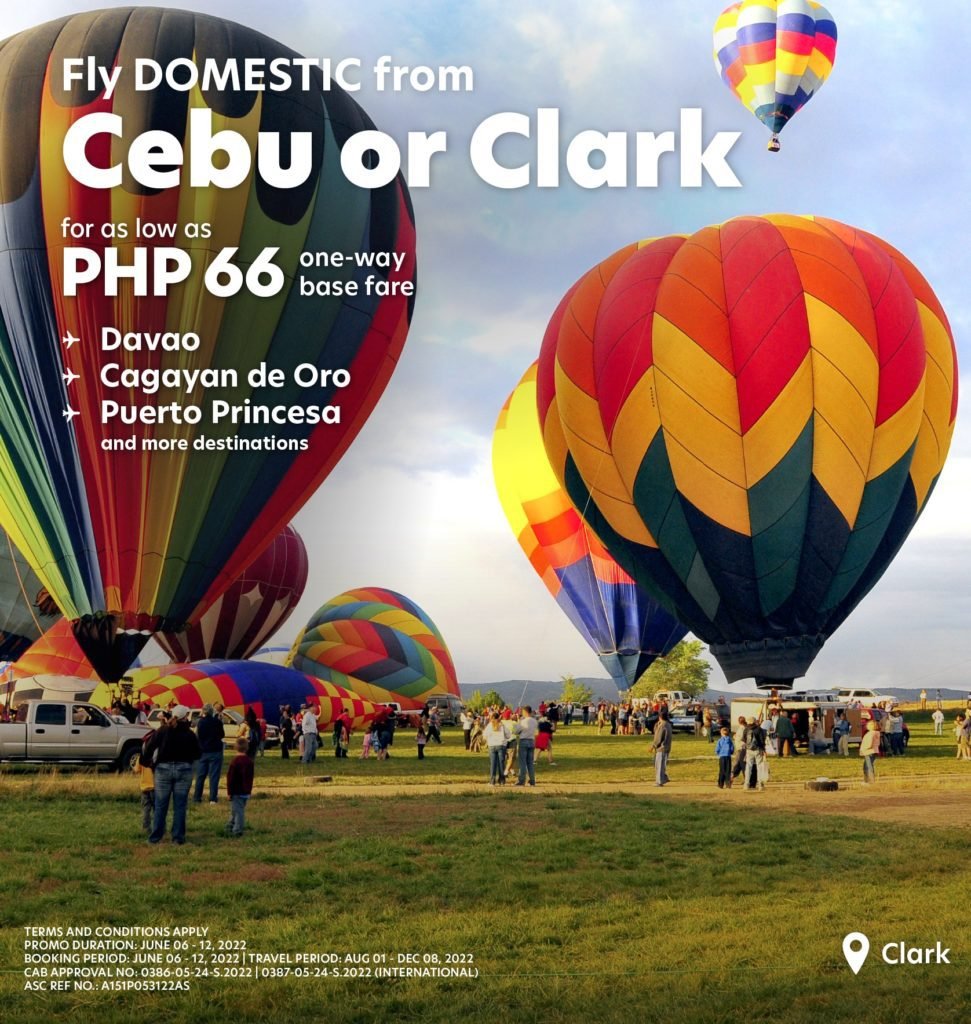 Air AsiaSeat Sale 2022 Travel Notes
– The AirAsia Promo 2022 fights info including origin, destination, and flight rates as announced on Air Asia Philippines Facebook Post last June 6, 2022.
– AirAsia Promo 2022 Seats are only available for online bookings at www.airasia.com. The quoted one-way base fares are for Big Members only.
– Advanced booking required.
– Promo Fares are not available during the embargo period.
– The offer is subject to availability and AirAsia's's Terms and Conditions of Carriage
Hurry, book your book AirAsia promotion ticket at AirAsia.com Official Website. Or Visit the nearest AirAsia Travel and Service Centers (ATSC) or airport counters to book.  You can check out the different AirAsia Philippines Ticketing Offices. Here is how to book online with AirAsia.
Flying soon with AirAsia? Check out the updated AirAsia Flight Schedule or AirAsia Canceled Flights.
Be notified of the latest promos, news, and updates in Philippine Travel, subscribe to our BiyaheFinder YouTube Channel. Click here to check if there are any current AirAsia Promo Piso Fare!
AirAsia Promo 2022 Features 6.6 Freedom Sale!
AirAsia Promo 2022 featuring 6.6 FREEDOM SALE is a promotion that allows guests to book a flight to their favorite local destinations, such as Cebu, Zamboanga, Davao, Kalibo, Cagayan De Oro, Puerto Princesa, Tagbilaran and Dumaguete for only PHP 66 one-way base fare. International passengers who use the promo code FREEDOM at the time of purchase on the AirAsia Super App will receive a 10% discount off of any international destination.
Currently, the budget airline AirAsia Philippines operates to Kota Kinabalu, Malaysia on Mondays and Fridays, and to Hong Kong on Saturdays. On June 14th, the airline will resume service to Seoul, South Korea with a three-weekly flight schedule.
"This year's independence day theme is really appropriate in directing a clear course away from stormy skies," Steve Dailisan, Spokesperson and Head of Communications & Public Affairs for AirAsia Philippines, told reporters. "And AirAsia is dedicated to being there for each Filipino who continues to accept the difficulties of a new beginning by providing them with the greatest value-for-money travel deals possible. 
Trips between August 1 and December 8, 2022, are eligible for the booking period from June 6 to June 12, 2022. 
"We also invite our Kababayans to take a chance and discover what the Philippines has to offer. We can all help develop tourism in the country by supporting local projects that assist our fellow Filipinos who are impacted by the epidemic," Dailisan adds.
AirAsia Philippines has seen triple-digit growth in total passengers flown at a rate of 306 percent from January to April 2022 versus the same period last year. It is also quite aggressive about increasing its local network to meet and sustain demand – growing its domestic routes from 14 with the addition of Roxas City on June 16. 
About AirAsia Promo 2022
AirAsia is giving us a head start on our summer plans with their domestic and international promos! For as low as PHP 188 ONE-WAY BASE FARE, we can fly to Bohol, Dumaguete, Cebu, Puerto Princesa, Singapore, and many more AirAsia destinations.
This promo is only valid for booking until May 1, 2022, so mark your calendars and get ready to book your tickets! The travel period is from April 25 to September 30, 2022, so you have plenty of time to plan your trip. So what are you waiting for? Start packing your bags and get ready for an unforgettable summer adventure!
AirAsia is known for its promos that travelers can take advantage of to save on their airfares. For AirAsia Promo 2022, the airline is offering a no-flight change fee so that you can make changes to your plans without worrying about the fee.
This is a great opportunity to take advantage of if you're looking to book your travel plans well in advance but are worried about making changes later on. With this promo, you can book your flights now and make changes closer to your travel date without having to pay any additional fees. So take advantage of this great AirAsia Promo 2022 today and book your flights with us!
AirAsiaPromo 2022 Flies now from NAIA Terminal 4
AirAsia Philippines is all set for the restart of its domestic operations at Ninoy Aquino International Airport (NAIA) Terminal 4. The world's best low-cost airline sees the reopening of the terminal as an indication of the strong recovery momentum of the travel industry. Consequently, all AirAsia Philippines domestic flights to and from Manila will operate from hereon at NAIA Terminal 4. 
The Manila Domestic Passenger Terminal, which has 26 check-in counters and a departure area with a seating capacity of 969 guests, officially reopened on 28 March 2022. AirAsia is pleased to be part of the momentous occasion as it celebrates the resumption of air travel in the country. 
In line with AirAsia's commitment to the safety of its guests and crew, the airline has implemented a number of health and safety measures including the mandatory wearing of face masks and face shields, regular disinfection of aircraft and facilities, as well as contactless check-in procedures.
Guests are also encouraged to arrive at the airport early and to follow all health and safety protocols of the authorities.
Click here for the complete story on AirAsia Moves Domestic Operations Back at NAIA Terminal 4 by March 28, 2022.
Where AirAsia Philippines Flies
AirAsia is a low-cost carrier that flies to various domestic destinations within the Philippines. AirAsia first began operations in the country back in 2012, and since then, the airline has been steadily expanding its routes and adding more frequency to existing ones. As of 2019, AirAsia flies to Cebu, Davao, Iloilo, Tacloban, Cagayan De Oro, Bacolod, Caticlan (Boracay), Puerto Princesa, Bohol, Kalibo, General Santos, and Zamboanga.
The airline has plans to add even more flights and destinations in the future, subject to approval from the local and national governments. AirAsia is known for its affordable fares and excellent customer service,, and has won numerous awards over the years, including the highly coveted "World's Best Low-Cost Airline" award from Skytrax.
AirAsia's expansion into the Philippine market has been a boon for travelers, as it has helped to increase competition and drive down fares. The airline currently holds a strong presence in the country and shows no signs of slowing down. If you're looking for an affordable and convenient way to travel within the Philippines, then AirAsia is definitely worth considering.
So what are you waiting for? Start packing your bags and get ready for an unforgettable summer adventure with AirAsia!
Check out the Latest AirAsia Promos