Top Tourist Boracay Guide and Information for Your Trip
With BiyaheFinder Tourist Boracay Guide and Information, you'll have everything you need to make the most of your trip to Boracay. This brief Travel Info contains all the information you need to know about amazing Boracay, from flight availability and promos, to where to stay and what attractions you can't miss. So if you're looking for information for our trip to Boracay, look no further than Boracay Travel Guide by BiyaheFinder!
Tourist Boracay Travel Requirements
Boracay Flights Schedule
The different airlines are constantly changing their flight schedules to and from Boracay / Caticlan in the light of travel restrictions and cancellations brought about by the pandemic.
Blank cells mean there are no flights for that particular route to and from Caticlan.
| Route | AirAsia Flight Schedule | Cebu Pacific Flight Schedule | Philippine Airlines Flight Schedule | AirSWIFT Flight Schedule |
| --- | --- | --- | --- | --- |
| Manila to Boracay | 5x daily | 16x daily | 6x to 7x daily | |
| Boracay to Manila | 5x daily | 16x daily | 6x to 7x daily | |
| Cebu to Boracay | 3x weekly | 2x daily | 2x daily | |
| Boracay to Cebu | 3x weekly | 2x daily | 2x daily | |
| Clark to Boracay | 4x weekly (Mon, Tue, Thu, Sat) | | | |
| Boracay to Clark | 4x weekly (Mon, Tue, Thu, Sat) | | | |
| El Nido to Boracay | | | | |
| Boracay to El Nido | | | | |
The flight schedule shown above was updated on November 1, 2022, for the Month of November 2022. Airlines frequently change their schedule without notice, so it is best always to check out the airlines' official websites.
Boracay Promos and Seat Sales
Check out the latest promos to and from Caticlan / Boracay. Blank cells mean the particular airline does not have any promos going to or coming from Caticlan / Boracay.
| Route | AirAsia | Cebu Pacific | Philippine Airlines | Others |
| --- | --- | --- | --- | --- |
| Manila to Boracay | P350 | P288 | | |
| Boracay to Manila | | P288 | | |
| Cebu to Boracay | P70 | P88 | | |
| Boracay to Cebu | | P88 | | |
| Clark to Boracay | P330 | | | |
| Boracay to Clark | | | | |
| El Nido to Boracay | | | | AirSWIFT: P3108 / P4498 |
| Boracay to El Nido | | | | AirSWIFT: P3108 / P4498 |
For the latest promos appearing above, please click on the respective links below for more information like booking and travel periods:
Check out the Best Cebu Pacific Boracay Promos and Flights for 2022 to 2023
Tourist Boracay Best Hotels
Check out the best hotels in Boracay as guest-rated on Agoda.com. The best Boracay Travel hotels rated in the platform are categorized according to value or budget (one to two stars) and mid-high end (three to five stars) hotels. Click on the link to check out the hotel photos, amenities, nightly rate, and room availability.
Boracay Tours, Attractions, and Activities
Boracay Transfers and Transportation
To and From Boracay / Caticlan Land Transport Services
To and From Boracay / Caticlan Ferry Services
Top Boracay Tourist Spots
Boracay is one of the most popular tourist spots in Asia. The island offers a number of things to do and see, from pristine white sand beaches to amazing natural rock formations. Tourists flock here for the sun and surf, but also for its diverse culture. Tourists can explore an old Spanish fortress or get acquainted with Filipino customs at a festival. There are many other activities on offer too such as scuba diving, jet-skiing, windsurfing, snorkeling, and more! Tourists will never be bored when they visit this tropical paradise!
Here are the top tourist spots to see and enjoy on Boracay Island
White Beach
Boracay Island is best known for its stunning White Beach, which was recently named the world's best beach by Boracay Travel Guide. This long stretch of white sand is divided into three stations, each offering something different.
Station 1 is where the high-end resorts and restaurants are located. Station 2 is where the malls and bars are, making it a popular spot for nightlife. And Station 3 is the most serene part of the beach, with less crowds and quieter surroundings.
Boracay White Beach is truly a paradise for travelers seeking sun, sand, and sea. Whether you're looking to relax in a luxury resort or enjoy the nightlife, Boracay White Beach has something for everyone.
Crystal Cove Island
Crystal Cove Island Resort is a private beach island near Boracay, one of the most popular tourist destinations in the Philippines. The main attractions of the island are its 2 coves and white sand beaches, which offer great opportunities for swimming and snorkeling in the clear blue waters just off the shore.
Located in the Sibuyan Sea, about a 20-minute boat ride from north-eastern Boracay, the uninhabited island is also within easy reach of Caticlan. As a result, Crystal Cove Island Resort is a popular stop-off point for island-hoppers, offering a wide range of activities, such as trekking and cave exploration, sunbathing and snorkeling, pigeon feeding, and kayaking.
With its secluded location and wide range of activities on offer, Crystal Cove Island Resort is the perfect place to relax and enjoy the natural beauty of the Philippines. Go island hopping to Crystal Cove, check out the tour package below:
Bulabog Beach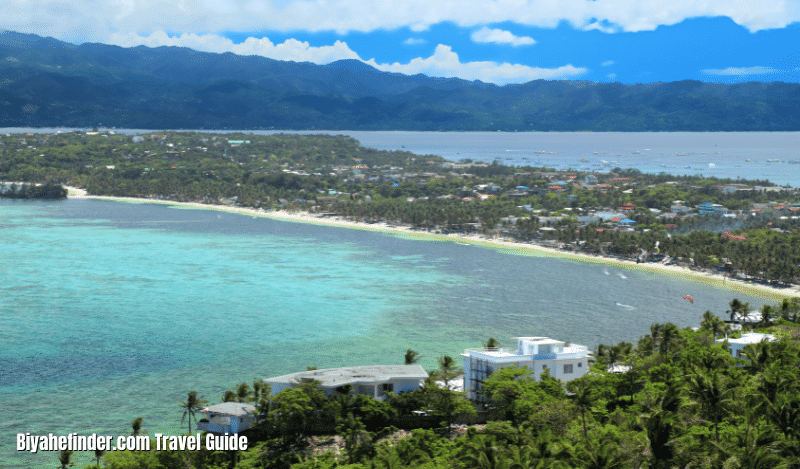 Bulabog Beach, also known as "back beach", is a popular tourist spot in Boracay, Visayas. It is well known for high-altitude activities such as windsurfing and kitesurfing. In fact, there are competitions held on this beach every year.
Even if you're not familiar with the sport, watching the surfers and their acrobatic moves can be very entertaining. The best time to visit Bulabog Beach is from November to April when the winds are at their strongest.
During these months, the beach is crowded with tourists and locals alike, all enjoying the impressive views and perfect conditions for surfing. So if you're looking for a unique tourist spot in the Philippines, be sure to add Bulabog Beach to your list! Check it out here!
Diniwid Beach
Diniwid Beach is a tourist attraction located in Boracay, Philippines. The beach is situated 10 minutes away from the famed White Beach and is known for its sprawling sea-facing resorts and charming villas.
Some of these villas are situated atop hills, providing stunning views of the coastline. Diniwid Beach remains largely uncrowded and desolate for most of the year, making it a popular destination for those seeking solitude and tranquility.
However, the beach is also a popular spot for people who want to revel in the serenity and ataraxy of the surroundings. Check out Diniwid Beach:
Puka Beach
Puka Beach is one of the most beautiful beaches in Boracay, with its sparkling white sand and clear blue waters. The beach gets its name from the puka shells that are found in abundance here. Puka shells are small, white shells that have a hole in the center. They are commonly found on beaches around the world and are often used as jewelry ornaments.
Puka Shell Beach is a great place to relax and soak up the sun or go for a swim in the crystal clear waters. There are also a number of restaurants and bars in the area, so you can enjoy a refreshing drink or bite to eat while taking in the stunning views. Check out Puka Beach:
D'Mall
D'Mall is the tourist hub of Boracay Island, located in Station 2 between the White Beach and the main road. As an open-air mall, it has a street market feel with Sarongs, footwear, souvenirs, travel agencies, money changers, and grocery stores.
The mall is also home to several fine dining restaurants as well as quirky cafes. This makes it the perfect place to enjoy a cozy meal or relax with a coffee while people-watching. With so much on offer, it's no wonder that D'Mall is the most popular shopping destination for tourists on Boracay Island.
If you're looking for a place to grab a bite to eat, there are plenty of options available, ranging from fast food to fine dining. There are also several ATMs located throughout D'Mall, so you can easily get cash if you need it. Check out D'Mall:
Ariel's Point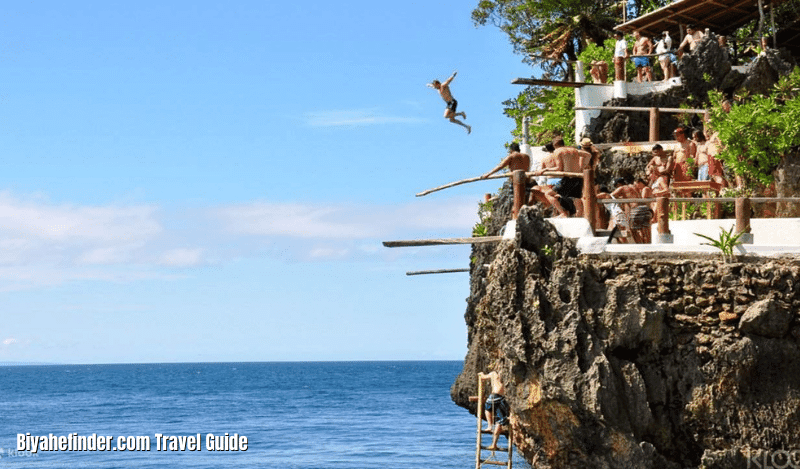 Ariel's Point is a tourist destination located near the fishing hamlet of Buruanga, off the coast of Boracay in the Philippines. The prime attraction of the place is the cliff diving activity that draws tourists to the tropical paradise.
The place also offers to pick and drop service from Boracay which is just a half-hour boat ride and the package includes a boat cruise, buffet lunch, unlimited snacks and drinks, and other activities.
Ariel's Point is a popular day-trip destination that offers a host of adventure activities and sports like kayaking, paddle boating, snorkeling, and a lot more! Check it out here:
Mount Luho
Boracay is famous for its three stunning beaches, each with its unique character. And for those looking for breathtaking views, Mount Luho is the perfect spot.
Perched at an elevation of 100 meters, Mount Luho offers stunning views of the east coast and the three beaches below. Mount Luho attracts a lot of tourists thanks to its three small viewing decks.
At the top of the mountain, you'll find a tiny Bulabog Village where you can enjoy coffee or tea and unwind. Check out Mount Luho:
Ilig-Iligan Beach
Boracay Island boasts beautiful beaches with clear blue waters, fine white sand, and an abundance of marine life. However, Boracay can be crowded with its beaches overcome with people.
But there is Ilig-Iligan, a secluded beach located in the northeast corner of the island. It can only be accessed via motorbike, bicycle, or hiking, and there are no cafes or hotels in sight. As a result, the beach is never crowded.
Tourists who are looking for a more authentic experience will enjoy Ilig-Iligan's natural beauty. The beach is perfect for picnics, and its azure waters are ideal for swimming and snorkeling. If you're looking to escape the crowds, Ilig-Iligan is the perfect beach for you.
Willy's Rock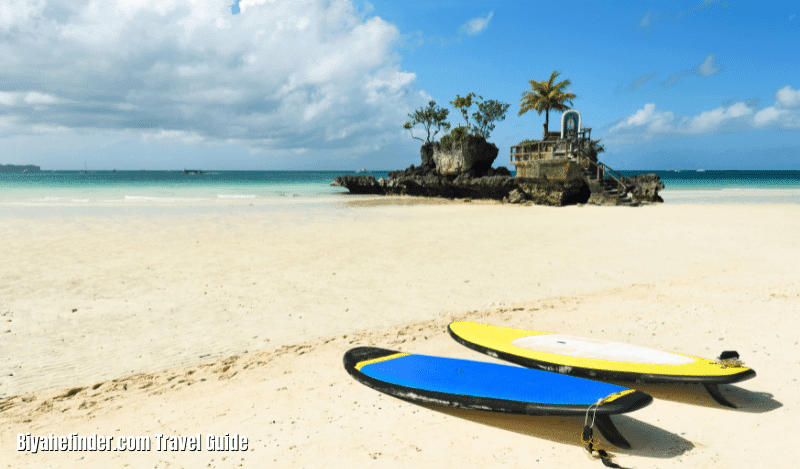 If you're looking for a great spot to take photos and enjoy the amazing views of Boracay, Willy's Rock is definitely the place to be! This large rock formation is one of the most popular tourist spots on the island, and it's easy to see why. Willy's Rock offers stunning views of the ocean, as well as a great vantage point for watching the sunset.
Willy's Rock is a tourist attraction located on the Station 1 of Boracay Beach. The rock formation is made up of lava and rock, and it gets submerged during high tide.
There's a small shrine on top of the rock, which makes for a pretty neat photo op. Make sure to add Willy's Rock to your list of must-see places when you're in Boracay! Check out Willy's Rock in this tour:
Bat Caves of Boracay
The bat caves of Boracay are a must-see for any tourist visiting the island. These caves are home to large numbers of bats (Philippine flying fox), which can be seen flying through the air or hanging from the ceilings. The caves are also interesting from a geological standpoint, as they feature several stalactites and stalagmites.
These caves present a spectacular sight for visitors, with their intricate rock formations and unique wildlife. Whether you're a tourist or a local, the caves are worth a visit. Check out the Boracay Bat Caves in this tour package:
Crocodile Island
Crocodile Island is a popular tourist destination situated at the southern end of the island of Boracay. The island gets its name from its unique shape, which resembles the head of a crocodile.
Crocodile Island is known for its rich marine wildlife and stunning corals, which make it a popular destination for photographers. In addition, the island's tranquil atmosphere attracts nature lovers and solitude seekers, making it one of the most popular tourist destinations in Boracay.
Check out Crocodile Island in this tour:
Balinghai Beach
Balinghai Beach is just one of the many beautiful beaches that Boracay has to offer. The small coastal beach is only visible during low tide and is bordered by the Diniwid Beach to the south and Punta Bunga Beach to the north.
The remote, unspoiled beach is framed by a towering cliff on one side and an imposing rock face on the other. You may have quiet romantic suppers beneath the great cliff, away from any other people in the area. The beach has been bought by the Balinghai Beach Resort and the only way to access it is through the resort.
Visit Balinghai Beach during your island hopping tour with this tour:
Punta Bunga Beach
Punta Bunga Beach is a beautiful and relatively secluded beach located at the northernmost tip of Boracay Island. The beach is bordered by cliffs on either side, which make for a stunning view.
Punta Bunga is known for its clear turquoise waters and lovely white sand beaches. It's the perfect place to relax and unwind, away from the hustle and bustle of Boracay's more crowded beaches.
Motag Living Museum
There are a few interesting museums in Boracay, but one of the most unique is the Motag Living Museum located in Barangay Montag, Aklan in Boracay. This small museum is located in the town of Motag, on the northern end of the island. The museum is run by a local family, and it showcases the traditional way of life on Boracay before it became a tourist destination.
The museum is housed in a traditional stilt house, and it contains a variety of exhibits on the local history and culture. Visitors may watch and learn about traditional farming, weaving handicrafts, preparing local delicacies, and listening to Malayanon songs. There is also a souvenir shop at the museum where profits are donated to the community.
The Motag Living Museum is a must-see attraction for anyone interested in learning more about the rich culture and history of the Philippines. Know more about the Philippine heritage as you take on interactive cultural activities at the Motag Living Museum:
If you're looking to escape the crowds and enjoy some of Boracay's natural beauty, these are the top tourist spots you should check out! From secluded beaches to stunning rock formations, there's something for everyone to enjoy on the island. So what are you waiting for? Start planning your trip to Boracay today!
Latest Boracay Promos and Seat Sales
Other Travel Guides