Check out Latest Iloilo Travel and Tourist Spots Guide for 2022
With BiyaheFinder Iloilo Travel Information, you'll have everything you need to make the most of your trip. This brief Travel Info contains all the information you need to know about amazing Iloilo, from flight availability and promos, to where to stay and what attractions you can't miss. So if you're looking for information for your trip to Iloilo, look no further than Iloilo Travel Guide by BiyaheFinder!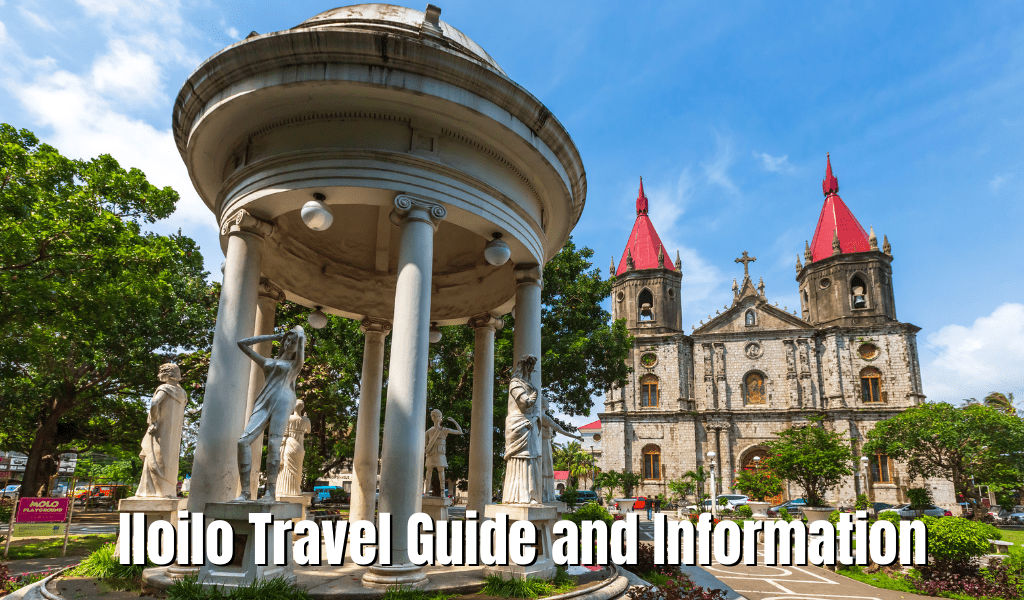 Going to Guimaras? Click here for Guimaras Travel Guide and Information.
Iloilo Travel Requirements
Getting to Iloilo
By Air
The Iloilo International Airport is about 40 kilometers away from the city and is of "international standards." Many flights go to and from Iloilo City, the most common ones being by Cebu Pacific and Philippine Airlines. The flight from Manila to Iloilo usually lasts around an hour. There are also international flights by Cebu Pacific from Hong Kong and Singapore.
After landing at the airport, there are many ways to get to the city. One of the most popular options is by taking the commuter vans. They offer a great value, as they only charge ₱50 each way. They stop at SM City mall, which is one of the biggest malls in Iloilo City. Another option is to take a taxi, but it will be more expensive than the commuter vans.
Iloilo Travel: Flights Schedule
The different airlines are constantly changing their flight schedules to and from Iloilo in the light of travel restrictions and cancellations brought about by the pandemic.
Blank cells mean there are no flights for that particular route to and from Iloilo.
| Route | AirAsia Flight Schedule | Cebu Pacific Flight Schedule | Philippine Airlines Flight Schedule | Others |
| --- | --- | --- | --- | --- |
| Manila to Iloilo | 4x daily | 6x daily | 4x-5x daily | |
| Iloilo to Manila | 4x daily | 6x daily | 4x-5x daily | |
| Cebu to Iloilo | | 16x weekly | 2x daily | |
| Iloilo to Cebu | | 16x weekly | 2x daily | |
| Iloilo to General Santos | | 3x weekly (Tue, Thu, Sat) | 3x a week (Tue, Thu, Sat) | |
| General Santos to Iloilo | | 3x weekly (Tue, Thu, Sat) | 3x a week (Tue, Thu, Sat) | |
| Davao to Iloilo | | Daily | 2x a week (Wed, Sun) | |
| Iloilo to Davao | | Daily | 2x a week (Wed, Sun) | |
Iloilo Travel: Promos and Seat Sales
Check out the latest promos to and from Iloilo. Blank cells mean the particular airline does not have any promos going to or coming from Iloilo.
| Route | AirAsia | Cebu Pacific | Philippine Airlines | AirSWIFT |
| --- | --- | --- | --- | --- |
| Manila to Iloilo | P80 | P188 | | |
| Iloilo to Manila | | P188 | | |
| Cebu to Iloilo | | P288 | | |
| Iloilo to Cebu | | P288 | | |
| Iloilo to General Santos | | P588 | | |
| General Santos to Iloilo | | P588 | | |
| Davao to Iloilo | | P388 | | |
| Iloilo to Davao | | P388 | | |
For the latest promos appearing above, please click on the respective links below for more information like booking and travel periods:
By Bus
From Manila, there are buses that ply the route to Iloilo City. There are two major bus companies that offer this service – Ceres and Philtranco. The trip usually takes around 18 hours, including a stop at the port in Batangas for the passengers to board a ferry to Boracay.
The buses usually depart from Pasay City Terminal and from Cubao Terminal in Quezon City. The buses are parked in the North and South Terminals at the Pasay City Terminal.
There are several bus companies that provide transportation to Iloilo from other major urban areas of Panay, including Ceres, Philtranco, Roro, and more. The buses usually take the roll-on, roll-off (RoRo) route, making the journey shorter and faster. From Kalibo in Aklan, for example, there are buses that depart every hour or so and will take you directly to Iloilo City. The trip usually lasts around 4 hours. From San Jose in Antique, there are also buses that depart regularly and will take you to Iloilo in about 3 hours. There are also buses from Roxas in Capiz and Passi City in Iloilo.
Iloilo Travel: Transfers and Transportation
To and From Iloilo Land Transport Services
By Boat
There are several ways to get to Iloilo by boat or ferry. The most popular way is to take a bus from Cubao, Quezon City to Iloilo City and then take a ferry ride to Iloilo. The buses use the ro-ro ferries, and the trip takes around 10 hours. There are also a number of Ro-ro ships in the city that can take you to different parts of Iloilo. The International Port at Loboc is the most popular port in Iloilo, and it is one of the busiest ports in the country.
Iloilo has three other major major seaports: the Domestic Port at Fort San Pedro, the Muelle Loney Port serving the Iloilo to Bacolod trips, and the Ortiz Port serving the Iloilo to Guimaras trips.
The only true international port in Western Visayas, Iloilo is one of the busiest ports in the country. There are also PhilTranco buses from Cubao, Quezon City to Iloilo City that use the ro-ro ferries. There are also a number of Ro-ro ships in the city.
To and From Iloilo Ferry Services
Getting Around Iloilo City
Taxicabs and jeeps are the primary mode of transportation in Iloilo City. You can travel by tricycle or pedicab for short distances. Buses and vans are available for longer trips, such as travelling outside the city. Within the city, car and van rentals are accessible.
The most common mode of transportation in Iloilo City is the Jeep or Multi-cab, the cheapest available options. If you want a more convenient and faster trip, you can choose to take a taxi instead. Taxis are readily available on almost every street corner in Iloilo City.
Best Time for Iloilo Travel
Iloilo Travel: Best Hotels
Check out the best hotels in Iloilo as guest-rated on Agoda.com. The best Iloilo Travel hotels rated in the platform are categorized according to value or budget (one to two stars) and mid-high end (three to five stars) hotels. Click on the link to check out the hotel photos, amenities, nightly rate, and room availability.
Iloilo Travel: Tours, Attractions and Activities
Top Iloilo Tourist Spots and Attractions
Iloilo City is a melting pot of culture and heritage. There are many tourist spots in Iloilo that will make your stay worthwhile. If you're looking for a beautiful and culturally rich destination to travel to, look no further than Iloilo. This Philippine province has something for everyone, from stunning natural landscapes to well-preserved colonial architecture. Here are the top tourist spots in Iloilo that you don't want to miss!
Islas de Gigantes
The Gigantes Islands, more commonly called Islas de Gigantes or the islands of giants, is a cluster of remote islands located near Carles and Estancia towns in northeastern Iloilo, Philippines. The island group consists of ten sizable islands with an abundance of smaller islets sprinkled throughout.
Gigantes Islands, from the city center, takes approximately five hours by boat. It is one of Iloilo's best-kept secrets, offering stunning natural beauty and solitude. The islands are endowed with beautiful white beaches, plenty of fresh seafood and jagged rock formations covered in local folklore. Antonia Beach is one of the island's most popular tourist destinations, with crystal blue seas and a breathtaking limestone cliff formation to be explored.
If you're searching for an adventure, head to the other side of the island to find towering cliffs and hidden coves. You can also explore several caves located on the island. If relaxation is more your style, spend some time lounging on the beach or going fishing. Either way, you won't be disappointed with a visit to Gigantes Islands.
Iloilo River Esplanade
The Iloilo River Esplanade is a beautiful place to take a stroll and enjoy the view. It stretches along the Iloilo River, which gives a stunning backdrop to the cityscape.
The Esplanade is long and stretches from Molo Church to the Iloilo River Bridge. There are many benches and tables along the way where you can stop and rest or have a picnic. Several restaurants and coffee shops nearby allow visitors to relax and take a break from their walk.
What makes the Esplanade a tourist spot is its peaceful and relaxing atmosphere. The riverbank is lined with trees that provide shade from the sun, and the sound of the flowing water is therapeutic. It's a great place to take photos or simply enjoy the beauty of nature.
The Esplanade is a popular spot for locals and tourists to watch the sunset. The view of the river is breathtaking at night. There are several restaurants and bars near the Esplanade where you can enjoy a meal or drinks after your walk.
The Iloilo Esplanade is one of the highlights of Iloilo City and is worth visiting if you're in town.
Miagao Church
The Santo Tomás de Villanueva Parish Church in Miagao, Iloilo, Philippines, is a Roman Catholic church dedicated to Saint Thomas of Villanova. On December 11, 1993, the church was designated as a UNESCO World Heritage Site. The Baroque Romanesque architectural style is used for the whole structure of the church.
The Miagao Church is a beautiful piece of architecture that represents the culture and life of the people of Miagao centuries ago. The church is anchored in a strong foundation of Christian faith, and its unique design, ornaments, and motifs have made it one architectural gem that continues to receive praise from both local and foreign visitors.
Jaro Cathedral
The Jaro Cathedral is an imposing sight, perched atop the district of Jaro in Iloilo City. The seat of the Roman Catholic Archdiocese of Jaro, the cathedral is home to the National Shrine of Our Lady of the Candles. The shrine houses a statue of Nuestra Señora de la Candelaria, which Pope John Paul II canonically crowned in 1995.
The cathedral was constructed in the Romanesque Revival style, which differs from the traditional semi-circular arches. One distinctive feature is that the bell tower is located across a busy street from the church, on Jaro Plaza. This unusual placement makes the cathedral a popular tourist spot.
Jaro Belfry
The Jaro Belfry is a popular tourist spot in Iloilo because of its unique architecture and history. The belfry was built in 1744 and served as a bell tower and watchtower during the Spanish times. It was heavily damaged by an earthquake in 1787 but was rebuilt and still stands today. The belfry is made of bricks and limestone blocks and is 29 meters high. It is a popular tourist spot because of its unique architecture and history.
Molo Mansion
The Molo Mansion is one of the most beautiful and historic homes in Iloilo City. It was built in the 1920s by Dona Petra Lacson and her husband Estanislao Yusay. The Yusays were a prominent Manila family at the time, and Judge Yusay was a very successful lawyer. The Yusays first occupied the mansion, and they eventually welcomed ten children together into their home.
The Molo Mansion is one of the most popular tourist attractions in Iloilo City. It boasts high ceilings, neoclassical balustrades, and intricate carvings sure to impress visitors. The mansion is located across from the town plaza and St. Anne Parish Church in the Molo district. Constructed in the 1920s, it has been well-preserved over the years and remains a stunning example of architecture from that era.
The Molo Mansion is open to the public as a museum and hosts art exhibits, markets, fairs, and special occasions. It's a beautiful reminder of Iloilo City's rich history and culture.
Museo Iloilo
The Museo Iloilo is a government-sponsored museum located in downtown Iloilo City. Here, visitors can explore Western Visayas' cultural history through permanent displays of artifacts ranging from carbon-dated bones to swords and spears from the Panay Mondo group. There is also a permanent exhibit of an Ati family.
The museum is also home to a beautiful collection of Ilonggo cultural heritage, including stone age native pottery, fossils, jewelry, burial sites, and trade pottery from China. War relics, a sunken British ship; Spanish-era Filipino sculpture; and modern art done by Ilonggo artists and artisans are among the items on display.
What makes Museo Iloilo a tourist spot is its impressive collection of Iloilo's cultural heritage, which is displayed in a well-designed museum building. The museum also has a gift shop, which sells a variety of souvenirs and local handicrafts.
Iloilo Provincial Capitol
The Iloilo Provincial Capitol is a popular tourist destination in Iloilo City. The capitol building was constructed in 2006 after a fire of unknown origin damaged the Casa Real de Iloilo – the old capitol building – damaging almost half of the structure. The modern capitol is considered one of the most modern and most significant capitol buildings in the Philippines. Filipino architect Guillermo Hisancha designed it.
In 2019, the capital complex was updated, including constructing a six-story multilevel parking structure with a roof deck. A new visitors' center was also built as part of the project, which features an interactive museum exhibit about Iloilo Province's history.
Garin Farm
Garin Farm is a tourist spot in Iloilo known for its agriculture, leisure, and religious activities. The farm is an hour and a half away from Iloilo City and is a great place to breathe fresh air and find peace. The farm has recreational facilities such as a zip line, swimming pool, buggy car, kayaking, and fishing.
A must-see on the farm is Pilgrimage Hill, which has 456 steps that tell the story of nine major biblical scenes. These include Nativity or the Birth of Jesus, Baptism of Christ, Last Supper, and Agony in the Garden. The stair steps end at a peak that recreates heaven.
The farm is situated on a hilltop overlooking Iloilo City, and it features beautiful gardens, an orchard, and a terrace that offer stunning views of the surrounding area. It is also home to many animals, including horses, cows, pigs, chickens, and ducks, with which visitors can interact.
Additionally, the farm has a restaurant that serves traditional Filipino food, and there is also a shop where visitors can buy souvenirs. Garin Farm is a great place to visit for anyone who wants to experience Filipino culture and nature.
Camiña Balay nga Bato
 The Camiña Balay nga Bato is one of the most well-known tourist spots in Iloilo. It was built in 1860 by Fernando Avanceña and his wife, Eulalia Abaja. The house was strategically located beside the Iloilo River to have accessible transportation for the family's business of making hand-woven textile products during that time. It is made of board walls, and its roof is made of bamboo and nipa.
Twenty-four trunk pillars were used as the foundation of the house, which was considered a status symbol when it was built. The house got its name Balay Nga Bato because the walls were made using the river sand and limestone that helped reinforce the house.
Today, it is one of the most popular tourist spots in Iloilo because of its historical value. It has been featured in various magazines and online articles, which helped promote this lovely heritage house to tourists worldwide.
Calle Real
The historic street known as Calle Real, or Royal Street, is a section of Iloilo City Proper's old downtown. It is home to several beautiful examples of historical luxury American era neoclassical, beaux-arts, and art deco architecture. Since the time of the Spaniards, these heritage structures have housed businesses on their ground floors, and they are still used for that purpose today.
Calle Real, nicknamed the "Escolta of Iloilo," runs from Plaza Libertad (formerly Plaza Alfonso XII) up to Plazoleta Gay. Calle Real is still widely considered the beating heart of Iloilo City regarding commerce and trade.
Because of its abundance of history and picturesque architecture, Calle Real has become a tourist spot in Iloilo City. Guests have the opportunity to stroll down this quaint street while appreciating all that it has to offer. In addition, countless stores and eateries are lining the road, giving visitors plenty to do during their stay.
Casa Mariquit
Casa Mariquit is a must-see tourist spot in Iloilo because of its rich culture and history. The architecture of Casa Mariquit is an important historical monument in Iloilo, Philippines, owing to its rich cultural and historical significance. It was built in 1803 by Ramon Javellana, a banker, who subsequently became the home of his granddaughter, Mariquit Lopez de Javellana, and her husband, Fernando Lopez.
Located inside a small tree-lined street and overshadowed by an old banyan tree, Casa Mariquit is a 215-year-old-ancestral house that tells the stories of Iloilo's rich culture throughout the years. Memorabilia is spread across the rooms, from the cement vault built in 1990 to antique home decor and furniture.
Lopez Heritage House
The Lopez Heritage House is in Jaro, Iloilo. In 1928, Don Vicente Lopez and Doña Elena Hofileña erected the house as a monument to their love for each other. The home was named after Nelly Lopez y Hofileña, the couple's eldest daughter.
The Lopez Heritage House is one of the most magnificent and well-maintained heritage homes in the Philippines, owing to its enormous architecture and location in a prominent area of Iloilo City.
It was designated a National Historic Landmark by the National Historical Institute on March 28, 2004. It is commonly known as the "Queen of Heritage Homes in Iloilo" due to its grandiose design, which emphasizes Ilonggo's royal past.
The Lopez Heritage House and its 4 hectares (9.9 acres) property are available for public tours and events. The house is famous for weddings, parties, and other special occasions.
Lizares Mansion
The Lizares Mansion is one of Iloilo City's most elegant heritage mansions, combining American and Spanish architectural designs.
With three floors, a basement, and an attic, the mansion is quite spacious. Its wooden staircase winds its way up to big bedrooms with hardwood doors and floors. With 59 doors in total, the mansion's layout is very intricate.
The Japanese army used the house during World War II, and it was said that the basement became a torture chamber for tortured Filipinos.
The Lizares estate, which included a mansion, was sold to the Dominicans in 1962. In 1978, it became the residence of Angelicum School Iloilo. The mansion is still used as the school chapel today.
The mansion has now been opened to the public as a tourist attraction. It is notable for its well-preserved architecture and lush gardens.
Balantang Memorial Cemetery National Shrine
The Balantang Memorial Cemetery National Shrine in Iloilo City is a tourist spot because it is the only military cemetery built outside Metro Manila. It is also the site of the bloodiest battle of Filipino guerillas under General Macario Peralta, Jr., who liberated the island of Panay from the Japanese Imperial Forces from February 06, 1945, to March 20, 1945. The shrine was built in honor and memory of them.
Kuliatan Marine Sanctuary
The Kuliatan Marine Sanctuary is a protected area in Iloilo that is rich in marine life. The sanctuary offers excellent snorkeling opportunities and several other activities, such as swimming, sunbathing, and picnicking. The refuge is also home to various birds and animals, making it a popular tourist spot.
The Kuliatan Marine Sanctuary is unique because of its variety of coral and fish life. Large rocks and coral formations here are perfect for snorkelers to explore, and plenty of colorful fish can be seen. The sanctuary also has many shady trees that provide welcome relief from the sun, making it a pleasant place to spend the day.
The Kuliatan Marine Sanctuary comprises several pathways that lead to various activities such as cottages, grill areas, swimming areas, snorkeling, and a view deck. This makes the sanctuary easy to navigate and ensures everyone can find something to do. Facilities such as cottages and huts are also available for those who want to stay overnight.
If you're looking for a fun day in Iloilo, visit the Kuliatan Marine Sanctuary. You'll find plenty of things to do here, and you'll get to experience the beauty of the Philippine coast up close.
Concepcion Island
The Concepcion Islands are a group of 17 islands located in northeastern Iloilo, Philippines. Most of these islands are mountainous and wooded, with white sand beaches and coral reefs. Because they are not as popular as the Gigantes Islands, they offer tourists a more secluded and peaceful experience.
The islands are great for swimming, snorkeling, free diving, and scuba diving. There are also plenty of hiking trails to explore, including Mt. Pan de Acuzar (also called Mt. Manaphag), which is Panay's tallest peak. The Concepcion Islands are a beautiful and underrated tourist spot in the Philippines that offer a variety of activities for visitors to enjoy.
Nadsadjan Falls
The Nadsadjan Falls is located in Barangay Passi, Iloilo, and is one of the most visited tourist spots in the province. The falls are a 100-feet high that pours into a cauldron-shaped natural swimming pool. It is a beautiful sight to behold, and its cool and fresh Prussian blue waters attract foreign and local tourists every year.
The Nadsadjan Falls is one of the must-see places when visiting Iloilo. Its beauty, therapeutic properties, and ease of access make it a popular tourist spot for locals and foreigners.
Bucari Pine Forest
The Bucari Pine Forest is located in the town of Leon and is popularly tagged as the "Little Baguio of Iloilo." It is situated on the highlands of Leon and is known for its cold climate, which makes it a perfect spot for overnight camping or a day hike.
The forest features the Mansiga view deck, which offers a beautiful view of the surrounding pine trees. These pine trees are similar to those found in Baguio City and attract tourists with their picturesque scenery.
The forest comes to life at night with fireflies and is covered in fog during cold mornings. Overall, the Bucari Pine Forest is a beautiful tourist spot that offers a unique experience for visitors.
Sicogon Beach
Sicogon Island is a beautiful, hidden island off the coast of Northern Iloilo. The island boasts sandy beaches with clear turquoise waters – making it the perfect destination for nature lovers, travelers, and adventure seekers alike.
The golden sand beach along Brgy Buaya's coast is the best swimming beach on Sicogon Island. It was formerly the seaside pavilion of Sicogon Island Resort, located nearby. Coconut palms and little nipa huts that guests may rent for a day or even overnight punctuate the beach, which is popular with tourists. The spectacular sunrise view is one of the most beautiful and unforgettable images you'll ever see.
Tatoy's Manokan
Tatoy's Manokan and Seafoods is a well-known restaurant in Iloilo City, which has been in operation since the 1970s. It began as a tiny nipa shack with just three tables but has grown to become one of the most popular restaurants in town.
Tatoy's is most renowned for its Lechon manok (roasted chicken). The chicken is soaked in native vinegar and calamansi, with stuffed tamarind leaves and lemongrass. It has a robust, flavorful taste that goes well on its own. The restaurant also offers a wide range of seafood choices, including fish, shrimp, squid, and crab.
Tatoy's Manokan and Seafoods' popularity essentially boils down to its location. Sto. Nino Sur, Arevalo is a historic district in Iloilo City, so the restaurant already has tourist foot traffic. Plus, it's near other established attractions like the Iloilo River Esplanade and Jaro Cathedral.
Biscocho Haus
Biscocho Haus is located in Jaro, Iloilo, and is a favorite spot for tourists looking to taste Filipino culture. The Haus offers a wide variety of snacks, including butterscotch, yemas, and merengue. These snacks are all homemade and reflect Filipino culture and heritage. The Biscocho Haus is also known for its quaint cottage industry atmosphere, which makes it a unique tourist spot in Iloilo.
Other Travel Guides