Check out Latest Dumaguete Tourist Spots and Travel Guide for 2022
With Dumaguete Tourist Spots and Travel Guide, you'll have everything you need to make the most of your trip. This brief Travel Info contains all the information you need to know about amazing Dumaguete, from flight availability and promos, to where to stay and Dumaguete tourist spots you can't miss. So if you're looking for information for our trip to Dumaguete, look no further than Dumaguete Travel Guide by BiyaheFinder!
Dumaguete Travel Requirements
Getting to Dumaguete
Manila and Cebu are the country's two largest cities and their major international airport hubs. There are flights, ferries, and buses from Metro Manila or Metro Cebu to Dumaguete. Dumaguete is a major transportation center on Negros, the biggest island of which is divided into two provinces: Negros Oriental and Negros Occidental. In particular, it serves as an entry point for excursions to various Dumaguete tourist spots like Apo Island's diving or dolphin viewing in Bais City, among other things. The tiny island province of Siquijor, with its many beaches and stories of sorcery, may also be reached via Dumaguete; it may be seen from the city beachfront.
Dumaguete Flights Schedule
Cebu Pacific Air has flights from Manila and Cebu, (and previously from Davao, and Cagayan de Oro), while Philippine Airlines has flights from Manila.
| Route | AirAsia Flight Schedule | Cebu Pacific Flight Schedule | Philippine Airlines Flight Schedule | Other Airlines |
| --- | --- | --- | --- | --- |
| Manila to Dumaguete | 4x weekly (Mon, Wed, Fri, Sun) | 24x weekly | 2x daily | |
| Dumaguete to Manila | 4x weekly (Mon, Wed, Fri, Sun) | 24x weekly | 2x daily | |
| Cebu to Dumaguete | | 10x weekly | | |
| Dumaguete to Cebu | | 10x weekly | | |
The flight schedule shown above was updated on November 1, 2022, for the Month of November 2022. Airlines frequently change their schedule without notice, so it is best always to check out the airlines' official websites.
The different airlines are constantly changing their flight schedules to and from Dumaguete in the light of travel restrictions and cancellations brought about by the pandemic.
Blank cells mean there are no flights for that particular route to and from Dumaguete Airport.
Dumaguete Airfare Promos and Seat Sales
Check out the latest promos to and from Dumaguete. Blank cells mean the particular airline does not have any promos going to or coming from Dumaguete City.
| Route | AirAsia | Cebu Pacific | Philippine Airlines | Others |
| --- | --- | --- | --- | --- |
| Manila to Dumaguete | P460 | P388 | | |
| Dumaguete to Manila | | P388 | | |
| Cebu to Dumaguete | | P188 | | |
| Dumaguete to Cebu | | P188 | | |
For the latest promos appearing above, please click on the respective links below for more information like booking and travel periods:
To and From Dumaguete Ferry Services
There are several sailings from Manila, Cebu City, Tagbilaran, Siquijor and Dapitan to Dumaguete each day. Cebu has the most options and trips.
To and From Dumaguete Bus Services
The Ceres bus service covers Cebu and Negros islands. Their buses are a glaringly bright yellow. The route has direct buses from the south bus station in Cebu City to Dumaguete; they depart down the west coast of Cebu Island, and cross to Negros Island via a short passenger ferry trip that arrives at San Jose just north of Sibulan, then proceed on to Dumaguete. Depending on traffic, weather, and whether there is a delay while waiting for the boat, the total travel time is usually about six hours but may be an hour or so less or considerably more.
Ceres also provides bus service between Cebu City and Tagbilaran City on Bohol Island with a stop in Dumaguete.
Ceres now offers a bus service from Cubao in Quezon City (which is part of Metro Manila) to Dumaguete. It goes via land to Batangas City, by ferry to Caticlan in Panay, via land to Iloilo, by ferry to Bacolod, and finally via land to Dumaguete. There are also buses that depart from Cubao down through Bicol at the southern end of Luzon and take passengers across the strait to Samar on a ferry before continuing overland into Ormoc. From Ormoc, ferries connect Dumaguete with Cebu City as well as boats and buses.
Getting Around Dumaguete City
Dumaguete has only a few taxis, and none of the jeepneys you'll find in other Philippine cities. There are some jeepneys that go to neighboring settlements, but they operate different general-purpose downtown routes than those found in other cities.
By Pedicabs – The majority of in-town transportation is conducted by motorbike/sidecar combos known as pedicabs or motorcycles with a sidecar. These are shared transports; you should expect to ride along with anybody going the same way and to take random detours as the driver changes course to transport additional people.
By Motorbikes – These are also popular; the roads have far more of them than automobiles. They can be rented at several locations on Perdices Street, near the corners of Pinili and Santa Rosa Streets. Helmets are not widely used by locals; if you plan to ride, bring a decent helmet with you.
By Jeepneys – There are several terminals for jeepneys to neighboring communities or towns; these are cheap and intriguing, but they're often packed. Sit up front if you can; it's more comfortable and provides a better way to see the road and sights. Buses and Jeepneys heading north to Sibulan, San Jose, or Tanjay can usually be hailed down on Rizal Boulevard or on the highway leading north out of Dumaguete, while jeepneys for many destinations may be found near the pier.
Best Time for Going to Dumaguete
Best Time to Visit Dumaguete
Reason to Visit Dumaguete during this time
February to March
Ideal weather (based on temperature and humidity by Championtraveler.com)
Dumaguete's average temperatures don't differ much. Temperatures are typically hot throughout the year, with the exception of rain throughout most of the year owing to humidity. If you're searching for the hottest time to visit Dumaguete, May and April are the hottest months. Early June is generally when it's warmest, with highs averaging approximately 32.6°C and seldom dipping below 25.1°C at night. Choose the season to travel and see the different Dumaguete tourist spots.
September
Sandurot Festival
The Sandurot Festival is a celebration of the city of Dumaguete and its people. This festival celebrates the city's rich cultural heritage with parades, street dances, and other festivities.
October
Buglasan Festival
Also known as the "Festival of Festivals", the Buglasan Festival is a celebration of the culture and heritage of Dumaguete City. It features a variety of traditional dances, music, and food from the region.
The most popular month for tourism in Dumaguete is January, followed by September and May. Hotel rates and flights will be the most expensive during these months, but advance booking can help you save money. In June, tourists are unlikely to visit Dumaguete. These periods are when visitors should plan to go if they want to visit at the lowest possible price.
Dumaguete Travel: Best Hotels
Check out the best hotels in Dumaguete as guest-rated on Agoda.com. The best Dumaguete Travel hotels rated in the platform are categorized according to value or budget (one to two stars) and mid-high end (three to five stars) hotels. Click on the link to check out the hotel photos, amenities, nightly rate, and room availability.
Top Dumaguete Tourist Spots and Attractions
Dumaguete is a beautiful city located in Negros Oriental, Philippines. Its stunning beaches, delicious food, and rich culture are well-known. Dumaguete is also home to some of the most popular tourist spots in the country.
If you're planning to visit Dumaguete, be sure to add these places to your travel itinerary:
Dumaguete Boulevard or Rizal Boulevard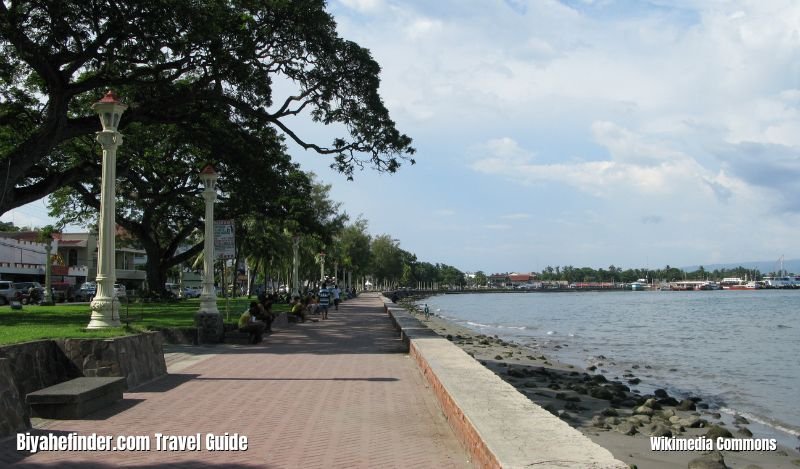 Dumaguete Boulevard, also known as Rizal Boulevard, is a beautiful promenade that runs along the coast of Dumaguete City. It's a great place to enjoy the stunning views of the city and the sea. There are also many restaurants and cafes where you can relax and enjoy the view.
Dr. Jose Rizal, a Filipino national icon, is the namesake of Rizal Boulevard in Dumaguete. Of course, Rizal Boulevard is a popular tourist attraction in Dumaguete for more than historical reasons. People are present at all hours of the day. There are seats where visitors may sit and see the sun rise over the water as boats arrive and depart from the port nearby.
Rizal Boulevard is likewise an excellent place for families to visit. People often picnic with their families, discuss and play guitars, or shop at the restaurants and shops that line one side of the street during the day. Getting to numerous other attractions and landmarks in Dumaguete is also simple. There are also parades, barbecues, and live music that the entire family can enjoy during certain occasions and holidays.
Silliman University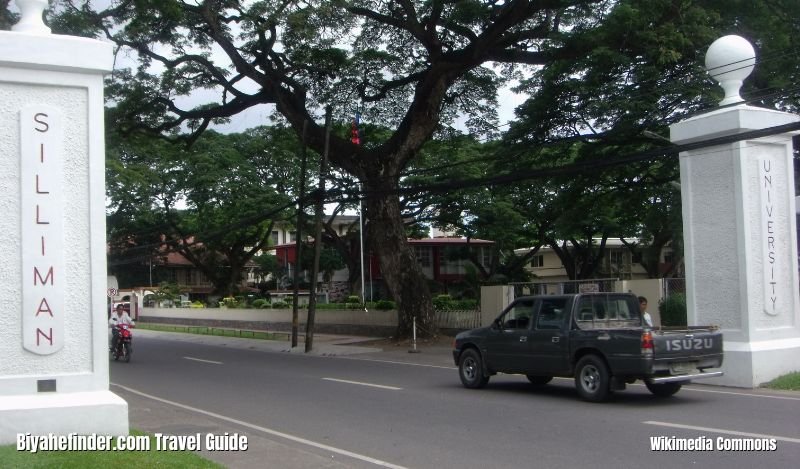 Silliman University is one of the Philippines' oldest and most prestigious universities. It's located in Dumaguete City and is home to a beautiful campus with Victorian-style buildings.
Silliman University is a well-known institution of higher learning in the Philippines, with a long history and excellent reputation. It's also a lovely campus, which is worth seeing while you're in town. It was founded in 1901 and is one of the Philippines' oldest colleges.
Here are the different Dumaguete spots one can see within the confines of the university:
The Silliman Hall addition was built in the early 1900s, two years after Silliman University was founded, as an extension of the original structure that has since been demolished.
This is the oldest remaining structure in the Philippines, built in 1902-1903 and influenced by the Stick Style or Victorian style of architecture prevalent in late 19th century American structures. On the hall's east side, a marble bust of Horace Silliman is mounted.
Silliman University Anthropology Museum
Some Philippine relics were found throughout the country and may be viewed at the Anthropology Museum, dating back hundreds or thousands of years. Take your time and enjoy the unique and priceless archaeological artifacts that the museum has on exhibit.
The pavilion's ground floor, which is also its first level, exhibits antique tools and weapons from Negros and parts of Mindanao; ethnological artifacts from across the country are displayed on the second floor.
Surprisingly, this university houses a zoo, as well. The Silliman Zoo, adjacent to the Silliman Medical Center, accommodates a wide range of endangered Philippine native species.
You'll see crocodiles, spotted deer, wart hogs, bleeding-heart doves, vampire bats, and other species. The Zoo requires financial support to ensure the conservation of the site.
Silliman University Marine Laboratory
The Silliman University Marine Laboratory (SUML) is Dumaguete City's premier marine research and education institution. It was founded in 1974 as the Dumaguete City Fisheries Laboratory. It was renamed in honor of Dr. David E. Silliman, an American ichthyologist and one of the founders of the University.
The main laboratory building contains wet and dry laboratories, research rooms, an aquarium, and classrooms. The adjacent dock houses a small fleet of boats for conducting field research.
This is where one can learn about their breeding programs for giant clams, crocodiles, and seaweed and see the world's second-largest whale bone collection.
Silliman University Church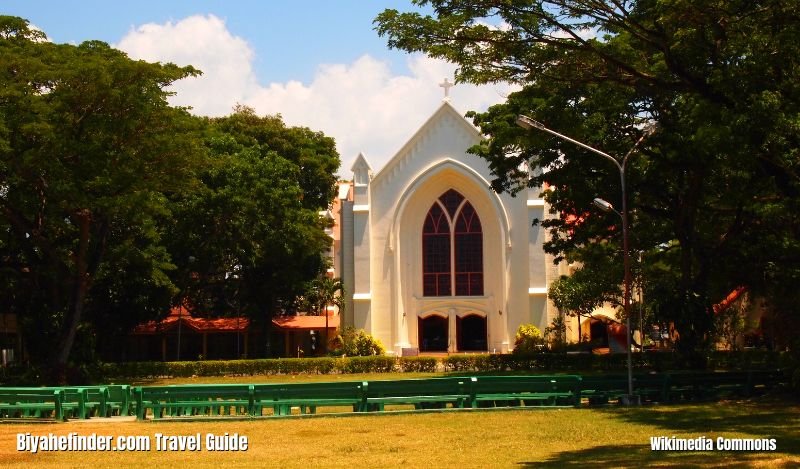 If you're looking for a church that ministers "to all Sillimanians, regardless of their denomination and religious affiliations," you need to go to the Silliman University Church.
First established by American Presbyterian missionaries as the Dumaguete Mission Station in 1901, it became the Student Church in 1916. Then it was eventually renamed the Silliman University Church.
Bell Tower (Campanario de Dumaguete)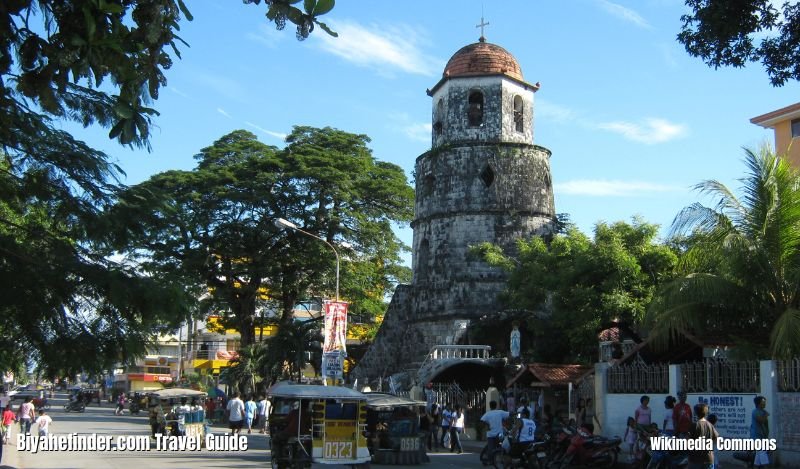 The Bell Tower, also known as the Campanario de Dumaguete, is a Dumaguete City landmark built in the 18th century. It's located in the city center and is one of the most popular tourist spots which one must include in the must-visit places in the city.
It is the oldest bell tower in the Visayas and one of the historical landmarks of the province. It was constructed to keep an eye on and warn the people about any threat. It stands next to St. Catherine of Alexandria Cathedral, in front of Rizal Park, which is very accessible from and to various locations within the city.
Cathedral of Santa Catalina (Dumaguete Cathedral)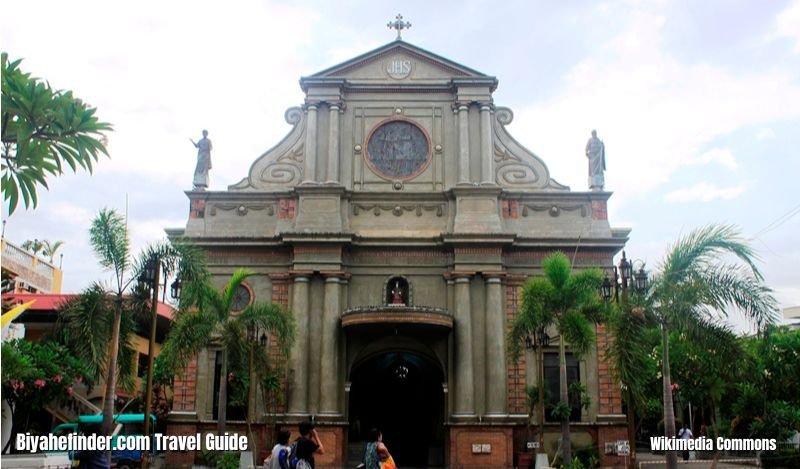 The Dumaguete Cathedral, also known as the Cathedral of Santa Catalina, is a Roman Catholic cathedral located in Dumaguete City, Philippines. The Cathedral is the seat of the Roman Catholic Diocese of Dumaguete.
The Cathedral, also known as the Temple of Saint Catherine, is dedicated to St. Catherine of Alexandria, the city's patron saint. Her celebration is very boisterous in November each year since a Mass celebrating liberation from Spain was held on the temple grounds on December 24th, 1898.
At the façade, one may discover the status of Saint Peter and Paul. The interior is just as stunning, with high ceilings, intricate chandeliers, and exquisite altarpieces.
Mt. Talinis
Mt. Talinis is a beautiful complex volcano located in Dumaguete. It is perfect for hiking and offers impressive views of the city and the sea. At an elevation of 1,903 meters above sea level, it is the second-highest peak on Negros Island after Mount Kanlaon and the tallest peak in the Cuernos de Negros (or "Horns of Negros") mountain range.
A few trails lead up to the summit, so hikers of all levels can enjoy it. The mountain is also home to several caves, which make for a fun adventure.
Palinpinon Geothermal Plant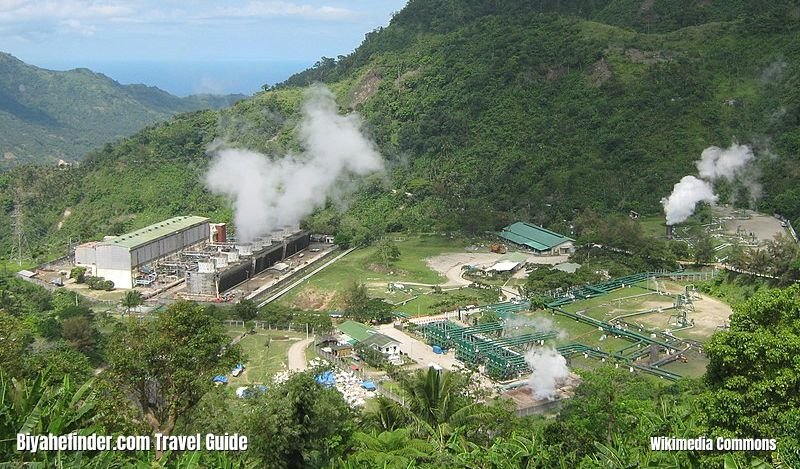 The Palinpinon Geothermal Plant is one of Dumaguete's tourist spots. A geothermal plant uses the earth's heat to generate electricity. It is also known for its hot springs, which have healing properties.
The geothermal plant was built in 1978 and began operating in 1979. It has a capacity of 51 megawatts, making it the largest geothermal plant in the Philippines. It is located in Barangay Palinpinon, about 9 kilometers from Dumaguete City. It can be reached by bus or jeepney. There are also exhibits on display, including a model of the plant and a replica of a geyser.
The main attraction at the Palinpinon Geothermal Plant is the hot springs.
Mag-Aso Volcanic Steam Spring
Located in the town of Valencia, about 15 kilometers from Dumaguete City, Mag-Aso Volcanic Steam Spring (commonly known as Volcanic Road) is a popular tourist spot in the province. The spring is named after the Mag-Aso volcano, which is located nearby.
The spring is a natural hot spring that cascades down rock formations along the road. The water outlet is surrounded by puffs of searing steam with a strong hydrogen sulfide odor. Signs cautioning against poisonous steam are posted along the route.
The water at the spring is said to have healing properties, and many people visit it to soak in the hot springs.
Balinsasayao Twin Lakes Natural Park
Balinsasayao Twin Lakes Natural Park is an unspoiled and secluded area in Dumaguete City. The twin lakes, Lake Balinsasayao and Lake Danao are two small crater lakes set apart by a narrow mountain ridge and home to several species of animals and plants.
This place is perfect for nature lovers who want to experience the Philippines' natural beauty. The park consists of two twin lakes known for their clear blue waters. Several small islands are scattered in the lakes, making a perfect spot for a picnic.
Aside from the lakes, Balinsasayao Twin Lakes Natural Park is also home to various plants and animals. Several hiking trails offer great views of the park's natural beauty. The park is also a popular spot for bird watching, as it is home to many different bird species. There's also a restaurant and view deck at the top of the hill.
Apo Island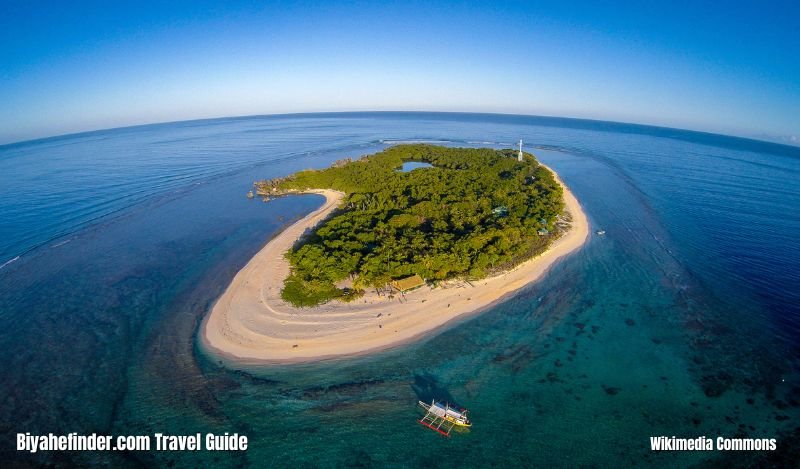 Apo Island is a small island located about 30 minutes from Dumaguete City. Its rich marine life is a popular spot for snorkeling and diving. This tiny, rocky island off the coast of Dauin is home to the world's biggest sea turtles, and one can have the fantastic experience of swimming with them.
The waters surrounding Apo Island are so brilliant and teal that they may take your breath away. There are over 400 coral types and 650 known fish species in the marine environment around the island, which is a marine reserve.
After swimming with the turtles, one may walk to the Rock Point View Deck's tip, which provides a unique perspective of Apo Island from above.
Manjuyod Sandbar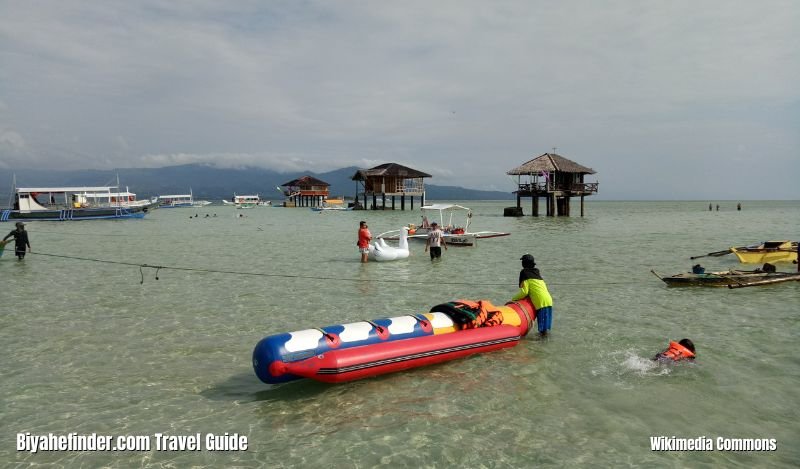 The Manjuyod Sandbar is a popular tourist spot in Dumaguete. It is a beautiful sandbar stretching out into the sea and a great place to relax and enjoy the scenery. The sandbar is also excellent for swimming, sunbathing, and snorkeling.
The area is called 'the Philippines' Maldives,' and it's pretty stunning. It will amaze you how great the location is. As a result, it's no surprise that Dumaguete has become a hotspot for scuba diving. One may even spot some dolphins on your way out there, as dolphin viewing is another popular tourist activity in Dumaguete.
Casaroro Falls
Casaroro Falls is one of the most popular tourist destinations in Dumaguete. It's a beautiful waterfall in the mountains near Dumaguete, and it's worth the trip to visit it.
It's a lovely 30-minute walk upriver to Casaroro Falls, which appears as it appeared out of nowhere around a fern-draped bend. The waterfall is about 100 feet high and a stunning sight to behold. Several trails lead up to the falls so that you can choose the best option. Once you reach the falls, you can enjoy a refreshing swim or simply relax and take in the area's natural beauty.
If you visit at the proper time, the water spray will be bathed in sunlight, creating a mystical glow over the area.
Pulangbato Falls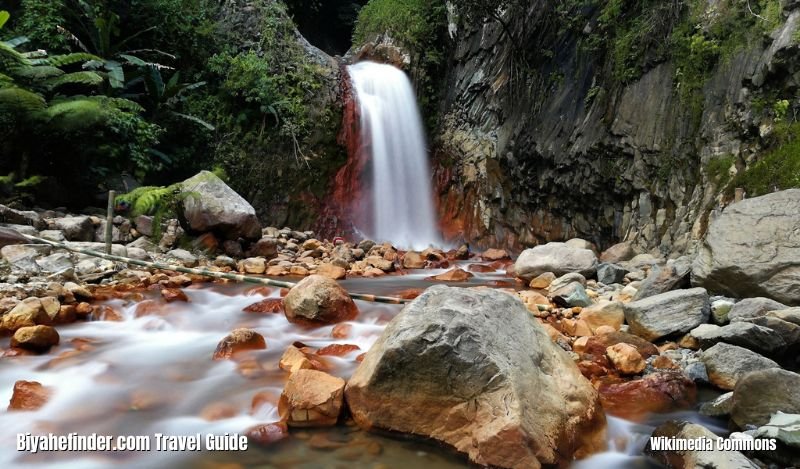 Pulangbato Falls, a magnificent waterfall in Dumaguete City, is a must-see tourist spot. It is one of the most popular destinations in the city because of its breathtaking beauty and majestic scenery.
The waterfall is about 60 feet high, and its waters flow over a series of limestone formations, creating a lovely sight. The falls, named for their color, are encircled by naturally red rocks and thick vegetation, creating a soothing and relaxing atmosphere. The deep pool below is perfect for diving, and people may often be seen jumping from a high rock.
Pulangbato Falls can be easily reached by following the road that leads to Dumaguete's Dumaluan Beach Resort. The falls are just a few minutes walk from the resort. There is also a viewing deck at the top of the falls where visitors can enjoy a panoramic view of the entire area.
Puncak Tanawan
Puncak Tanawan is a tourist spot located in Dumaguete City. It is known for its beautiful views and lush greenery. If you're into hiking, Puncak Tanawan is the highest peak in Sibulan, where you can find it. Hike for about two hours from the starting point to the top of this unbelievable mountain.
Puncak Tanawan is located in Brgy. Balugo combines the Indonesian term "puncak" for "peak" with the Filipino word "tanawan," meaning "to view from afar." The position is ideal for obtaining a breathtaking view of not just Dumaguete City but also Cebu, Apo, and Sumilon.
Sadly, though, the popularity of Puncak and Tanawan among tourists and hikers, as well as the growing renown of Sibulan, has taken its toll on the natural resources in the said area.
Bais Bird Sanctuary and Mangrove Park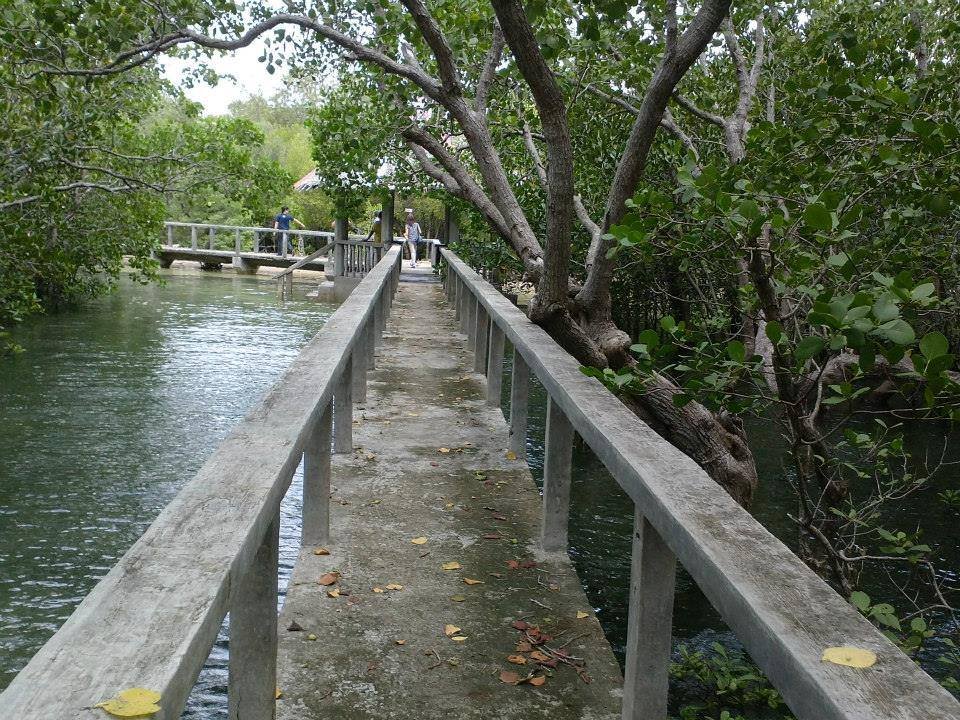 The 400-hectare protected mangrove forest in Bais City is known as the Bird Sanctuary and Mangrove Park. It's a natural habitat and nesting ground for a variety of birds, as well as other animals. On low tides, at the heart of the park is a white strip of sand that appears only when viewed from a distance, where visitors can have lunch or participate in other activities like beach volleyball.
A stop will enhance a trip to the Bird Sanctuary and Mangrove Park at the world-famous Bais Dolphin and Whale Watching and a side excursion to the beautiful Manjuyod White Sand Bar.
Cata-al World War 2 Museum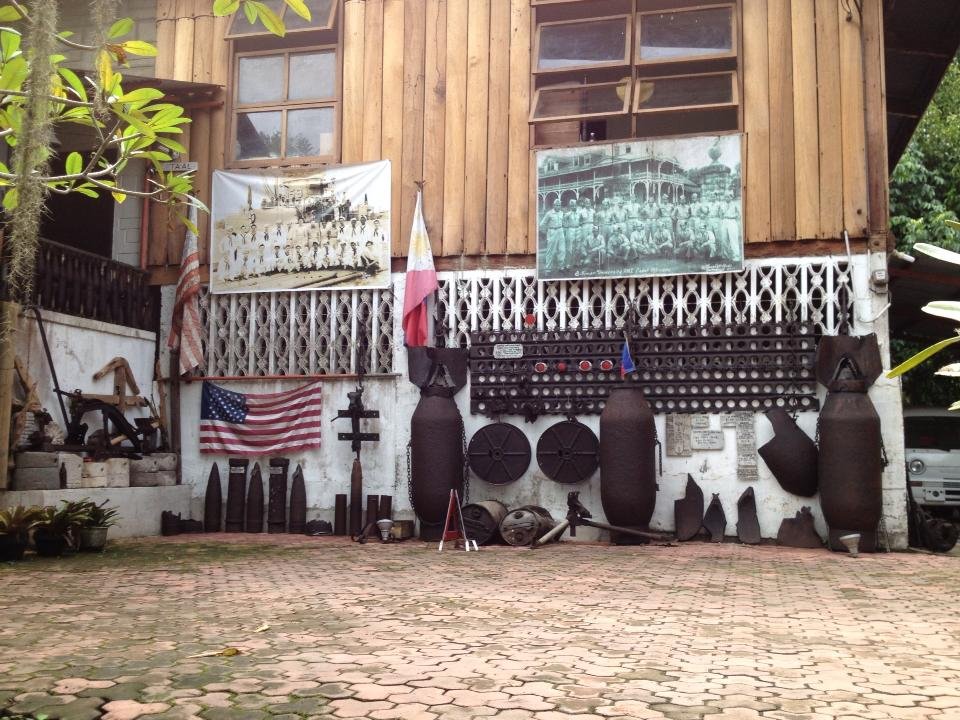 The Cata-al World War 2 Museum is one of the top tourist spots in Dumaguete. It is located in the barangay of Cata-al and was built to commemorate and honor the soldiers who fought in World War 2.
The museum is home to several exhibits that tell the story of World War 2. There are exhibits about the different battles that were fought, as well as presentations about the everyday life of the soldiers. There is also a section of the museum dedicated to the civilians affected by the war.
The museum is a great place to learn more about World War 2, and it is exciting for those with a family member or friend who fought in the war. Visiting the museum is a great way to honor their sacrifice.
Santa Catalina Monkey Sanctuary
The Santa Catalina Monkey Sanctuary is a charming destination in Dumaguete. The sanctuary, roughly 1 hour and 45 minutes by road from Dumaguete City, contains around 300 monkeys and is a fantastic location to observe them frolic about in the trees.
The enclosure also has a little museum explaining the monkeys' history and home. The grounds are more natural than a zoo, resembling an open area on the fringes of the jungle where the monkeys may wander as they please.
Reef's Farm and Sunflower Field
If you're looking for an escape from the city, Dumaguete has a few great options for tourists. One of these is Reef's Farm and Sunflower Field, a sprawling agricultural property with plenty of activities to keep visitors busy. There's a sunflower field that's particularly popular with photographers and of course, "selfie-takers".
Visitors can wander among the towering flowers, taking in the colorful display. It's a great spot for a picnic, or just to enjoy some time in nature.
Reef's Farm is located on Dumaguete-Sibulan Road, about 10 kilometers from Dumaguete City. There's plenty of parking available, and the farm is easily accessible by bus or car.
Freedom Park and Dumaguete Provincial Capitol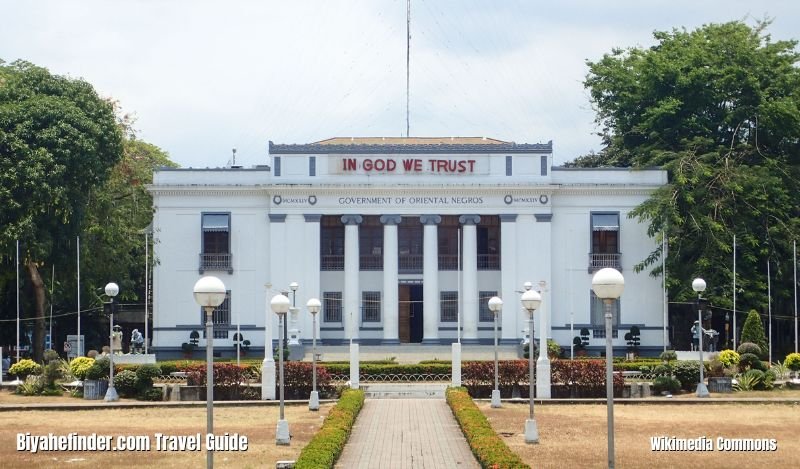 The Freedom Park (Ninoy Aquino Park), which is close to the bustling metropolis of Dumaguete, is a tranquil and restorative green space. It's the ideal place to unwind while taking in the sights. The park was named after Ninoy Aquino, a renowned politician who was assassinated in 1983.
The park also houses the provincial legislature building, with its imposing neo-classical facade. Occasionally, the park serves as a venue for special events. The Buglasan Festival, for example, occurs in the park at the end of each year.
The wide green lawns of Freedom Park provide a soothing retreat amid Dumaguete's bustling streets. Visitors are invited to sit and rest on the benches. People exercise, walk their dogs, or bring their children to play on the grass.
Tierra Alta Lighthouse
The Tierra Alta lighthouse is Dumaguete's oldest lighthouse, and it's a popular tourist spot. The lighthouse was built in 1892 and it's still in operation today.
The original lighthouse is now part of a resort development, the Tierra Alta Residential Resort. Because of its stunning natural beauty with man-made constructions blended flawlessly, this area is ideal for weddings and other kinds of celebrations. The lighthouse, which resembles the famous Batanes lighthouse surrounded by well-maintained grass and decorations, is a highlight.
Philippine-Japanese Amity Memorial Shrine in Dumaguete
The Philippine-Japanese Amity Memorial Shrine in Dumaguete is a must-see for tourists. It commemorates the strong friendship between the Philippines and Japan and is a beautiful memorial that is well worth a visit.
The Shrine's historical obelisk is located on the hills of Valencia. It stands on the very site where World War II's furious battle was fought. The Fil-Am Japanese Shrine was erected to commemorate those who died in the fierce conflict.
The shrine was built in honor of the victims of World War II and pays tribute to the bravery and sacrifice of both nations. It is a stunning sight, with its elegant design and tranquil setting. The shrine is a reminder of the close ties between our two countries and is a touching tribute to those who lost their lives during the war.
The lighthouse is located on a hilltop, so it's a good place to get some exercise while you're visiting Dumaguete.
Chinese Bell Church
The Chinese Bell Church, one of Dumaguete's hidden tourist spots, is a traditional Taoist Temple located in Barangay Calindagan.
The distinctive landmark is just over the southern end of Rizal Boulevard, is colored in a variety of colors and hues. As a source of its name, its tower has bells on it. The architectural details and building forms, such as dragons and Chinese-inspired writings, are well-detailed. This Chinese settlement includes arches with finely detailed designs and buildings adorned with flags, bells, and dragons. It also contains a pagoda and a lovely park.
The inside of the bell tower is beautiful, from the interior up to the surrounding area and the history of the church.
Malatapay Market
The Malatapay Market is Dumaguete's largest market and it's a must-see for tourists. It's located on the banks of the Dumaguete River and is a special market that sells almost everything from livestock, rice, fruits, vegetables, fish, crab, lechon, chicken, and durables like shoes, handbags, accessories, knives, tires, ropes, and a lot more!
Over the years, Malatapay Market in Zamboanga has not only evolved to become a location where you may acquire everything from A to Z, but it has also become a tourist attraction due on its renowned title as the "gateway" to the world-famous Apo Island.
The prices are very reasonable and you can barter for a better deal. The Malatapay Market is a great place to buy souvenirs, as there is a wide selection of handicrafts on offer. Be sure to try the local delicacies, such as the roasted chicken or the pork adobo.
Dumaguete is a great city to explore, with plenty of tourist spots and attractions to keep you busy. Whether you're into hiking, bird watching, history, or monkeys, Dumaguete has something for everyone. We've highlighted just a few of the top tourist spots in Dumaguete, but there are many more waiting to be discovered. Be sure to put Dumaguete on your list of places to visit soon!
Dumaguete Travel: Tours, Attractions and Activities
Other Travel Guides