Cebu Pacific to Resume Bali, Hanoi, Sydney Flights
Cebu Pacific has announced its intent to resume services to Bali, Hanoi, and Sydney, increasing the number of international destinations in the airline's network to 16 by the end of June.
In May, Cebu Pacific will start operating two flights per week between Manila and Hanoi, as well as three weekly flights to and from Sydney, Australia, scheduled to start in June.
Cebu Pacific has resumed service to six international destinations – Bangkok, Dubai, Fukuoka, Ho Chi Minh (Saigon), Hong Kong, and Jakarta. Cebu Pacific currently flies to Guangzhou, Kuala Lumpur, Nagoya, Osaka, Seoul (Incheon), Singapore, and Tokyo (Narita).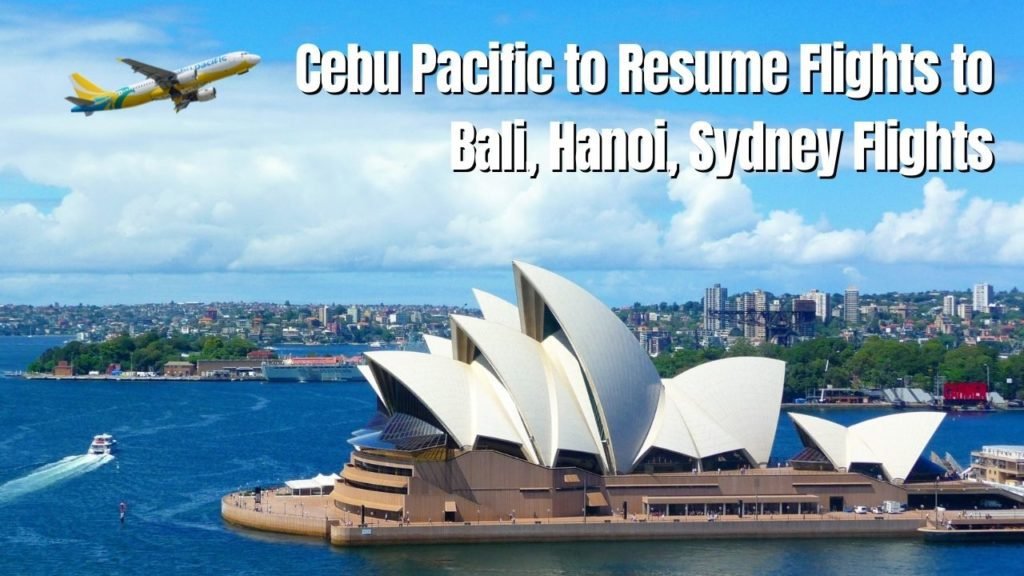 "We applaud the Department of Tourism's efforts to boost tourism," Cebu Pacific's Chief Commercial Officer Xander Lao added. "On behalf of Cebu Pacific, I'd like to congratulate the DOT on hosting this year's World Travel and Tourism Council Global Summit, our first major face-to-face event that signals international travel' s recovery. We invite Filipinos and foreign visitors to visit family and friends in the Philippines or simply enjoy its beauty. We hope that everyone will join us onboard."
Filipinos and foreign tourists may easily visit the country through any one of Cebu Pacific's 34 domestic destinations. The airline has also resumed more direct local flights from its major hubs in Cebu and Davao, as it restores 100% of its pre-pandemic domestic capacity this month.
"We are delighted to continue assisting everyone in safely crossing our largest Philippine network. We hope to contribute to the country's economic and tourism goals both within and outside of the Philippines," Lao added.
Travelers who have been vaccinated against COVID-19 must present documentation of immunization and negative PCR-based swab or laboratory antigen test results.
Cebu Pacific's safety strategy is diverse, multi-layered, and effective. To guarantee that each passenger travels safely and conveniently across the country, Cebu Pacific keeps to a multi-layered approach to safety while maintaining a 100 percent fully vaccinated crew of 90 percent who have been bolstered — all in an effort to ensure that every passenger flies securely.
Cebu Pacific Quick Links
Check out Latest Promos from Cebu Pacific