Cebu Pacific First to Offer Self-Bag Drop Counter for Domestic Operations
Cebu Pacific, the leading airline in the Philippines, is now using self-bag drop counters for its domestic operations at Clark International Airport.
The new self-bag drop counter service is now available to Cebu Pacific passengers at the airline's check-in area in the new terminal at Clark International Airport. The self-bag drop counters are part of the airline's ongoing efforts to enhance the travel experience of its guests further.
With the new self-bag drop counters, Cebu Pacific passengers can check in their own bags, which will then be tagged and loaded onto the aircraft. This will help to reduce queues at the check-in counters and speed up the overall check-in process.
"We are finally excited to use self-bag drop counters here in the Philippines. This state-of-the-art contactless solution will make our services faster and more efficient in Clark," said Lei Apostol, Vice President for Customer Service Operations at Cebu Pacific.
Related Article: Understanding Cebu Pacific Baggage Policies and Fees
Cebu Pacific Self-Bag Drop Counter: First in the Philippines
Mr. Noel Manankil, the Chief Executive Officer of the Luzon International Premiere Airport Development Corp., which operates and manages Clark International Airport, said: "This self-bag drop facility is one of our key new features in Clark International Airport's terminal. We are now happy that Cebu Pacific has fully integrated the use of this contactless feature, as it was our promise to have a seamless and hassle-free passenger journey here at CRK."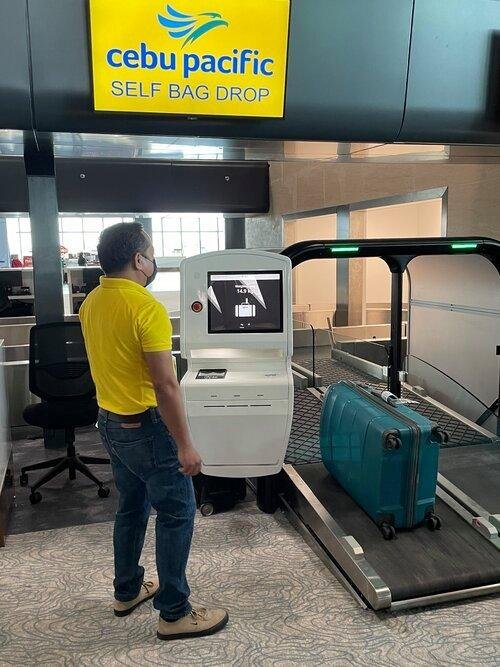 Cebu Pacific currently flies six times weekly between Clark and Cebu. The airline is excited to announce that it will fly daily between Clark and Cebu by December 2022. The airline will add an additional flight on Tuesdays, Thursdays, and Sundays. This service expansion is in response to the growing demand for air travel between these two destinations.
Cebu Pacific is committed to providing affordable and convenient air travel options for all its passengers. With the addition of more flights between Clark and Cebu, the airline will be able to provide even more passengers with the opportunity to fly between these two destinations. Cebu Pacific is confident that the demand for air travel between Clark and Cebu will continue to grow in the coming years, and the airline is committed to providing its passengers with the best possible service.
Before the pandemic, Cebu Pacific served direct flights from Clark to domestic destinations, including Cebu, Bacolod, Bohol, Boracay, Davao, Iloilo, and Puerto Princesa. The company also flew from Clark to international destinations such as Hong Kong, Guangzhou, Macau, Singapore, and Tokyo (Narita).
"We are making this enhancement to ensure we can accommodate the projected increase in passengers from Clark," said Apostol.
Cebu Pacific began operating at Clark International Airport in 2008, becoming the first low-cost carrier to serve the airport. Since then, Cebu Pacific has been a key player in the development of Clark as a major aviation hub in the Philippines.
The airline currently offers over 50 domestic and international routes from Clark, connecting the airport with destinations across Asia, Australia, and the Middle East. Cebu Pacific has also played a role in promoting tourism in the Philippines. Its convenient and affordable flights make it easier for visitors to explore all the country offers.
In addition, Cebu Pacific's presence at Clark has helped to create jobs and boost economic activity in the region. As Clark grows as an important aviation hub, Cebu Pacific is poised to remain a key player in its development.
Cebu Pacific employs a 100% vaccinated crew, and 95% have received the booster shot. This is to ensure everyone who flies with Cebu Pacific does so safely and without any issues.
Cebu Pacific is committed to continuously finding new ways to make travel more convenient and enjoyable for its passengers. The airline will continue to invest in new technologies and services that will make air travel simpler and more seamless.
Cebu Pacific Quick Links
Check out the Latest Promos from Cebu Pacific