Ceb Pac Seat Sale to International Destinations for as Low as PHP 1299
Cebu Pacific, the Philippines' leading airline, is excited to offer a Ceb Pac seat sale to encourage everyJuan to fly internationally. Book until November 14, 2022 and Cebu Pacific will offer flights to top international destinations for as low as PHP 1299 one-way base fare. The travel period is from November 1, 2022, until April 30, 2023 – allowing everyJuan to either fly immediately or plan trips.
Check out the specific and updated details here: Cebu Pacific Ticket Promo for Asian Destinations, Dubai, or Sydney for as Low as P1299 One-Way Base Fare!
"We are excited to welcome more travelers on board our international flights. We continue to see an increased interest in leisure travel abroad, especially during the holiday season. We want them to fly once more through our guaranteed low fares, " said Carmina Romero, CEB Corporate Communications Director.
CEB's international flight network spans over 60 destinations across Asia, Australia, the Middle East and North America. For as low as PHP 1299 one-way base fare, travelers can take their pick and fly to any of its many international destinations.
CEB flies directly to 19 international destinations, including Fukuoka, Narita, Nagoya, and Osaka in Japan; Seoul in South Korea; Sydney in Australia; and Dubai.
The airline will fly more frequently to some destinations starting at the end of October, including Brunei, Bali, and Jakarta in Indonesia; Bangkok in Thailand; Hanoi and Ho Chi Minh in Vietnam; Kuala Lumpur in Malaysia; and Singapore.
If you're looking to travel soon, CEB will resume its Davao to Singapore flights on October 30 and its Manila to Kota Kinabalu flights on October 31.
To avail of these CEB Pac seat sale fares, customers must book their flights at www.cebupacificair.com from 0001H – 2359H (GMT+8) until seats last or until the sale period ends on October 31, 2020. Payment may be made through all major credit cards via Cebu Pacific's website or mobile app; or at over 24 Payment Partners outlets nationwide including 7-Eleven stores and Bayad Center branches. A Promo code is not required when booking via www.cebupacificair.com. Guests must enter their correct birth date when making online bookings so that the correct age bracket may be applied for promos with age restrictions.
How to avail of the Ceb Pac Seat Sale to International Destinations? 
Guests can book their flights by logging on to www.cebupacificair.com or the CEB mobile app. Payment may be made through credit, debit, or prepaid cards, Alipay, GrabPay, PayMaya orGCash. For booking and payment assistance, guests may also reach out to our 24/7 call center at (+632) 7020-888 (Metro Manila), (+63) 32 230 8888 (Cebu), and (+63) 82 322 0888 (Davao).
Traveling soon with Cebu Pacific? Check out the Cebu Pacific Travel Requirements: Cebu Pacific Travel Requirements for Local Destinations or Cebu Pacific Travel Requirements for Foreign Destinations.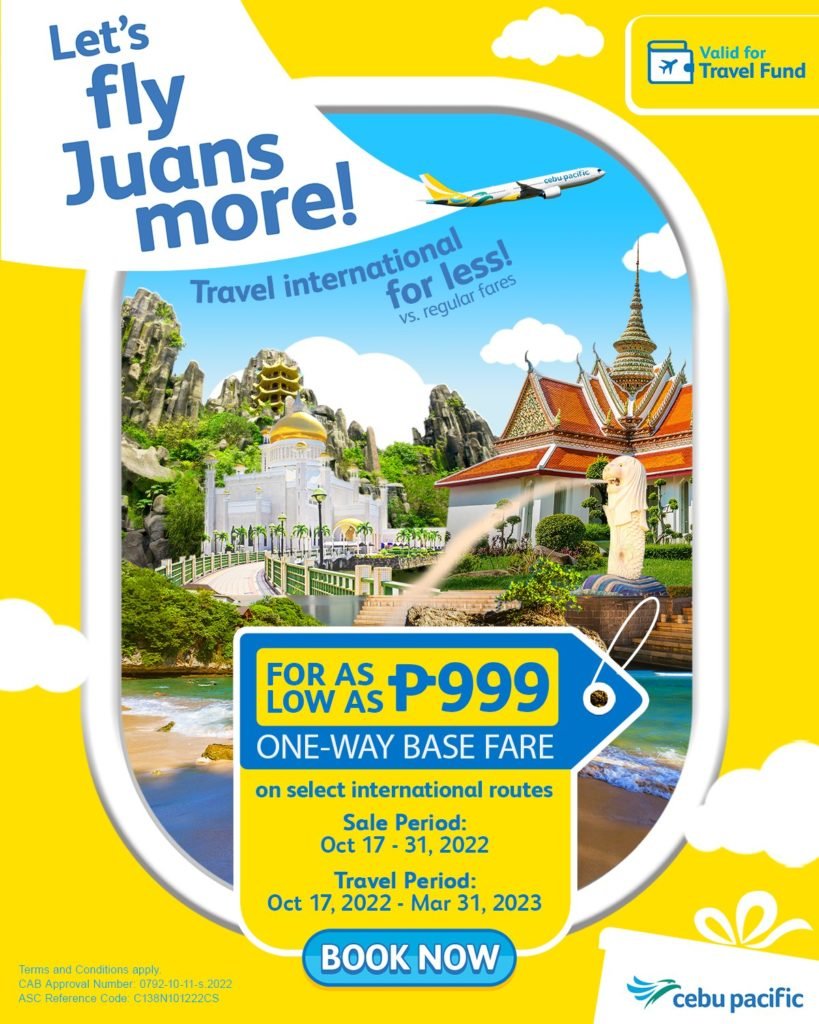 For more information on Cebu Pacific's latest Ceb Pac seat sale, check out their website or call their customer service hotline. And don't forget to start packing your bags – you're in for an amazing adventure!
Now is the perfect time to start planning your next international vacation! With Cebu Pacific's special Ceb Pac seat sale, you can fly to any of their top international destinations for as low as PHP 999 one-way base fare.
So what are you waiting for? Start planning your next trip abroad with Cebu Pacific today! With Ceb Pac Seat Sale base fares as low as PHP 999, there's no excuse not to treat yourself to a well-deserved vacation. But hurry – this seat sale is only valid until October 31!
Cebu Pacific Quick Links
Check out the Latest Ceb Pac Promos