Check out Latest Tawi-Tawi Tourist Spots and Travel Guide for 2022
With Tawi-Tawi Tourist Spots and Travel Guide, you'll have everything you need to make the most of your trip. This brief Travel Info contains all the information you need to know about amazing Tawi-Tawi, from flight availability and promos, to where to stay and what attractions you can't miss. So if you're looking for information for our trip to Tawi-Tawi, look no further than Tawi-Tawi Travel Guide by BiyaheFinder!
Tawi-Tawi Travel Requirements
Getting to Tawi-Tawi
Tawi-Tawi Flights Schedule
Flights between Manila and Bongao are operated by Philippine Airlines and Cebu Pacific, respectively. The airlines land at Sanga-Sanga Airport. Beginning June 9, 2022, Tawi-Tawi will be connected to Cotabato City via Philippine Airlines direct non-stop flights.
| Route | AirAsia Flight Schedule | Cebu Pacific Flight Schedule | Philippine Airlines Flight Schedule | Other Airlines |
| --- | --- | --- | --- | --- |
| Manila to Tawi-Tawi | | | | |
| Tawi-Tawi to Manila | | | | |
| Zamboanga to Tawi-Tawi | | Daily | 3x a week (Mon, Wed, Fri) | |
| Tawi-Tawi to Zamboanga | | Daily | 3x a week (Mon, Wed, Fri) | |
| Cotabato to Tawi-Tawi | | | 2x weekly (Mon, Thu) | |
| Tawi-Tawi to Cotabato | | | 2x weekly (Mon, Thu) | |
The flight schedule shown above was updated on November 1, 2022, for the Month of November 2022. Airlines frequently change their schedule without notice, so it is best always to check out the airlines' official websites.
The different airlines are constantly changing their flight schedules to and from Tawi-Tawi in the light of travel restrictions and cancellations brought about by the pandemic.
Blank cells mean there are no flights for that particular route to and from Tawi-Tawi.
Tawi-Tawi Airfare Promos and Seat Sales
Check out the latest promos to and from Tawi-Tawi. Blank cells mean the particular airline does not have any promos going to or coming from Tawi-Tawi.
For the latest promos appearing above, please click on the respective links below for more information like booking and travel periods:
To and From Tawi-Tawi Ferry Services
On Mondays, Wednesdays, and Fridays, Aleson Shipping carries passengers from Zamboanga City to Bongao on the Sulu Sea.
Route
Ferry Service
Zamboanga to Tawi-Tawi
This is a Ferry trip from Zamboanga to Tawi-Tawi with Aleson Shipping. This is a direct Ferry trip and takes five hours to complete depending on weather conditions.
Aleson Shipping
Getting Around Tawi-Tawi
Jeepneys – To travel to other areas of Bongao, board a Jeepney at the public market. They depart numerous times each day for shuttles to the neighboring communities.
Tricycle – this mode of transportation is the easiest method to get from Bongao town to neighboring places. You may hire one for a half-day city tour and to bring you to the nearest beaches as well as the start of Bud Bongao's jump-off point.
Habal-Habal – locals use this improvised "motorcycle taxi" (with passengers sitting close to each other) to get around to most places. However, while there are no commercialized motorbike rentals in Bongao, you may inquire about borrowing one from locals or hiring someone to drive you around for a price.
Motorized banca or boat – If one wishes to island-hop around Tawi-Tawi, one will need to charter a boat, which might be a bit pricey. One may also go by local rowboats and sailing boats.
Best Time for Tawi-Tawi Travel
Best Time to Visit Tawi-Tawi
Reason to Visit Tawi-Tawi during this time
All-Year Round
Ideal weather
The province of Tawi-Tawi is not part of the so-called "typhoon belt" of the Philippines, making it a great place to visit all year. Rains may occur, but they are generally short in duration. It is still advisable to consult weather forecasts before going on a boat trip across the islands of Tawi-Tawi.
September
Kamahardikaan Sin
The celebration of the founding anniversary of Tawi-Tawi, also known as the Kamahardikaan Sin Tawi-Tawi, is a weeklong event in which the province's 11 municipalities come together for thanksgiving, performances, and displays of their rich culture, customs, and riches.
Agal-Agal Festival
The Agal-agal Festival is a major Seaweed Festival in the Philippines. It comes from the word Agal-Agal, which refers to kelp in the Sulu Archipelago. The festival also reflects the ocean's riches. The Sama, Badjau, Jama Mapun, and Tausug people's rich culture and traditions are reflected in the event. Every year, the celebration is held in a different municipality of Tawi-Tawi.
Top Rated Hotels in Tawi-Tawi
Check out the best hotels in Tawi-Tawi as guest-rated on Agoda.com. The best Tawi-Tawi Travel hotels rated on the platform are categorized according to value or budget (one to two stars) and mid-high end (three to five stars) hotels. Click on the link to check out the hotel photos, amenities, nightly rate, and room availability.
| | |
| --- | --- |
| Best Value or Budget Tawi-Tawi Hotels | Rating |
| | |
| Mid-High End (3- to 5-Star) Tawi-Tawi Hotels | Rating |
| | |
| | |
Search All Best Tawi-Tawi Hotels
Top Tawi-Tawi Tourist Spots and Attractions
Tawi-Tawi is a beautiful place with many tourist spots to see. If you're looking for something to do, there are plenty of activities available as well. From the beaches to the historical sites, Tawi-Tawi has something for everyone. So if you're ever in the area, be sure to check out some of these amazing places!
1. Sibutu Natural Wildlife Sanctuary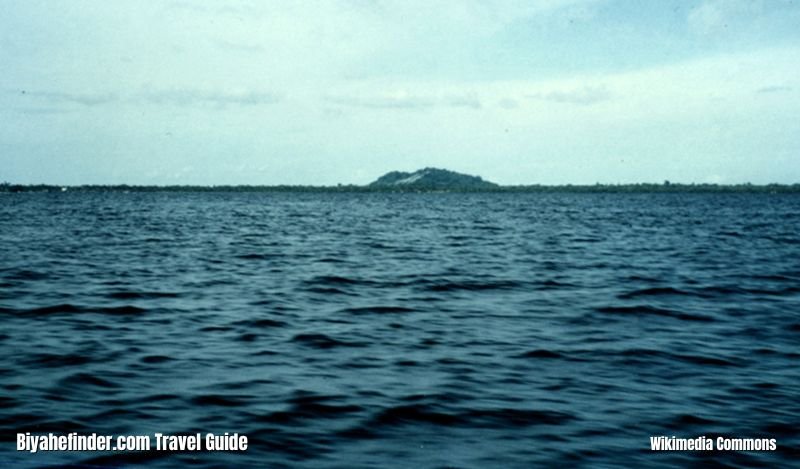 The Sibutu Natural Wildlife Sanctuary is one of the most popular tourist destinations in Tawi-Tawi. It is located in the Southeastern part of the province and covers an area of around 1,500 hectares. The sanctuary is home to a wide variety of flora and fauna, including several endangered species. Some of the popular animals that can be found in the sanctuary include Philippine deer, Philippine mouse-deer, monitor lizards, and various birds.
The Sanctuary was established in 1998 to protect the island's wildlife and coral reefs. The sanctuary is home to a variety of birds, including the white-breasted sea eagle, the Philippine eagle, and the brahminy kite. The sanctuary is also home to a number of monkey species, including the Philippine long-tailed macaque and the crab-eating macaque. The sanctuary is also home to a number of coral reefs, which make it a popular destination for scuba diving.
The sanctuary also has a number of hiking trails that lead to scenic viewpoints. One of the most popular trails in the Tawi-Tawi loop takes around three hours to complete. The trail starts from the ranger station and goes through a number of different habitats, including forests, mangroves, and beaches. The trail also passes by a number of coral reefs, which make it a great spot for snorkeling.
The Sibutu Natural Wildlife Sanctuary is open all year round and is accessible by boat from the town of Bongao. There are a number of different boats that offer service to the sanctuary, including the Sibutu Ferry, the Tawi-Tawi Island Hopper, and the Sibutu Express. The journey from Bongao to the sanctuary takes around 2 hours.
2. Panampangan Island
Discover the white-sand beach island in Tawi-Tawi's Sapa-Sapa municipality, which is known for its crescent form. Panampangan Island is well recognized by beachgoers who enjoy island-hopping and finding untouched sights, which has led to it being dubbed "Virgin Island."
One of the most famous Tawi-Tawi tourist spots, this island is said to have the longest sandbar in the Philippines. When the tide is low, the sandbar continues out to about three kilometers from its neighboring islet, Basibuli, also in the same reef.
The island is accessible in about an hour by speedboat from Bongao, Tawi-Tawi.
3. Sheik Karim Al Makhdum Mosque
The Sheik Karim Al Makhdum Mosque is the oldest mosque in the Philippines, located on Simunul Island. It was erected in 1380 and named for its builder, Sheik Makdum Karim, an Arab missionary who first introduced Islam in the country.
The mosque has been restored several times, most recently in 2007, but four of the original wooden pillars remain. It is now a National Cultural Treasure and an important site of Islamic pilgrimage in the Philippines.
The remains of Sheik Makdum Karim are said to have been buried in the graveyard at the rear.
Simunul Island is only 15-20 minutes away from Bongao, by speed boat.
4. Badjao Village in Bongao
The Badjao Village in Bongao is home to the Sama Dilaut, who reside in stilt houses near the wooden footbridge that leads to the sea. This community in Bongao Municipality provides a fascinating look into the lifestyle of Badjaos (Badjao).
The Badjao Village is a small, remote village that is located on a beach on the coast of the South China Sea. The village is made up of wooden huts that are built on stilts above the water. The villagers rely on fishing and tourism for their livelihood.
The Badjao Village is one of the most popular Tawi-Tawi tourist spots because of its unique location and culture. The village is home to some of the last remaining traditional boat builders in the Philippines. The villagers are also known for their friendly and hospitable nature, and they often welcome visitors into their homes.
The Bajau (or Bajau) Village is known for its hand-woven, vibrant tepo, which are made from pandan leaves by Bajau women. One of these might take about a month to complete. The location is popular with tourists who come to purchase Bajao mats as a memento; the price varies depending on size and design.
The Badjao Village is a beautiful and peaceful place that offers visitors a glimpse into the traditional way of life of the Badjao people. It is a unique and interesting destination that is well worth a visit.
5. Old Chinese Pier and Bongao Public Market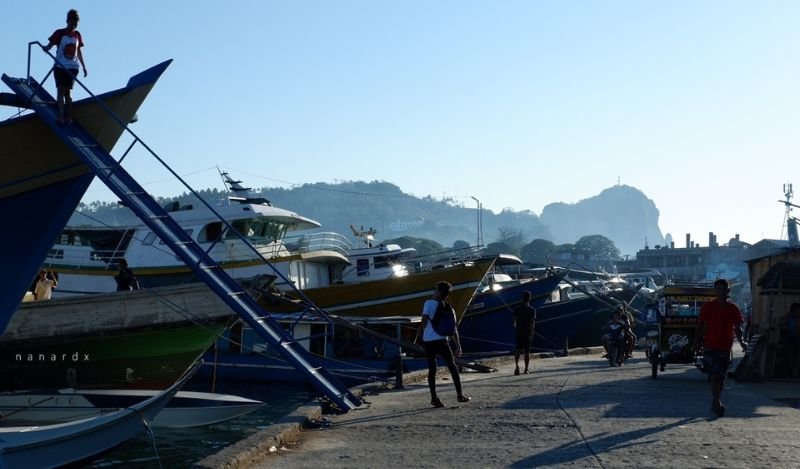 Another fantastic thing to do in Tawi-Tawi is to visit the Old Chinese Pier and Bongao Public Market. This is one of the most famous Tawi-Tawi tourist spots, where maritime traders from other Tawi-Tawi islands and even neighboring Sabah and Indonesia come to market a range of marine and agrarian goods.
This ancient pier, a must-see for tourists in Bongao, is dappled with enormous fishing boats and is said to be an ancient floating market in the days. It can be seen from any point in the Bongao town proper. One may walk or take a tricycle to the Chinese Pier if you're staying in Bongao town center.
Other than the bustling seaside activities, the bright row of "lantsa" (motorized wooden boats) moored in Bongao's ancient Chinese Port instantly draws your attention. Hundreds of years ago, it was the primary trading port for Arab, Malays, and Chinese merchants.
It has been an important fishing and trading port for centuries, as well as a key sea connection to the numerous islands of Tawi-Tawi and as some would claim, even Malaysia and Indonesia.
6. Tawi-Tawi Provincial Capitol
The Tawi-Tawi Provincial Capitol is the seat of government for the province of Tawi-Tawi in the Philippines. It is located in the municipality of Bongao on the island of Bongao.
The Provincial Capitol of Tawi-Tawi, which stands atop a hill, is highlighted by a mosque dome to match its attractive Islamic architecture style. The capitol complex also includes a new governor's mansion, as well as other government offices.
The Tawi-Tawi Provincial Capitol is a two-story building designed to withstand earthquakes and typhoons. The lower level houses the session hall, committee rooms, the auditorium, and other support areas. The upper level houses the governor's office, executive secretary's office, and other offices.
7. Bud Bongao Peak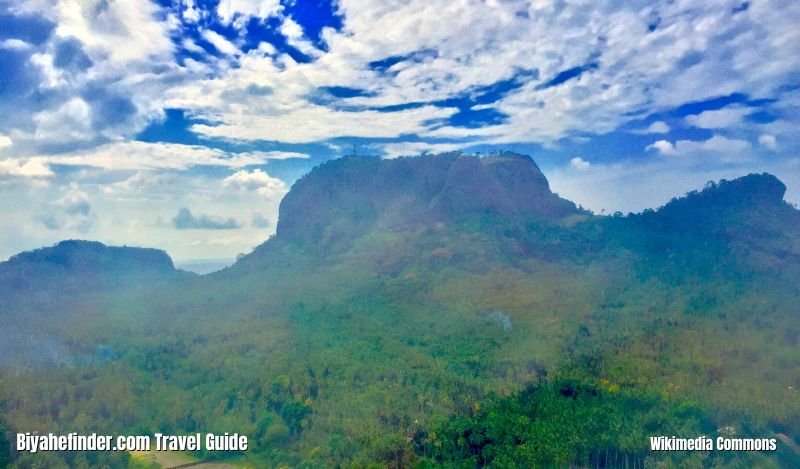 Bud Bongao Peak, one of the most famous Tawi-Tawi tourist spots, is a mountain located in the province of Tawi-Tawi in the Philippines. It is part of the Tawi-Tawi mountain range and is considered to be the highest peak in the province. The mountain is a popular hiking destination and offers beautiful views of the surrounding area.
Bud Bongao is a modest 1,100 feet above sea level, yet it has a greater significance for the province's history, culture, and religion. Some people believe that one of Karim ul-Makhdum's Arab preachers — who first introduced Islam to the country more than 600 years ago — was interred here. Thus it is considered a sacred mountain.
Bud Bongao is also a biodiversity reserve, covering 250 hectares, and it's protected by both Bongao's city government and the hundreds of joyful long-tailed macaques who live along the route to the peak.
The best time to go is early in the day, when the sun is up, so you can enjoy the sparkling turquoise seas and coral-rimmed beaches while taking in the view of Sanga-Sanga Island.
8. Sitangkai
Sitangkai is a municipality in the province of Tawi-Tawi, Philippines. This little town in Tawi-Tawi is the southernmost part of the Philippines and has been dubbed "Venice of the Philippines." Because boats are used as a major mode of transportation, Sitangkai earned the name "the Venice of the Philippines."
The town is located on the island of Sitangkai, one of the many islands that make up the province of Tawi-Tawi. It is a small town with a population of just over 10,000 people. Most of the residents are Muslim and rely heavily on fishing for their livelihood.
The main industry in Sitangkai is fishing. The town lies on the coast and is surrounded by rich fishing grounds. The residents are expert fishermen and use traditional methods to catch fish. They also harvest seaweed and use it to make products such as fertilizers and cosmetics.
9. Balobok Rock Shelter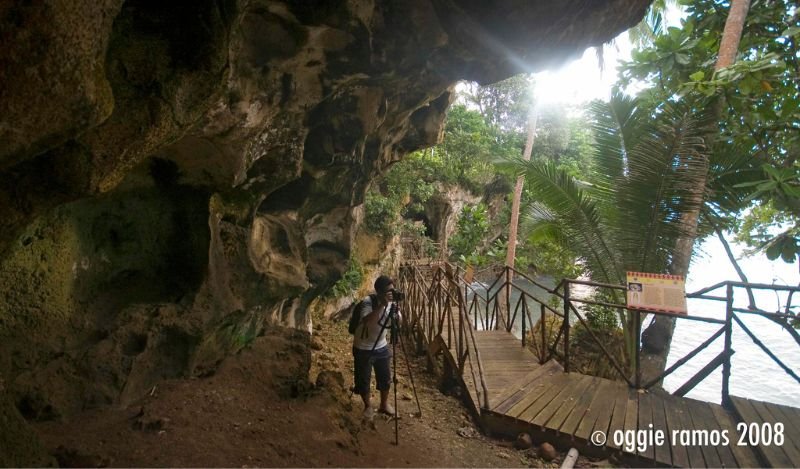 The Balobok Rockshelter, also known as the Balobok Archaeological Site, is in Bongao. It has been designated as one of the region's earliest human settlement zones due to discoveries made by scientists throughout the site.
The archaeological site is notable for being part of a vast karst formation with multiple layers of history. Shells and minerals deposited by early humans, as well as animal bones and ancient artifacts, have all been found.
Most notably, archaeologists discovered flake tools, polished stones, earthenware, and bone tools, all of which were dated to between 8810 and 5190 years old, and demonstrate the sophistication of humans in the Philippines at this period in history in terms of toolmaking and use.
The cave is an enormous structure with beautiful stalactites and stalagmites that is a must-see for nature enthusiasts and explorers.
The Balobok Rock Shelter, a very popular tourist spot in Tawi-Tawi, is well worth a visit if you're in the area! Bring a flashlight and sturdy shoes since the cave may be slippery in some spots.
10. Turtle Islands Wildlife Sanctuary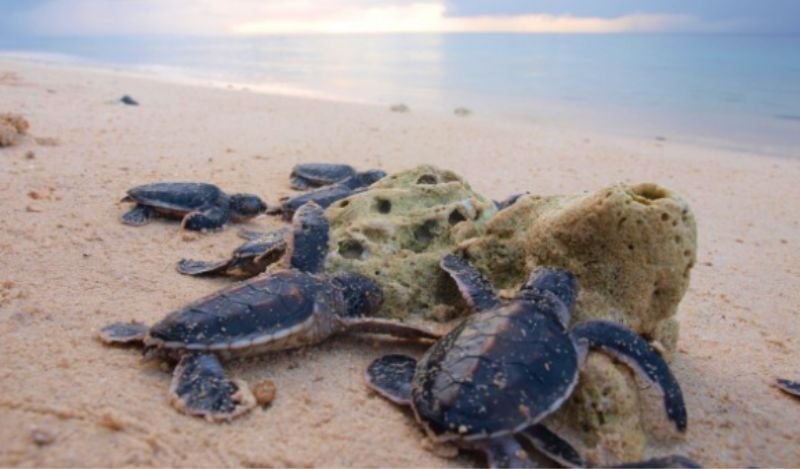 The Turtle Islands Wildlife Sanctuary is a protected area located in the municipality of Turtle Islands, Philippines.
The three islands of neighboring Malaysia and the surrounding coral waters make up one of the world's few remaining significant nesting grounds for Green Sea Turtles. In 1996, the governments of the Philippines and Malaysia declared the islands as Turtle Islands Heritage Protected Area as the only method to guarantee that green sea turtles and their nests may continue.
Turtles come in their thousands from the surrounding coastal seas to lay and dig their eggs on the beach from August through December. The conservation project's personnel were able to persuade the locals of the importance of limiting collecting activities. Local men, women, and children are now involved in protection efforts.
Gusong Reef
Gusong Reef is one of the most conserved Tawi-Tawi tourist spots. It's considered one of the Philippines' best diving sites because of the unspoiled state of the coral reef. There are several colorful and beautiful teams of aquarium and non-aquarium species to be seen at Gusong Reef.
The reef is part of the Sulu Sea, is situated west of Bongao and east of Mapun, and has a total area of four hectares.
The reef is a popular destination for scuba diving and snorkeling. It features a number of coral reefs, as well as a variety of fish species. The reef is also home to a number of sea turtles, which can be seen swimming around the area.
Gusong Reef is an important source of rare turtle eggs — ranked second among turtle islands in terms of producing delectable turtle eggs, following behind Turtle Islands.
Tawi-Tawi is a hidden gem in the Philippines. This province is located at the southernmost tip of the country and is composed of over 400 islands. Although it is relatively isolated from the rest of the Philippines, Tawi-Tawi has a lot to offer in terms of natural beauty and unique culture. If you are looking for a place to get away from the hustle and bustle of city life, then Tawi-Tawi is definitely worth considering as your next travel destination.
Other Travel Guides