Cebu Pacific's 21 New Aircraft in 2023: A Closer Look at What It Means for Philippine Travelers
Good news for Filipinos who love to travel! Cebu Pacific Air has recently adjusted its aircraft delivery plans for 2023 in response to the increasing demand for air travel in the country. The low-cost carrier will receive 21 aircraft, meaning more flights and more destinations to look forward to.
In a press release recently, Cebu Pacific Air has announced adjustments to its aircraft delivery plans for 2023 in response to the increasing demand for air travel in the country. Originally scheduled to receive 15 aircraft this year, the company has now raised the number to 21.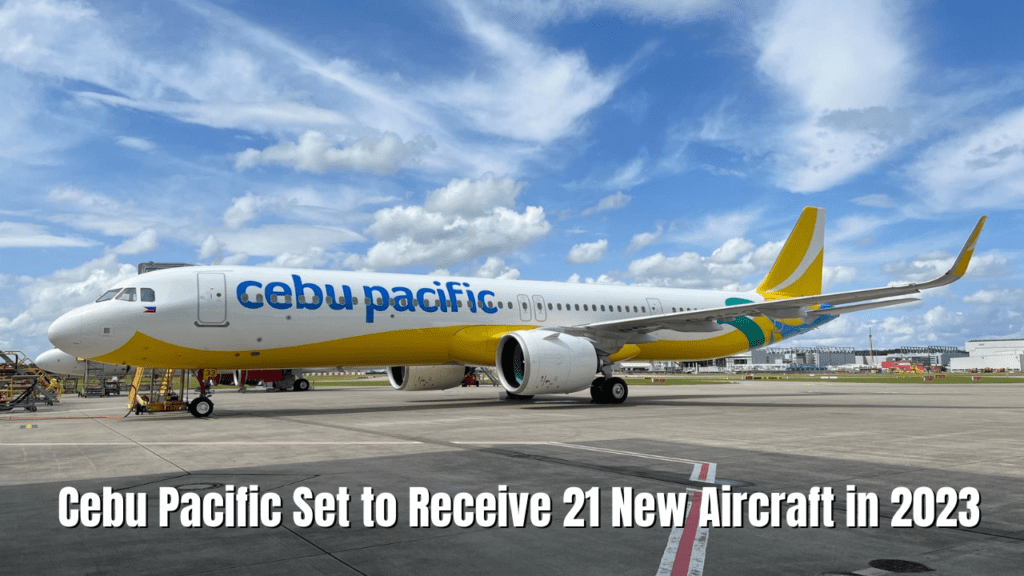 The deliveries will consist of 17 New Engine Option (NEO) Airbus A321s, known for their fuel efficiency, and four Current Engine Option (CEOs) leased on a short-term basis. Cebu Pacific aims to transition to a fully fuel-efficient, all-NEO fleet by 2028.
In line with its commitment to sustainability, CEB's most recent aircraft delivery on July 27th, 2023, was a brand-new Airbus A321neo with registry RP-C4133. The flight arrived at Ninoy Aquino International Airport in Manila, using blended Sustainable Aviation Fuel (SAF) sourced from Airbus' Delivery Centre in Hamburg, Germany.
Alex Reyes, the Chief Strategy Officer of CEB, highlighted the importance of this move toward sustainability, stating, "Our ongoing re-fleeting with new-generation, fuel-efficient aircraft and our continued use of sustainable aviation fuel will also help our decarbonization efforts in making the aviation industry more sustainable."
CEB has been actively incorporating SAF into its operations as part of its sustainable aviation initiatives. The airline previously received a brand-new A320neo aircraft powered by SAF with a 41 percent blend, demonstrating its commitment to reducing carbon emissions and promoting environmental responsibility.
More Cebu Pacific Planes: What Will be the Benefits to Every Juan?
More routes to explore
With the addition of 21 aircraft to its fleet, Cebu Pacific will be able to offer more routes and frequencies to domestic and international destinations. This means that travelers can now explore more places and have the option to choose more convenient flight schedules. Your dream destination might be among the new routes Cebu Pacific will soon offer!
More seats to cater to growing demand
As the demand for air travel in the Philippines continues to grow, Cebu Pacific is committed to providing more seats to its customers. This move is beneficial for travelers and the tourism industry, as more people can now travel and explore the beauty of the Philippines. The additional aircraft will also mean more job opportunities for Filipinos in the aviation sector.
Better passenger experience
Cebu Pacific's new aircraft are expected to be equipped with the latest technology and amenities, which means a more comfortable and enjoyable flying experience for passengers. From in-flight entertainment to spacious legroom, travelers can expect a more premium experience without having to break the bank. This move is in line with the company's commitment to providing affordable but quality air travel to Filipinos.
Improved safety and efficiency
With the addition of modern aircraft to its fleet, Cebu Pacific can ensure better safety and efficiency in their operations. They can take advantage of new technologies and innovations in the aviation industry, such as more fuel-efficient engines and advanced navigation systems. This translates to a smoother and faster flying experience and a more sustainable approach to air travel.
Cebu Pacific's plans to receive 21 aircraft is definitely great news for Philippine travelers. More routes, more seats, better passenger experience, and improved safety and efficiency are some benefits of this upgrade. With this move, the low-cost carrier is showing its dedication to making air travel more accessible and enjoyable for Filipinos. So, whether you're planning to explore a new destination or visit your loved ones, you can look forward to a better flying experience with Cebu Pacific.
For more information, check out Cebu Pacific Official Website.
Cebu Pacific Quick Links