Cebu Pacific Unlimited Rebooking Option Extended until March 31, 2021
Cebu Pacific Unlimited Rebooking Option Extended! With its passengers' convenience and interest in mind, Cebu Pacific Air, the Philippines' largest budget airline, again extended its flexible options for EveryJuan to travel before March 31, 2021. The extensions include Cebu Pacific Unlimited Rebooking along with the Cebu Pacific Travel Fund, whose validity was likewise extended to two years.
The unlimited rebooking option was first extended by the airline until the year-end.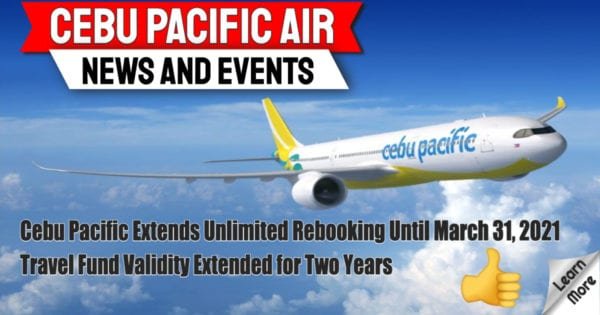 "We shall continue to track the working environment and listen to the worries of our passengers. We're encouraged by the reopening of domestic tourism, and we'll do our part in ensuring our passengers traveling with peace of mind. We know it might take some time before hope and confidence in aviation are revived. That's the reason we've opted to expand our flexible booking options for the first quarter of 2021," said Candice Iyog, CEB VP for Marketing & Customer Experience.
Unlimited Flight Rebooking and Two-Year Travel Fund Validity
Passengers who travel until March 31, 2021, may rebook their flights as many times as they desire or place the ticket's full price to their Travel Fund, which remains valid for two years, together with rebooking and cancellation fees waived. A minimum fare gap or difference may be applied for the flight rebooking/s.
The two-year Travel Fund might be utilized not just to reserve new flights but to buy add-ons, for example, luggage allowance, preferred chairs, pre-ordered foods, hygiene kits, and travel insurance coverage.
Various Options for Passengers with Canceled Flights
People who have canceled flights can opt for either of these choices: Travel Fund validity for two years or Unlimited Rebooking – with rebooking fee and fare difference fees waived if the new traveling date is within 90 days from the originally-booked departure date. Lastly, one can choose a full refund.
Click here for the Updated Cebu Pacific Flight Schedule for December 2020.
Everyone may conveniently manage their reservations online and select their choices through the official Cebu Pacific Air website. If appropriate, log in with your Getgo accounts or enter the Booking Reference to get the reservation online to make desirable changes. Booked passengers can alter bookings up to two hours before their flights.
Passengers can also easily upgrade their contact info, addresses and correct misspelled names, wrong birthdays, anniversaries, and salutation via the same portal. Individuals who reserved their Cebu Pacific flights through travel agencies need to coordinate requests through their various travel agents.
"We shall continue to enhance our services to give a smooth and hassle-free encounter for everybody. We're accelerating our digitalization efforts following our secure and contactless procedures under this new normal, so most of us feel confident to journey again," Iyog continued.
CEB has been rated 7/7 celebrities by airlineratings.com because of its COVID-19 compliance since it proceeds to execute a multi-layered strategy to security according to global aviation criteria. These include contactless processes, comprehensive cleaning, and disinfection protocols for many facilities and aircraft, compulsory wearing of masks and face guards for both crew and passengers, in addition to Antigen testing for CEB frontliners prior obligation. In addition to those, our aircraft region also outfitted with hospital-grade HEPA filters with 99.99% efficiency, keeping viruses at bay.
This news was announced from the official advisory page of Cebu Pacific Air.