COVID Japan Travel Requirements – Arriving Passengers from the Philippines
COVID Japan Travel Requirements for Arriving passengers from the Philippines: This is the updated advisory for traveling passengers arriving in Japan. This is sourced from both Philippine Airlines and Cebu Pacific COVID travel advisories.
These travel requirements are for travel to Japan only. Looking for information when arriving in the Philippines from abroad? Check out the COVID Travel Requirements for foreigners or returning overseas Filipinos arriving from abroad. Or click here for General Travel Requirements for Destinations Within the Philippines.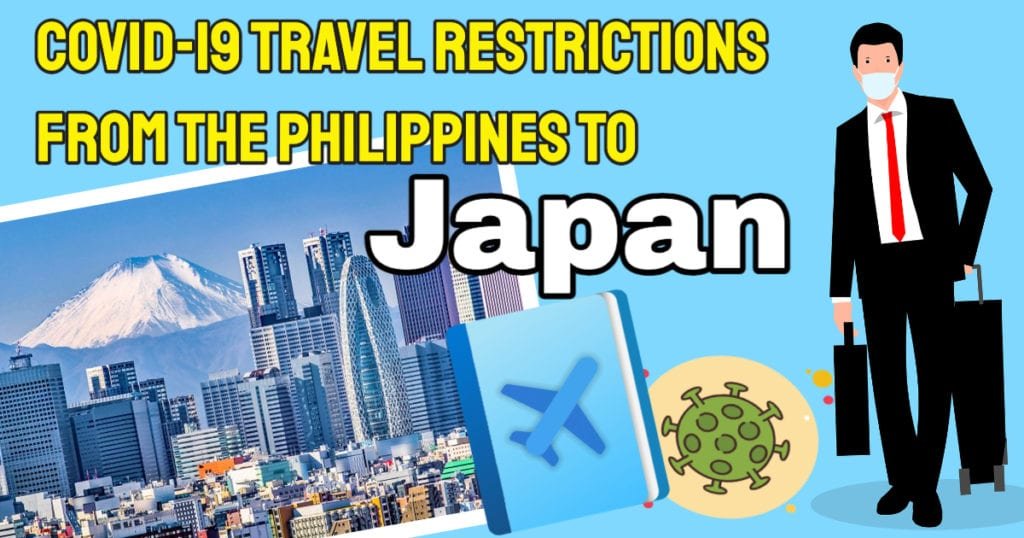 Japan Requirements per Philippine Airlines Advisory: Haneda, Narita, Nagoya, Kansai, Fukuoka, Chitose
(HND, NRT, NGO, KIX, FUK, CTS)
TRAVEL REQUIREMENTS OVERVIEW
Allowed Travelers
Japanese Nationals
Non-Japanese Nationals with Permanent Residence/Residence Visa, and their dependents
New entry Residents with Long-term Stay Visa
Returning OFWs/trainees (with re-entry permit), and Sea Crew point to point and transit to Japan may enter Japan
Foreign nationals who are acknowledged to have special exceptional circumstances by Japanese authorities may still enter Japan.
General Requirements
MEDICAL DOCUMENTS
Negative COVID-19 Test (RT-PCR) Result within 72 hours prior to departure

Certificate of inspection or Certificate of Testing for Covid-19 within 72 hours prior to departure. If passenger is unable to submit the certificate, they will not be allowed to enter in Japan based on Quarantine Law.
TRAVEL DOCUMENTS
Re-Entry Permit (if applicable)
Official letter from Embassy of Japan or from the entity traveler will be working for (if applicable)
Travel and Health Insurance (check if you are required)
Additional travel requirements
Install the following apps on their smartphones and use them to ensure implementation of quarantine and other measures at home, a hotel, or other designated locations for 14 days after arriving in Japan:
Install OSSMA (Location information-confirming app)
Install and sign-up for Skype
Set smartphone to save location information (settings on Google Maps, etc.)
Install Covid-19 Contact-Confirming Application (COCOA)
Quarantine Requirements
Travelers from the Philippines are required to quarantine for 3 days at a government accommodation facility
Disclaimer: This is only an advisory from the referring airline. Travel restrictions are subject to change without notice by the issuing local government authority. As a result, the requirements or restrictions listed above are not real-time and should be used only as a guide. Please verify your requirements with the official offices, pages, or websites of both your origin and destinations directly.
Japan Travel Requirements per Cebu Pacific Advisory
Updated as of December 9, 2021
All guests bound for Japan are required to present the following travel documents upon check-in:
Inspection Certificate – Certificate of Negative RT-PCR test result issued within seventy-two (72) hours before departure. Use sample Certificate of Negative Testing for COVID-19 here.

The Certificate of Negative Testing for COVID-19 must only indicate one (1) type of test which may be either of the following:

RT-PCR nasopharyngeal / nasopharynx swab;
Saliva RT-PCR; or
RT-PCR nasopharyngeal and oropharyngeal swab.

These are the conditions to be indicated on the Inspection Certificate, written in English:

Name, Passport Number, Nationality, Date of Birth, Sex
Testing method for COVID-19 sample
Result, specimen collection date and time, test result date, date of issue
Name of medical institution, address of the medical institution, signature of doctor, an imprint of a seal

Written pledge to quarantine for fourteen (14) days. Please use the template here.
Submit the online questionnaire as per Article 12 of the Japan Quarantine Act. Please use this link to access the questionnaire. This is also distributed upon check-in.
All guests are also required to install and register to the following mobile applications before flight:

MySOS – required for answering video calls from persons-in-charge to confirm your location
Google Maps – required to provide location history to health authorities to track possible exposure to COVID-19
COVID-19 Contact Confirming Application (COCOA) – to receive notifications about the possibility of contact with people who may have COVID-19
These mobile applications are available on Google Play Store for Android users, and App Store for iOS users. Please make sure that location services are enabled. Guests without smartphones should rent one at the airport upon arrival in Japan.
Upon arrival, guests will be tested for COVID-19 at the airport. From there, they will be quarantined until the release of the negative test results, in a government-designated facility. Guests will be tested again on the 3rd day and 6th day from arrival, in their pre-booked quarantine facility. Once the negative results are released, guests may leave the facility and proceed to their homes where they will continue the remainder of the 14-day quarantine period.
Guests with a valid Vaccination Certificate may be exempted from the 3-day quarantine at the government-designated facility, but are still required to stay at home or in the booked accommodation for the designated quarantine period (10-14 days). Arriving passengers must also take a COVID-19 test ten (10) days after entering Japan, and report the negative result to the HCO.
These are the requirements of the Vaccination Certificate:

Must be issued by a public institution in a country or region
Name, Date of Birth, Vaccine Name and Manufacturer, Date of Vaccination, Doses Administered must be written in English or Japanese
Accepted manufacturers – COMIRNATY/Pfizer, Vaxzervia/AstraZenica, Moderna
There must be at least two (2) doses.
At least fourteen (14) days must have passed since the 2nd dose before date of entry.
Please make sure to check entry regulations. Only Japanese nationals, their immediate family, and foreign nationals with a re-entry visa are allowed to enter Japan. The Japanese government has announced that the validity of visas issued before December 2, 2021, is temporarily suspended from December 2 – 31, 2021. Click here for more information.
Visit this link for complete guidelines for traveling to Japan.
These are the requirements we have as of the date indicated. Requirements may change from time to time without prior notice. Please continue checking with the Japanese government for the latest updates.
COVID Japan Travel Requirements for Arriving Local Passengers Disclaimer: Please note that there may be multiple travel requirements for each international destination. These rules are subject to change by the issuing foreign government authority and are issued for our passengers' and the public's safety. As these requirements may change at short notice, the advisories above serve as a general guide.
Latest Promos to and From Japan
Related Links