Check out Latest Coron Palawan Travel Guide and Tourist Spots for 2022
Check out the top 15 tourist spots in Coron Palawan With BiyaheFinder Coron Travel Information. This brief Travel guide contains all the information you need to know about amazing Coron, from the top tourist spots, flight availability to and from Busuanga and promos, to where to stay, and what attractions you can't miss. So if you're looking for information for our trip to Coron, look no further than Coron Travel Guide by BiyaheFinder!
Coron Travel Requirements
Coron Palawan Travel Flights Schedule
The island of Busuanga also has an airport with flights to Manila. Coron and El Nido have airports as well. The ideal option is to get into the Coron Airport on Busuanga Island, now known as the Francisco B. Reyes Airport in Palawan.
Flying direct saves money by eliminating the need for additional transportation after arrival. Flights from Manila to Coron are available regularly. It takes around one and 15 minutes to get from Manila to Coron by air. There should be numerous non-stop flights departing every few hours from Manila.
The two main airlines that fly to Coron from the Philippines are Philippine Airlines and Cebu Pacific.
The different airlines are constantly changing their flight schedules to and from Busuanga / Coron in light of travel restrictions and cancellations brought about by the pandemic.
Blank cells mean no flights for that particular route to and from Busuanga / Coron.
| Route | AirAsia Flight Schedule | Cebu Pacific Flight Schedule | Philippine Airlines Flight Schedule | Others |
| --- | --- | --- | --- | --- |
| Manila to Coron | | 3x daily | 3x daily | |
| Coron to Manila | | 3x daily | 3x daily | |
| Cebu to Coron | | Daily | 4x a week (Mon, Fri, Sat, Sun) until October 29; 2x daily by Oct 16 | |
| Coron to Cebu | | Daily | 4x a week (Mon, Fri, Sat, Sun) until October 29; 2x daily by Oct 16 | |
| Coron to El Nido | | | | |
| El Nido to Coron | | | | |
Coron Palawan Flight Promos and Seat Sales
Check out the latest promos to and from Busuanga / Coron. Blank cells mean the particular airline does not have any promos going to or coming from Busuanga / Coron.
| Route | AirAsia | Cebu Pacific | Philippine Airlines | Others |
| --- | --- | --- | --- | --- |
| Manila to Coron | | P588 | | |
| Coron to Manila | | P588 | | |
| Cebu to Coron | | P488 | | |
| Coron to Cebu | | P488 | | |
| Coron to El Nido | | | | AirSWIFT: P1338 / P1668 |
| El Nido to Coron | | | | AirSWIFT: P1338 / P1668 |
For the latest promos appearing above, please click on the respective links below for more information like booking and travel periods:
Top Rated and Best Hotels in Coron Palawan
Check out the best hotels in Coron as guest-rated on Agoda.com. The best Coron Travel hotels rated in the platform are categorized according to value or budget (one to two stars) and mid-high end (three to five stars) hotels. Click on the link to check the hotel photos, amenities, nightly rate, and room availability.
Best Time for Coron, Palawan Travel
Best Time to Visit Coron, Palawan
Reason to Visit Coron, Palawan during this time
December to April
Ideal weather (based on temperature and humidity by Championtraveler.com)
The temperature in Coron varies a little from day to day. Regarding humidity, temperatures feel hot all year, with about half of the year seeing rainfall. If you're planning a trip to Coron during the warmest months, April, May, and March are when you'll want to go. See average monthly temperatures below. The warmest time of year is usually mid-May when temperatures reach 32°C and rarely drop below 24.8°C at night.
August
Kasadyaan Festival
"Kasadyaan" is a Cuyunon term that means "joy." As a result, the Kasadyaan Festival is an acknowledgment of all the blessings received in recognition of San Agustin, Coron's Patron Saint. Cultural shows, sports events, and other activities are used to express themselves during the festival.
April is the busiest month for tourism in Coron, Palawan, followed by March and February. Hotels and flights will be the most expensive during these months, however, you may save if you purchase ahead of time. The low number of tourists would be the cheapest to visit Coron in September.
Transfers and Transportation To, From, and Around Coron Palawan
Ferries
Route
Ferry Service
Manila to Coron
These are ferry trips from Manila to Coron with 2GO Travel. This is a direct ferry trip and takes around 11 hours to complete. 
Tourist Ferry by 2Go Travel
High-Speed Ferry by 2Go Travel
El Nido to Coron
High-Speed Ferry by Jomalia Shipping
This is a High-Speed Ferry from El Nido to Coron with Jomalia Shipping. This direct ferry trip takes about three hours and 30 minutes to complete. 
High-Speed Ferry by Montenegro Shipping Lines
This is a High-Speed Ferry from El Nido to Coron with Montenegro Shipping Lines. This direct ferry trip takes about three hours and 30 minutes to complete. 
Tourist Ferry by Phimal
This is a Tourist Ferry from El Nido to Coron with Phimal. This is a direct ferry trip and takes around four hours to complete. 
Puerto Princesa to Coron
Standard Bus+Ferry by FortWally
This is a Standard Bus+Ferry from Puerto Princesa to Coron with Fortwally. This is a direct Bus+Ferry trip and takes around 11 hours and 30 minutes to complete. 
San Jose, Mindoro to Coron
Standard Ferry by Bunso Transport
This is a Standard Ferry from San Jose, Mindoro to Coron with Bunso Transport. This direct ferry trip takes three hours and 30 minutes to complete. 
Search All Ferry Services to and from Coron
Getting Around Coron
It's simple to get around Coron, whether you want to go into the city or just stroll on the island. Public transportation is very cheap and available to most tourist attractions. If you're going all over the island, there are three sorts of transportation: tricycle, motorbike, and private shared/private tour or package:
Tricycle – In Coron, this is the most popular method of transportation. Whether traveling alone or in a group, fares to and from the municipality are inexpensive. If you want to go far away places like Maquinit Hot Springs, you may charter a tricycle and pay a set fee instead.
Motorbike – If you know how to drive a bike, you may hire one. It's not that expensive and allows you lots of time to explore the region. You can rent these motorbikes at local hotels, or you may choose to rent them online.
Shared or Private Tour Package – The easiest approach to see the Coron islands is to go on a group excursion or charter a private Coron island-hiking boat for your trip. If you have a must-see list of tourist attractions, joining a shared or private tour is highly recommended. You'll be able to do island-hopping without worrying about arranging transportation between locations. 
Top 15 Coron Palawan Tourist Spots – Check Them Out!
Discovering hidden lagoons, island-hopping, and witnessing amazing colorful corals sounds like something you'd want to add to your travel list. Palawan should be your next vacation destination if discovering hidden lagoons, island-hopping, and seeing amazing colorful corals piques your interest. What got our attention (and that of other travelers) was the stunning beauty of the following top tourist spots in Coron Palawan!
Even foreign publications have recognized it as one of the world's most remarkable islands, and travelers can't get enough of its breathtaking vistas.
Barracuda Lake
This is one of Palawan's finest scuba diving locations. The water in Barracuda Lake is a mix of fresh and saltwater, which explains the variations in temperature experienced by divers. The lake is also home to various marine life, including the Barracuda's name, which is how it got its.
The entrance to the lake is relatively narrow, but it opens up into a large body of water. The bottom of the lake is sandy, with coral reefs and rocks scattered throughout.
Check out Barracuda Lake, a scenic lake surrounded by limestone cliffs located at the north end of Coron Island, included on this tour:
Banana Island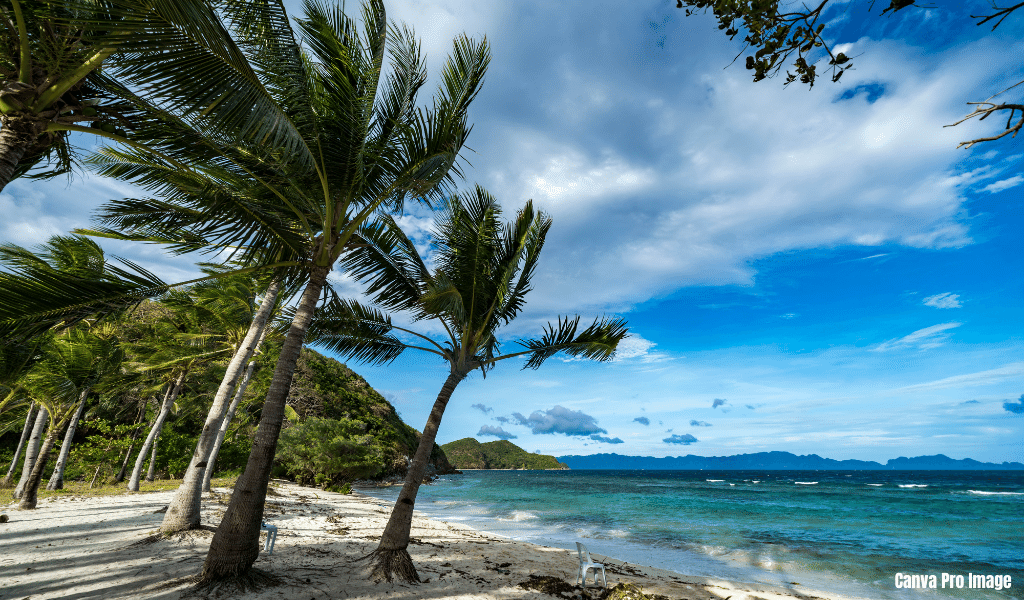 Banana Island is one of the main tourist attractions in Coron. The island is part of a trio of islands that make up most tourists' island-hopping trips from the town of Coron. It has more amenities for overnight stays. Banana Island Coron is a small white beach set against a picturesque backdrop of trees and hills.
It is a great place to relax, catch some sun, or swim. The white sandy beach and crystal-clear water make perfect swimming conditions, while the coral reef provides an excellent playground for snorkelers and divers. The island's hills offer a great spot to watch the sunset, and the locals are always happy to share a bonfire and some drinks with visitors.
Banana Island is located next to Coron town, making it easily accessible. The island can be reached by boat in just a few minutes or by foot in about 20 minutes. If you're looking for a relaxing getaway, Banana Island is definitely worth visiting! Check it out on this tour:
Twin Lagoons
Twin Lagoons are two tiny lakes carved out of limestone cliffs and meet the stunning blue ocean. The lagoons are two little lakes formed inside limestone cliffs that connect to the beautiful turquoise sea. When the tide is low, you can swim through a beautiful limestone archway leading to the other lagoon, where the water's surface lies beneath a lovely limestone archway, which adds to the strangely wonderful experience.
The only way to see the Twin Lagoon is to travel by boat. Don't pass up this opportunity to visit Twin Lagoon because it's one of Coron's most fantastic attractions. Visit the Twin Lagoons, a must-visit paradise surrounded by stunning limestone cliffs, on this tour:
Malcapuya Island
Malcapuya Island is one of the most popular sites in Coron. Melancuna Island Coron is a small island near Culion, Philippines. The island is accessible by boat for around 1.5 hours from Coron Town, the ideal location to visit.
One may lie on the island's beautiful white powdery sand all day, enjoying the sun. If you're lucky, you'll be able to enjoy the beach to yourself! Next to Banana Island and Bulog Dos, Malcapuya Island is close by.
The island is uninhabited except for a few caretakers. When you visit Malcapuya, expect to be surrounded by breathtaking scenery and tremendous vistas. If you're looking for a place to relax and escape the crowds, Malcapuya Island is your place! Click here to learn more:
Siete Pecados
Siete Pecados Marine Park is a beautiful park with palm trees and rocky islets. The park is known for its excellent diving and snorkeling spots. The coral reefs around the islands are shallow, making them a great place to explore the underwater secrets of the area. The islets are home to some of the healthiest coral reefs in the region. Siete Pecados has a variety of reef fish and turtles and large herds of barracudas.
While snorkeling, you will find abundant colorful fish and other sea creatures. The park's natural beauty has inspired many a local legend; one holds that seven saints or angels descended from heaven to rest on the islands.
Another famous story linked to Siete Pecados Marine Park is that of a group of Spanish conquistadores who, upon finding themselves lost at sea and without food or water, were miraculously saved by swimming to the islands where they discovered freshwater wells. It is easy to see why this serene spot has become one of Coron's most popular attractions. Come and explore Siete Pecados Marine Park on this tour:
Kayangan Lake
One of the most popular attractions in Coron is Kayangan Lake. It's been called the "cleanest lake in the Philippines," and some believe it to be Asia's cleanest lake. The water here is clear, making it ideal for swimming. The water is so transparent that one can frequently see down to a depth of 10 meters, allowing even non-swimmers to view the natural rock formations from viewpoints around the lake.
Tall limestone formations border Kayangan Lake, and if you want a panoramic view of the entire area, there is a 300-step climb with spectacular views. The sights might be a little bit of a walk, but they are well worth the effort. It's pleasant and inviting for swimming, making it popular among tourists. That's why visitors flock to Kayangan Lake.
This tourist spot is also included in the following tours:
Skeleton Wreck
Wreck diving in Coron is a thrilling activity, especially visiting Skeleton Wreck! Numerous shipwrecks on the island were sunk during World War II. One of these was a 25-meter long Japanese supply vessel damaged by an airstrike by the United States Air Force during World War II. The ship now rests at a 5m to 22m deep depth. It's an excellent place for free diving or scuba diving and snorkeling on the surface.
If you're looking for an adrenaline-pumping activity, wreck diving in Coron is definitely for you! Snorkel atop the Skeleton Wreck, a sunken fishing boat, and enjoy swimming with the colorful fishes on this tour:
Lusong Coral Garden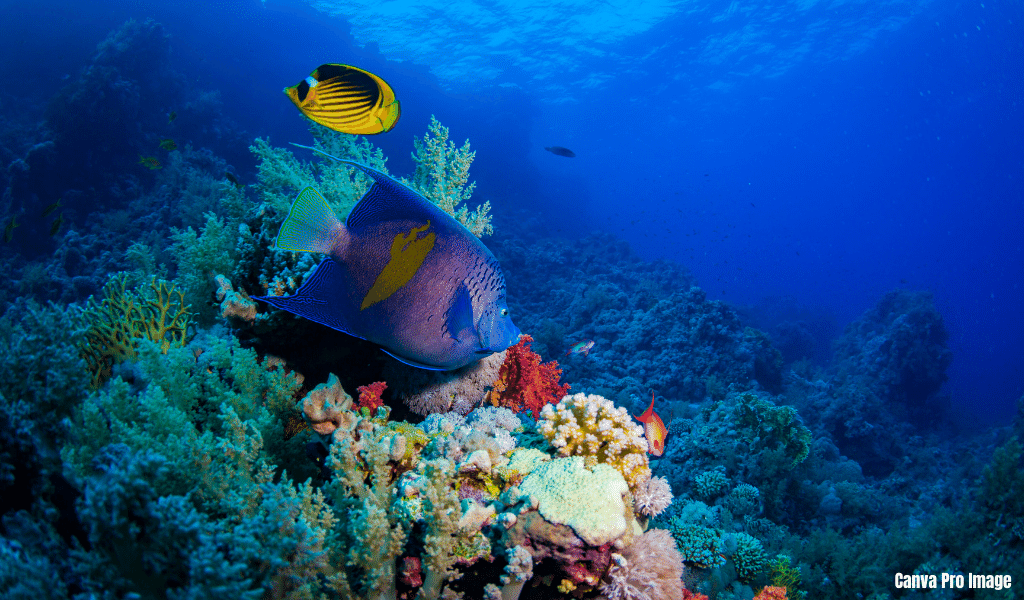 If you enjoy terrific corals and colorful fish, one of the most popular Coron Palawan tourist destinations is Lusong Coral Garden. This site is a beautiful coral-reef snorkeling location in Coron. Many boating trips make a stop there, allowing you to explore this lovely little reef brimming with corals. This is the ideal location to see vibrant anemones, clownfish, and a variety of reef fish in vast quantities. You may snorkel here to view beautiful anemones, clownfish, and brilliant coloration reef fish by the thousands. The corals are in excellent condition, and the fish are very tame, making this an ideal spot for both novice and experienced snorkelers.
This tourist spot is also included in the Coron Tour D package.
Mt. Tapyas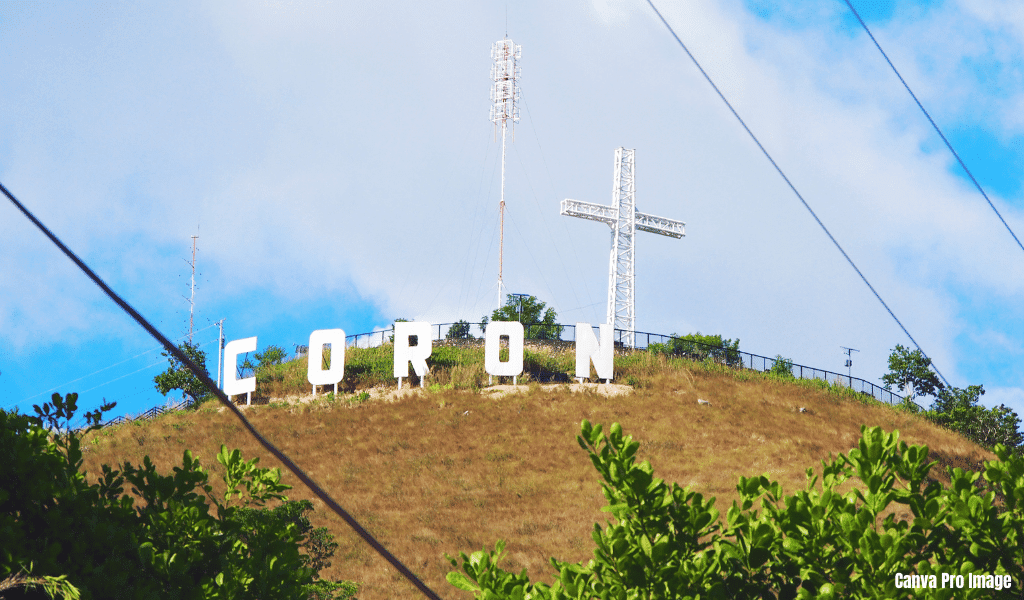 Coron, Palawan tourist attractions aren't only about lagoons and beaches. Despite its small size and distance from the Metro, Coron can keep pace with hills and mountains. Go to Mt. Tapyas for a panoramic view of Coron and sunset viewing.
Mt Tapyas is the ideal place to watch a sunset in Coron, with views extending over the entire town and most of the island. Mt Tapyas is one of Busuanga Island's most popular attractions, standing 210 meters above Coron Town.
However, you must climb 724 steps before reaching the viewpoint where the grand cross and enormous sign "Coron" are displayed. Don't worry if you don't make it in time; you'll be glad you did it when you get there.
So, climb up those steps and get rewarding views overlooking Coron on this tour:
Calauit Island Safari
Believe it or not, the island of Coron has its safari park! It is one of Coron's most well-known attractions.
The Calauit Safari Park is a wildlife reserve in the Philippines, established initially as a game preserve with large African animals by a former Philippine president. The Safari allows you to get close to giraffes and zebras and feed them. This is a great way to pass the time in Coron. This excursion is delightful for children.
The Calauit Safari Park is also part of the Coron Calauit Safari and Busuanga Town Private Day Tour package.
Maquinit Hot Springs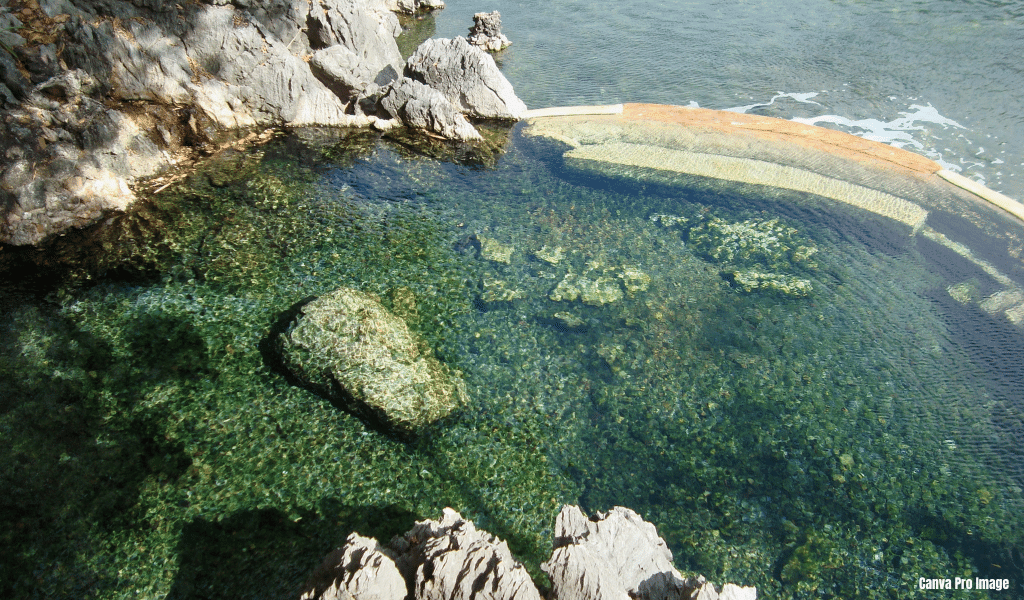 One of the few saltwater hot springs is the Maquinit Hot Springs. The beach faces a mangrove forest, which seems to guard it. At the site, there are two heated saltwater pools to choose from. The pebbles on the pool floor and walls keep it interesting. The temperature in the pool varies between 37° and 40° Celsius.
A dip in a hot spring is a beautiful way to unwind after a whole (or half) day of exploring the city. If you want a unique type of relaxation, visit this Coron, Palawan tourist attraction.
So, take a quick dip at the Maquinit Hotspring on this tour:
Bulog Dos Island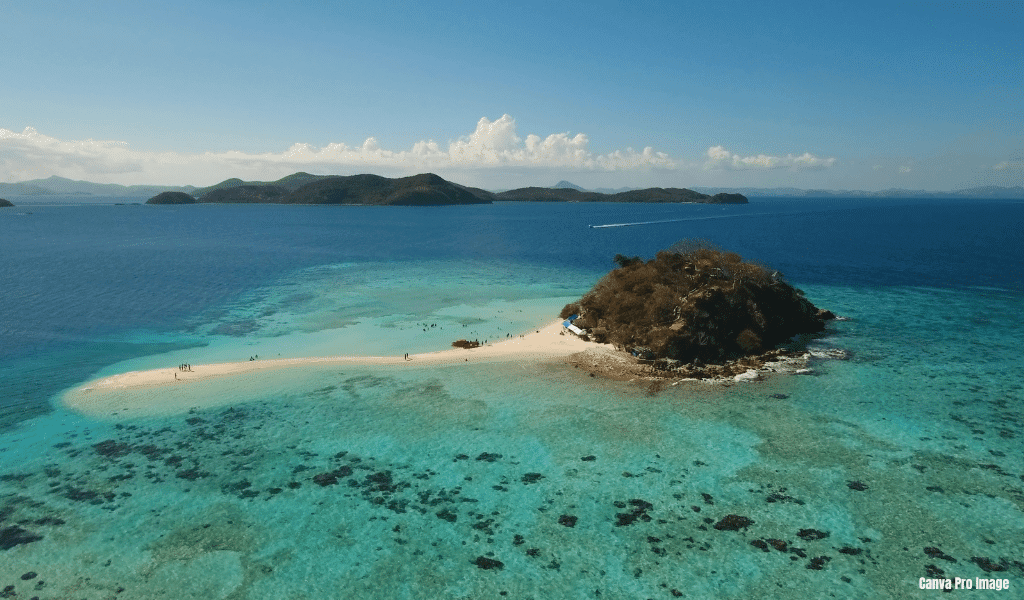 Because this is where you'll be able to walk on a sand bar and take in the magnificent surrounding tropical panoramas, Bulog Dos Island is one of the most popular Coron tourist attractions. Before lunch on a neighboring island, Banana Island, the gorgeous Bulog Dos Island is a frequent stopping point on regular island-hopping excursions. The sand is clean and white, the water changes from clear crystal to brilliant turquoise, and the view is an island sanctuary that's both Instagrammable and gorgeous!
Ditaytayan Island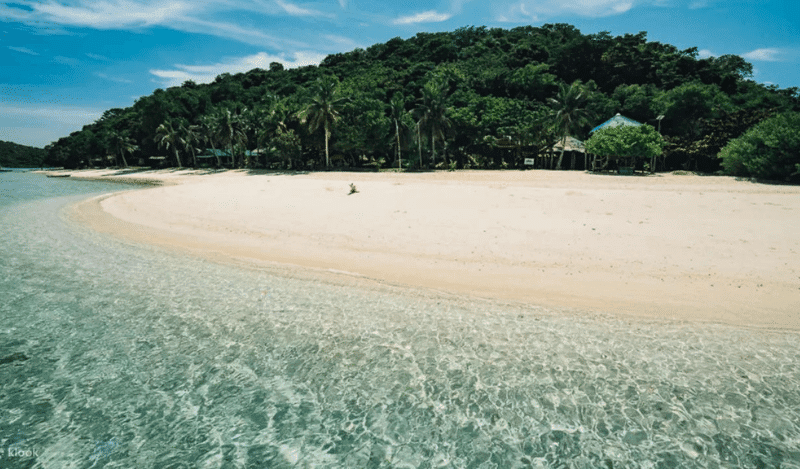 Ditaytayan Island is one of the most spectacular areas in Palawan's Culion municipality. The island is located some distance from Coron Town and lies between Culion Island and Bulalacao Island. It offers a breathtaking view with its white sandbar, completely covered at high tide. The best snorkeling locations are on both sides of the sandbar.
This tiny island also has three additional beaches on its other sides, including a sheltered cove that's great for swimming. The beach has views of brilliant blue seas, which may be photographed and appreciated. So, check out this beautiful island on this tour:
Coron Travel: Tours, Attractions, and Activities
Check out the full list of wonderful activities in Coron, Palawan, and the surrounding areas:
Other Travel Guides