Cebu Pacific Fully Supports IATF Travel Guidelines for Fully Vaccinated Individuals
Cebu Pacific, the Philippines' biggest budget airline, welcomes the decision of several provinces to no longer need RT-PCR test from a fully-vaccinated person and accept vaccination cards as a travel requirement.
The Inter-Agency Task Force Against COVID-19 earlier said those who have gotten two vaccine dosages might present their shot card or quarantine certificate instead of a negative confirmatory swab test result when taking a trip locally.
Passengers are considered fully vaccinated a minimum of two weeks after receiving the second dose in a two-dose series or a minimum of two weeks after receiving a single-dose vaccine.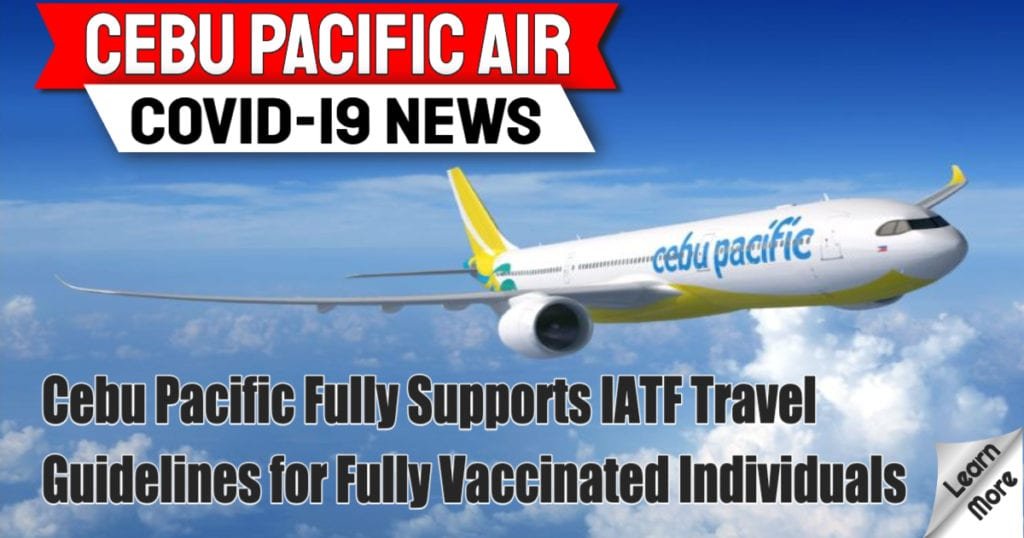 To date, three locations in Cebu Pacific's network have city government orders that embraced the IATF resolution: Bacolod, Cauayan City of Isabela province, and Tacloban.
Cotabato now accepts vaccination cards as a travel requirement for fully vaccinated people. Regional news outlets have said Cebu, Davao, and Iloilo were expected to follow the IATF resolution.
On the other hand, Cebu Pacific reported that seven destinations in its network are accepting vaccination cards as a travel requirement for visitors. These are Negros Occidental Province (except Bacolod City), Cauayan City of Isabela province, Cotabato, Siargao, Surigao, Tacloban, and Virac.
Check out the Travel requirements for the following local destinations:
The airline stated Virac requires fully-vaccinated people to submit their COVID-19 Vaccination Card on their S-PASS account three days before their set up journey to secure a travel permit.
The authorized authorization and vaccination card will be presented upon check-in.
Nevertheless, Tourists are strongly urged to constantly contact the LGU of their location for the current updates.
" We are in complete support of these standards. Right now, we are waiting for city government units that will issue their respective Executive Orders adopting the IATF Resolution 124-B and eagerly anticipate welcoming more guests on board," stated Alex Reyes, Chief Technique Officer at Cebu Pacific.
" Our company believes this is an opportunity for all stakeholders to team up as we work toward the same goal– and that is to resume domestic travel once again safely," added Reyes.
The Philippine's largest budget airline continues to implement a multi-layered approach to security and has been ranked 7/7 stars by airlineratings.com for its COVID-19 compliance. Likewise, passengers are constantly advised to register in the Department of Transportation's Traze App for a more efficient contact tracing process.
For a list of travel requirements, screening choices, flexibility options, and frequently asked questions, guests might conveniently check out www.cebupacificair.com.
CEB presently flies to 31 domestic destinations on top of its five foreign destinations from Manila. It runs with the youngest, quietest, and the majority of the fuel-efficient jet fleet in the country.
Source: Cebu Pacific News and Updates
COVID Travel Requirements Related Links